Image source:Fashionmenow
Christmas is not just about gift-giving and holiday fare, it's also about raging parties and countless celebrations with family, colleagues, and different groups of friends. It's that time of the year when you get to reconnect and revel with people over food, drinks, and yuletide cheer. And with parties comes fashion. That means dressing up and looking your best in front of your nearest and dearest.
So, how does one dress up for a Christmas party? Here are some quick tips: First is to know the level of formality (black-tie or casual) of the shindig you're attending for you to dress the part, hence, you won't be left awkwardly over or underdressed. Next is to know if there is a motif or a theme so your aesthetics will be flawless and on point every time. Lastly, you should know how to edit your look, going for dresses that complement your body type and vibe, so you'll always appear effortlessly sleek and styled from head to toe.
Now that you have party fashion 101, let's jump into the list of the hottest and fanciest trending dress options you can wear for any Christmas party you'll be attending this year. Scroll down and find which ones you'll be rocking soon.
Christmas Party Dress 1: Ruched and Ready
Image source:Quizclothing
Shine and stand out with this ruched sequin dress in an eye-catching ombre of blue and silver. The midi length will ensure that you'll easily move around, dance, and socialise all night long. The daring V-neckline adds a touch of spice to its somewhat sweet look. This dress is perfect for cocktails with colleagues or get-togethers with friends.
Christmas Party Dress 2: Sleeved and Shining
Image source:Lulus
The holiday season is all about the bling and that also applies to the party attires like this charming one-shoulder dress in metallic ivory. The silhouette is cool and edgy with its one-of-a-kind balloon long sleeves. The accent sash finishes off the look perfectly.
Christmas Party Dress 3: Velvet Vixen
Image source:Jennyyoo
Just because it's cold doesn't mean you can't show a little skin. This velvet slip dress will make you the instant eye candy of any party. The cowl neck gives off a sultry vibe while the midi length makes up for the modesty. Just the right combination for a holiday party frock. Pair with strappy sandals and a warm blazer and you're ready to rock.
Christmas Party Dress 4: Warm and Wonderful
Image source:Lulus
If you want to keep your Christmas party aesthetic to be warm and wonderful, then this two-piece knit sweater dress is for you. The cardigan cropped top features long sleeves to keep you cosy while the midi skirt adds a little sizzle through its cutout slit to keep you fashionable.
Christmas Party Dress 5: Sparkle in Sequins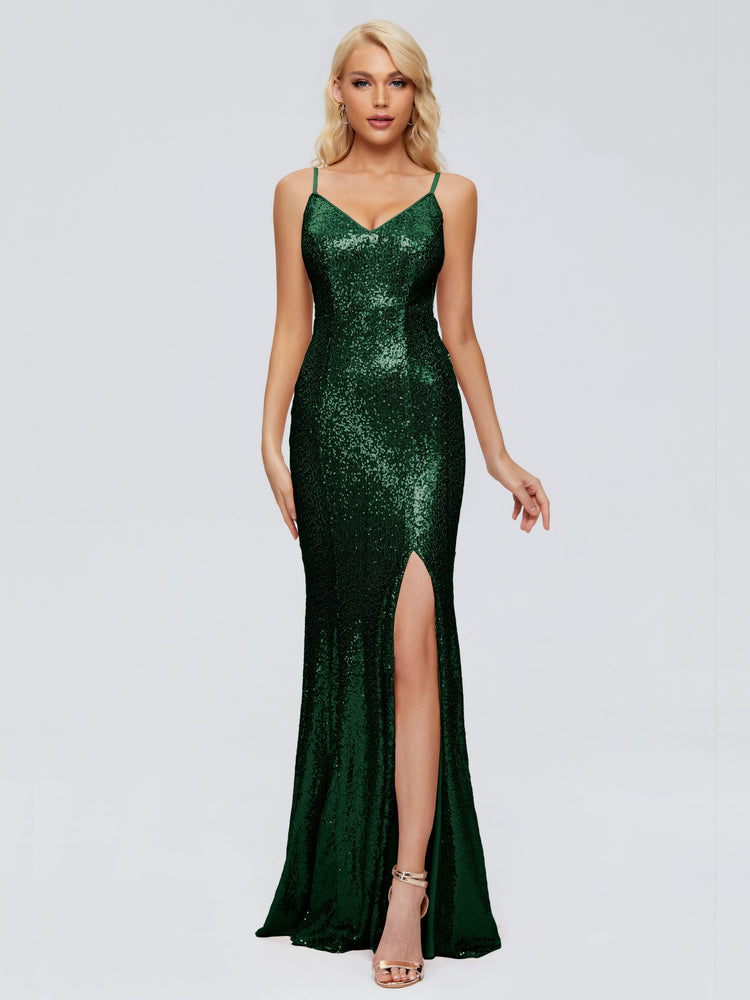 SHOP THIS LOOK:Sequin Prom Dress
This is the season to be sparkly so wear this sexy column dress to your next formal party. The frock is fully-sequined and has a sexy V-neckline and slit skirt. This sequin dress comes in more than 10 splendid colours, excellent for any black tie event (including weddings!) you'll be attending during the holidays.
Christmas Party Dress 6: Chic Corduroy
Image source:Bodenusa
If you're looking for a dress for some downtime with friends or family during Christmas, then you should consider arriving in this chic corduroy shirt dress. Pair with heels if you're feeling a little feminine or some boots for an edgy vibe.
Christmas Party Dress 7: Blazer Babe
Image source:Anthropologie
Bring on your fashion A-game with this bold velvet blazer number. This is a modern twist to a long-sleeved party dress, an unconventional yet fashion-forward choice for sure. Complete the attire with knee-length boots, chunky sandals, or strappy heels – whichever choice works.
Christmas Party Dress 8: Retro Revival
Image source:Anthropologie
A shift dress is always a safe choice when it comes to Christmas party attire. This retro-inspired midi dress is the ideal choice when attending a vintage-themed holiday fete. Channel dance floor diva in this dress partnered with printed stockings and boots or keep it chic and simple with comfortable flats.
Christmas Party Dress 9: Mini Moment
Image source:Zara
Have your glamazon moment with this sequin mini dress during a Christmas night out with friends. Best paired with knee-length leather boots or a pair of strappy heels. No need to overaccessorize as the dress is a fashion statement in itself. The long sleeves will keep you warm as you party the night away.
Christmas Party Dress 10: Flawless in Floor-length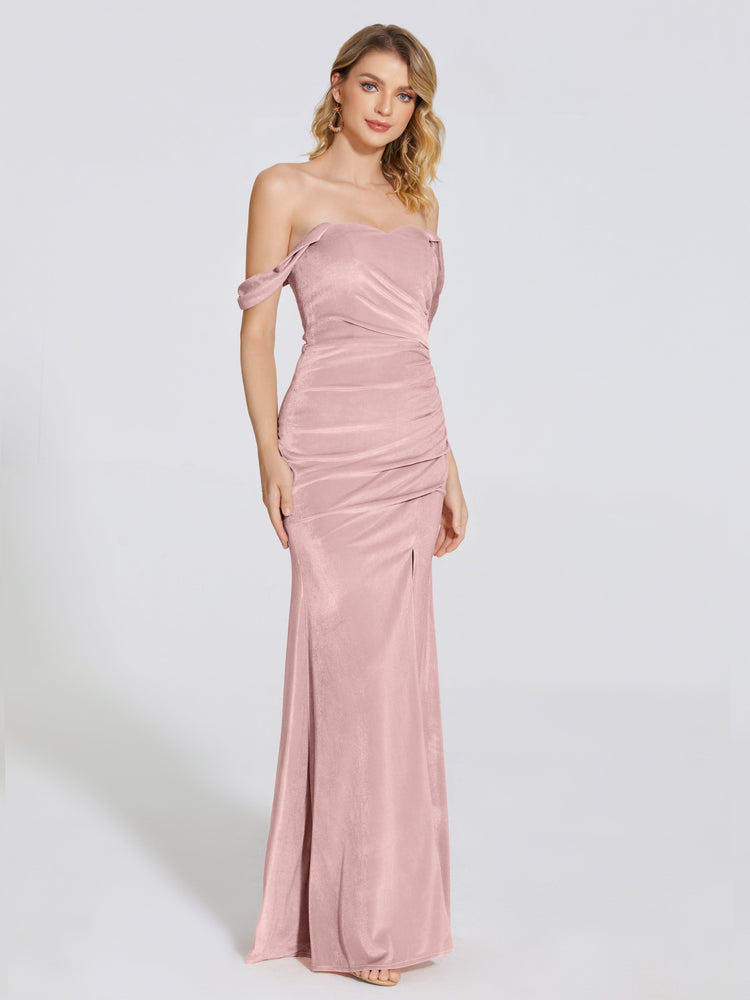 SHOP THIS LOOK:Velvet Bridesmaid Dresses
Christmas wedding party? Glamorous shindig at the office? Then you need to attend in this off-shoulder maxi dress. The heavy velvet material is luxuriously comfortable while the silhouette is stylishly sultry. You get the best of both worlds with this dress!
Christmas Party Dress 11: Knockout in Knit
Image source:Zara
Attending an intimate party with your closest friends? Let your hair down and go for something chic yet comfy, then. This cuff-sleeved cable knit mini dress has a lovely A-line silhouette that is snug and warm to the body. It features a wrapped collar and neckline that makes a great fashion statement.
Christmas Party Dress 12: Glamorous Goddess
Image source:Savavia
Need to glam up for another formal Christmas party? This mermaid gown with a flirty off-the-shoulder neckline should be your wardrobe of choice. It has a dramatic sweeping train that will drop jaws and turn heads.
Christmas Party Dress 13: Midi Magic
Image source:Thereformation
Stylishly straightforward, this midi long-sleeved knitwear dress is the perfect work-to-nighttime outfit. It hugs the curves and keeps you warm, what more could you ask for? It's great for casual Christmas dinners with friends or after-work holiday cocktails with workmates.
Christmas Party Dress 14: Wonderfully Wrapped
SHOP THIS LOOK:VELVET DRESS
This velvet wrap dress is a mix of modesty and femininity, featuring a sexy skirt with a slit and demure long sleeves. This dress is versatile and can be worn in both fun semi-formal Christmas parties or luxurious holiday revelries.
Christmas Party Dress 15: Sweet and Spicy
Image source:Jennyyoo
Keep it sweet and spicy with this printed satin slip midi dress with a daring neckline and dreamy and strappy back details. Pair with a statement leather jacket for an edgy touch or a faux fur wrap for a luxe finish.
Christmas Party Dress 16: Dazzling Diva
Image source:Boohoo
Light up the dance floor with this shiny and sparkly midi dress, sequined from top to bottom and complete with a sexy cutout back design. Wear with sky-high heels or a pair of sexy stilettos for the ultimate Christmas nightwear look.
Choosing a selection results in a full page refresh.