There's nothing more adorable than the most popular pet on the planet – cats! They are just awkwardly funny and so darn cute. This is why some couples can't get enough of them, sometimes even making a part of the most important events of their life, including their wedding. But unlike dogs, cats are more solitary creatures and there are a couple of considerations before adding them to the wedding party. In this article, we're diving deep into the possibility of your feline friend being present at your wedding and all of the fantastic ways you can include them on your big day. Let's take a look…
Can cats be a part of a wedding?
The short answer is yes. But there are plenty of things to consider before deciding on it. As mentioned above, cats are less social than other pets like dogs. They like to keep to their own and are usually aloof and easily get stressed, especially around other people. So before including your kitty in your wedding, make sure that they are used to the hustle and bustle of a big group. You should never compromise a cat's peace and well-being just to make your wedding look fun or unique.
What are the things to consider if you want to include your cat in the wedding?
Image source:Chloeleephoto
If your fur baby is fine and used to being around a lot of people, one important thing to ensure is that they know how to follow simple commands, especially if you'll be giving the cat a "job" or designation during the ceremony or reception. You wouldn't want it running around causing chaos, right? Having said that, it is recommended that you assign a guardian that will be around your fur kid all at times to ensure that it's stress-free throughout.
Aside from the cat's personality, another consideration to take is your guests' level of comfort around animals. Allergies and phobias are a possibility so it should be noted. And if this is the case, there is no need to worry are there are countless creative ways you can incorporate your lovable pet (without it being present) into your special day. Once you've covered and cleared these points, then you're ready to have a cat wedding!
If you're all set and wired to plan the biggest moment of your life that includes your favourite furry friend, then here are some ideas you can consider to make it more interesting, delightful, and one-of-a-kind.
Cat Wedding Idea 1: Tuxedo Cat
There's nothing cuter than a cat wearing its own little outfit! Whether your kitty is part of the wedding party or just a "guest of honour", dressing it up in adorable attire like a wedding dress or bow tie in your wedding ceremony will surely make your guests' heads turn and prompt them to say a collective "aww!"
Important note: Make sure that your cat is comfortable wearing a costume.
Cat Wedding Idea 2: Paw-some Ring Bearer
Image source:Popsugar
If your cat is well-trained and can walk down the aisle, then it'll be the purr-fect ring bearer for your wedding. If you're quite uncertain about it freely roaming around, then you can have it ride a covered stroller so it can stay by your side throughout the whole wedding.
Cat Wedding Idea 3: Paw-tho Shoot Star
Image source:Junebugweddings, Popsugar
Immortalize this special day with your cat by including it in your wedding day photo shoot. These wedding photos will serve as a heartwarming remembrance as you take a look down memory lane years after your wedding.
Cat Wedding Idea 4: Feline Pumps
Add a furry-ty fashion statement to your look by wearing customized shoes featuring a cute cat design, complete with pointy ears. It's something that's totally out of the ordinary and will personalize your wedding aesthetics further. If you don't like this novelty to your look, you can just subtly hint at your cat by wearing shoes the same colour as its coat.
Cat Wedding Idea 5: Charming Cat-cessories
Image source:Greenweddingshoes, Jacobyphotoanddesign
Another off-beat ode to your cat that you can incorporate into your look is via cat-themed accessories. Instead of the usual tiara or hair accessory, why not wear cat ears headbands instead? You may also wear customized cat jewellery like earrings or a necklace pendant. Wear oversized cat masks during your photoshoot to add a whimsical flair to your and your husband's wedding glam. It'll surely look good in your wedding documentation.
Cat Wedding Idea 6: Furry Delicious
Image source:Karaspartyideas
What's something that your guests will surely enjoy? Delightful dessert in cat shapes and designs. Hand-drawn French macaron, yummy kitty cupcakes, and cutie cookies. They may be too cute to eat but they will surely keep munching these paw-some treats. Have a dedicated cat-themed dessert table to make the reception experience extra magical.
Cat Wedding Idea 7: Adorable Decor
A cat wedding won't be complete without complementing decorations. There are plenty of ways you can infuse creative cat elements into your big day. In place of boring square printouts, why not have a cat-shaped welcome sign for your reception? Or how about a hand-painted bar menu featuring your charming cat? The possibilities are endless!
Cat Wedding Idea 8: Purr-fectly Sweet
Image source:Pinterest, Pintererst
The ultimate cat wedding should have a feline-themed cake! You can do this in quite a number of ways. One is to have an actual cat-shaped wedding cake, complete with the image and colour of your cat. Another is by using cat wedding cake toppers instead of the typical ceramic bride and groom. Lastly, you can have a plastic or cardboard cutout of a bride and groom with a playful cat as cake decor or topper.
Cat Wedding Idea 9: Tabby Table
Steer clear from plain and boring table numbers and load up on cuteness with personalized table numbers featuring a hand-drawn likeness of your cat or cats. It'll make finding assigned tables more fun and exciting.
Cat Wedding Idea 10: Dreamy Cat-mosphere
Image source:Jacobyphotoanddesign
If you're not into simple table numbers and want to customise your tablescape further, you can use your cat's or cats' nicknames in naming the reception tables. Cutify the material more by including framed photos of the cat the table is named after. It'll surely be a delightful addition to the centrepiece.
Cat Wedding Idea 11: Claw-ver Invite
A wedding starts with invitations. It's a sneak peek as to what will unfold on the big day. Let your guests know that your love for cats will take the centre stage in your wedding by incorporating cats in your invite's design. It's something that is endearing and will pique your guests' interest.
Cat Wedding Idea 12: Un-fur-gettable Bridesmaids
Of course, your bridesmaids should also be cat-ready for your big day! Make sure that your girl squad are dressed to impress in cat-proof bridesmaid dresses. Ensure that they still look sleek and stylish through these dress options:
Fur-proof Fabric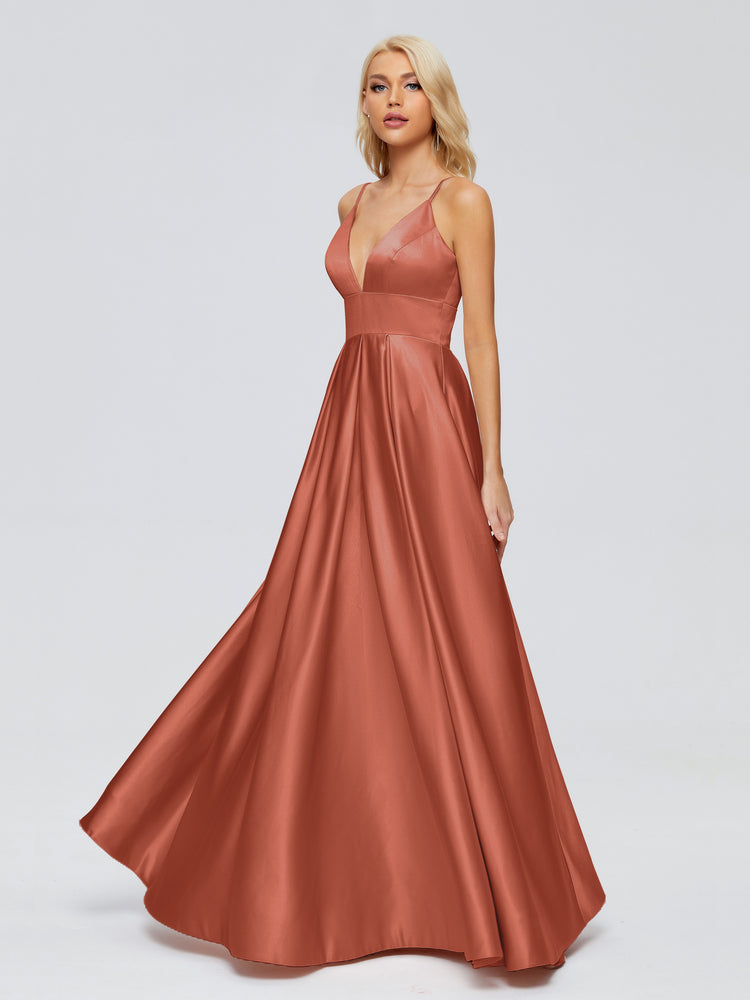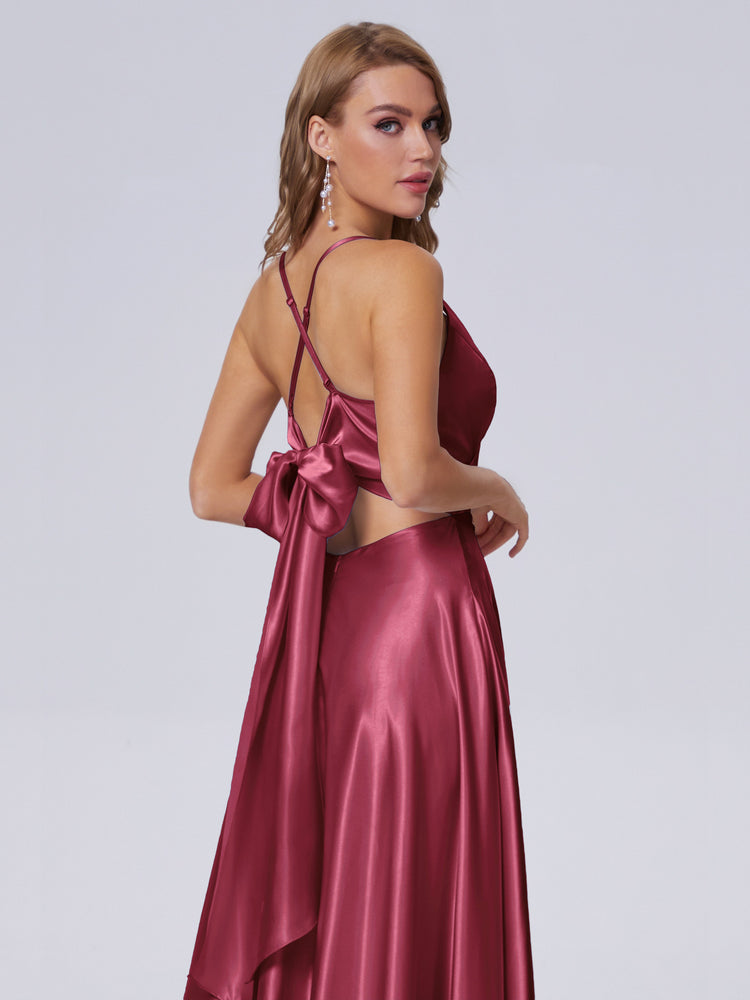 Image source:Cicinia Long Prom Dress, Cicinia Silk Dress
Choose a fabric like satin that will repel your cat's fur. Satin is not just soft and lush, it also prevents your bridesmaid from looking like a cat herself (with all the shed fur). Other fabrics you can use for bridesmaid dresses where fur slides and doesn't stick include silk and taffeta.
Pawing-proof Dress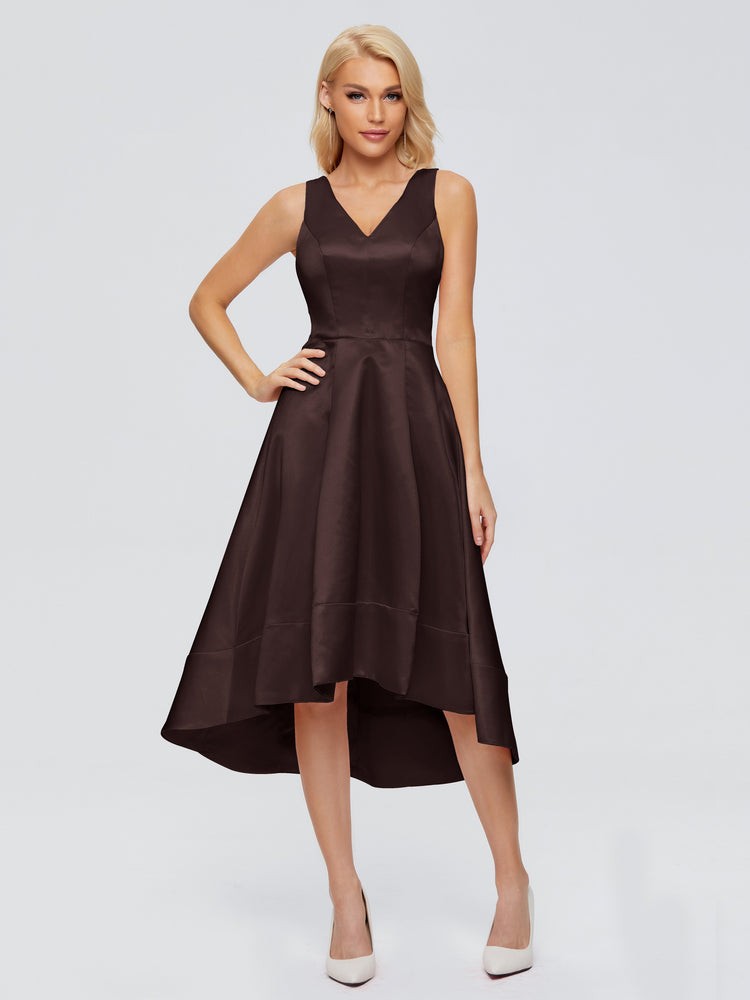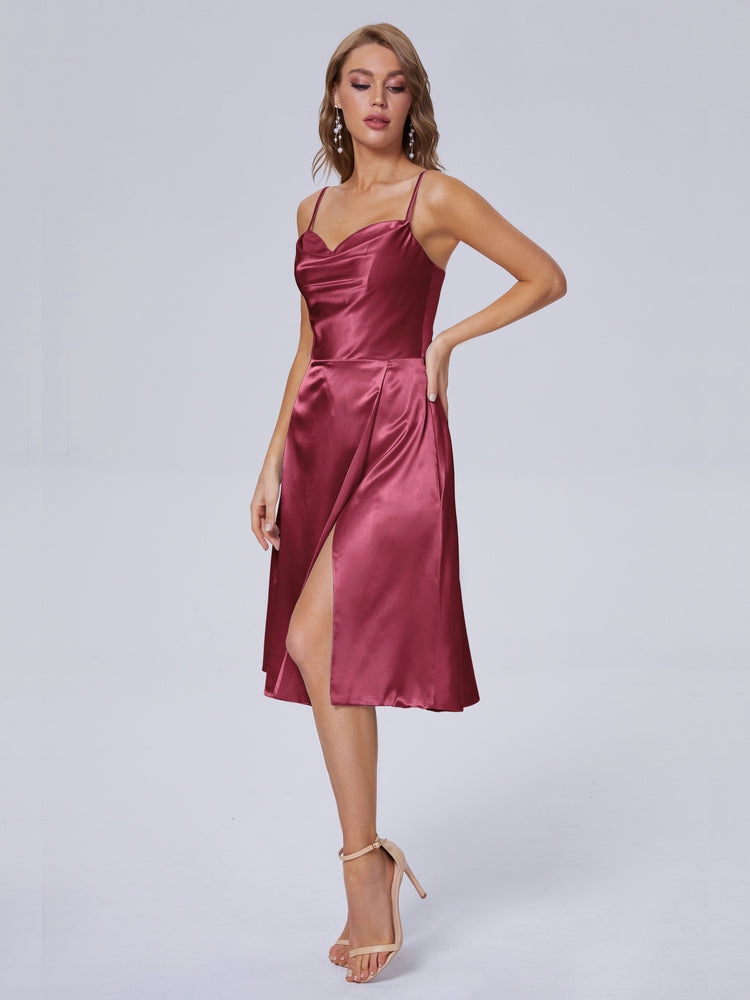 Image source:Cicinia Short Chocolate Dress, Cicinia V-neck Satin Dress
Shop our Collection: Brown Dress
If your cat is going to be leash-free during your wedding, consider dressing your wedding party in shortened dresses. Long and flowy garments attract cats like catnip, so the possibility of the kitty clawing your girls' dresses is high. To avoid this, you may opt for something short and flirty instead of long and luxurious.
If your fur baby is not a cat, let us guess, a dog? Or a horse? Congratulations! You can check our blog posts for more wedding ideas to include your loved animal friends in your wedding.