Image source:Lovemydress
Light blue, a pale shade of blue is one of the colours that stood the test of time as a wedding palette. Despite the increasing number of wedding themes, one sees light blue weddings from time to time.
Other names used to refer to light blue have come out. These include sky blue, baby blue, pastel blue, and powder blue.
Easy-to-Follow Light Blue Wedding Ideas
Image source:Mokigray
Light blue is a flexible colour. That is why wedding enthusiasts and couples enjoy using it.
A lighter hue of blue is perfect for a wedding day since there are several items to put together. Using a lot of dark blue for centrepieces, backdrops, and favours can be distracting. A light shade of blue is not loud when used in large amounts.
We collected some light blue wedding ideas so you wouldn't have to search for them.
A Burst of Light Blue Bouquet
Image source:Pinterest
Carry a bouquet of your favourite blooms in different shades of blue. You can balance the burst of blue by adding a touch of sage green leaves. Then, complete the look of your light blue wedding bouquet with two ribbons to create a rustic wedding vibe.
See how this floral ensemble will add drama and romance to your ceremonial bridal walk.
Flowy Decoration Backdrop
Image source:Pinterest
Nature never disappoints in making an instant romantic ambience to any wedding. A wedding set in the forest with rustling leaves and swaying trees can make anyone swoon. But the splash of greens and browns could use some tint of blue.
Imagine the difference a light blue sheer fabric can make to a life-size wooden arch. Wrap it around and see it sway with the air. You can make this backdrop more stunning with fresh flowers and green leaves to celebrate your spring wedding.
Feast-for-the-Eyes Table Setting
Image source:Pinterest
The wedding reception is an entire gastronomic adventure that starts with the eyes. And the best way to delight your wedding guests' sense of sight is to create a beautiful tablescape.
Use pristine white linens and napkins. Then, arrange light blue drinking glasses beside each ceramic ware. Arrange white and light blue blooms for your centrepieces.
This setup is easy on the eyes, giving a calm before-the-food-storm feel.
Firefly-like Candles
Image source:Pinterest
Continue the calming contrast on your table decoration by lighting light blue candles.
Do not think twice about adding light blue candles to your table decoration. Just imagine how dreamy the wedding venue could get when you line up and light all these candles at once.
Comfortable Wedding Shoes
Image source:Pinterest
They say the right pair of shoes will bring you to places. And on your wedding day, the right pair of footwear will bring you to the man of your dreams.
Even though a pair of wedding shoes get covered by the gown, do not hesitate. Go ahead and extend the light blue wedding theme on them to fulfil the something blue tradition.
Consider a velvet-wrapped pair of high heels with gold leaf detailing. It can provide the balance of comfort and confidence that you need.
Calming Wedding Suit
Image source:Edenstrader
The exchange of vows triggers several emotions that affect the wedding guests.
As the bride, find comfort and peace as you say your promise when you see your groom in a light blue wedding suit. Do not miss adding a white bowtie and boutonniere.
Fun Wedding Dress
Image source:Rockmywedding
A divine white wedding gown is a tradition, hard to break for most brides. But it would not hurt to create a different spin on this heirloom tradition.
Create a bold statement and shock everyone by wearing a blue wedding dress. Scoring a gown with a sleeveless and plunging neckline will allow you to expose a bit of your skin.
Marbled Wedding Cake
Image source:Pinterest
Who could resist a sweet freshly-baked pastry?
Represent the sweetness of your love with a marbled light blue wedding cake. A three-tiered pastry adorned with white flowers, gold flower buds, and green leaves will make even the non-sweet tooth take a slice.
Vintage Wedding Car
Image source:Pinterest
Make an iconic exit from the wedding venue by riding a classic light blue Fiat 500. You can add colourful flowers and calligraphy-written signage for decorations.
If you are also looking for ways to create beautiful wedding photos, why not use this vintage car? Pose in front, inside and even on top of it. Snap photos that take you back to the 1920s.
Light Blue Bridesmaid Dress Ideas
Aside from the wedding gown, a bride needs to think of her bridesmaids' dresses. Luckily, a light blue bridesmaid dress goes well with many colours and suits all of your wedding party.
The Same Colour
Image source:Pinterest
The basic bridal party look is making your ladies wear the same colour. A sky-blue bridesmaid dress or baby-blue gown is an easy pick for this look.
You May Like to Shop: Light Blue Bridesmaid Dresses
Combine with Other Shades of Blue
Image source:Pinterest
Take the fun a notch higher. Create a fun blue palette by letting your girls wear bridesmaid gowns in different shades of blue, like royal blue, dusty blue and navy blue.
A White Top and A Light Blue Skirt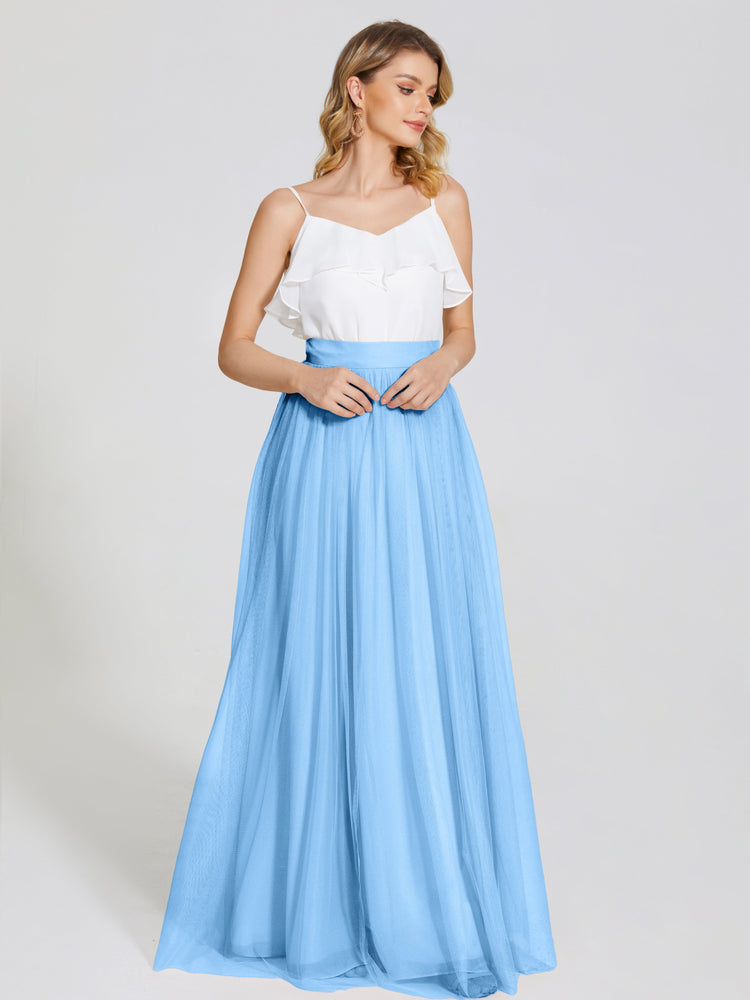 Image source:Cicinia
White is a colour that is safe to match with any other colour. And if you want to create a softer bridesmaid look, try pairing a white top with a light blue flowy tulle skirt.
Mix and Match with Dusk
Image source:Mywedding
Take the mixing and matching game to the next level. Let your other bridesmaids wear dusk-coloured gowns to match the light blue dresses.
Light Blue and Floral
Image source:Pinterest
Play with colours and prints. See how a light blue bridesmaid dress pops out beside a navy-blue gown and a floral bridesmaid gown.
With Dusty Rose and Blushing Pink
Image source:Pinterest
There are many complementary colours with light blue too. So, you can pair a light blue bridesmaid dress with gowns in dusty rose and blush pink colours.
With Lavender
Image source:Pinterest
A light blue bridesmaid dress will look soft and crisp beside a lavender gown.
Conclusion
A wedding can get loud because of the decorations, music, and guests. It is fun, but it can also be draining of your energy. So, consider the light blue colour if you want an overall peaceful theme.
Need more
wedding ideas
and inspirations? Continue reading our other blog post.
You May Like to Shop: Dusk/Purple Bridesmaid Dresses
Choosing a selection results in a full page refresh.