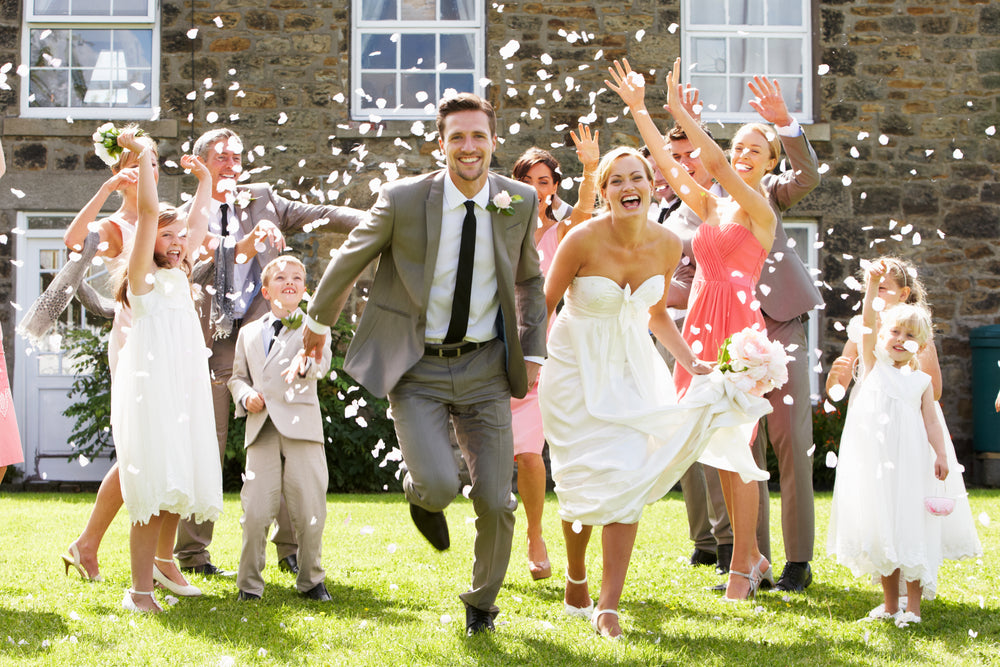 When you're planning your dream wedding, it's important to access as many resources as possible. We've compiled a list of the 15 best wedding websites for you to check out. These sites will help you get everything you need for your big day, from wedding planners to vendors. So, start planning today, and don't forget to add these websites to your list!

The Knot Worldwide
In 16 countries worldwide, The Knot, across the world's leading global network, is a path to love. They promise to provide all their couples with the necessary tools and confidence to plan their wedding uniquely. Beginning at the proposal and ending with a marriage, a home loan, and a life together, they offer inspiration and information every step of the way. From the pitch until the completion of the venture, they will remain by your side each step of the way.

Hitched
Hitched is the top wedding planning destination in the UK with one simple mission: to help people get married. For more than 23 years, Hitched has been offering couples assistance, resources, and inspiration relating to every aspect of wedding planning, from the engagement to the entire honeymoon and beyond. In fact, Hitched has the answer to any question related to weddings.
Hitched focuses on helping UK wedding couples with every tool, knowledge, and necessary idea so that their wedding day is a success and that the different stages are inspirational, fun, and easy. Hitched has an endlessly growing directory of leading venues and suppliers, and the platform provides an array of planning tools to help couples realize their dream day.

Brides
The people at Brides are pleased to enter into this special occasion of existence as a married couple, and they'll happily celebrate throughout this process with their guests. So whether you are a partner, newlywed, party participant, or guest, they will be delighted to have you on this journey.
Since they've been in the business for 87 years and counting, it is the oldest wedding magazine in the United States. However, the publishers didn't always carry the name of Brides Magazine. They began printing the first pages for their magazine in 1934, and in around 25 years, they became known as Bride's only.
In time, Brides dropped the apostrophe, and they said, "I do" to what we now call Bride's Bliss. Over time, they transitioned to an entirely digital platform when they joined the MerComm Meredith publishing family in 2019. Now, their library of 6,000 articles and quarterly digital issues offers their 4 million monthly readers expert advice and inspiration regarding weddings.

A Practical Wedding
Classified as a Women's Media Company, A Practical Wedding focuses on weddings and relationships. Fearless and unafraid, this website is made by and for intelligent feminists. The company was founded in 2008 and wanted to create a space where women could share their stories, ideas, and experiences with others who share the same love for weddings and relationships. In addition, they want to help women live their best lives through inspiring content that celebrates marriage and family.
A Practical Wedding offers various services, including wedding planning, photography, video production, and design services. They also provide blog posts, e-books, social media tools, and more to help couples plan their perfect wedding. Its mission is to empower couples to have the best wedding ever while assisting them in connecting with other like-minded people passionate about weddings.
Meg Keene is their founder and editorial-in-chief. Her two books have earned a mass following and sold over a hundred thousand copies. Meg is also a highly esteemed voice in handling young people's weddings. She often appears in mainstream magazines and frequently cites The New York Times and National Public Radio as sources.

Green Wedding Shoes
For wedding-minded readers, Green Wedding Shoes is where they're unconditional, deliriously obsessively, passionately in love with love. They love sharing the joys of weddings with their readers and believe there is no right way to throw a wedding. So whether you dream of an intimate wedding on a farm, a camping trip, or a rustic wedding in a garret, they love them all!
For them, finding the perfect activity that is unique to make you wedding about individuals and helping you to defy tradition is a way to enrich their lives together. So their mission has been to help make wedding festivities some of the best moments of a couple's lives.

JUNEBUG WEDDINGS
Junebug Weddings aims to be a resource for couples in making their celebration a unique taste of their incredible love, which includes all genders, cultures, religions, and styles. They are currently working to connect couples with talented wedding suppliers who can create their vision into reality.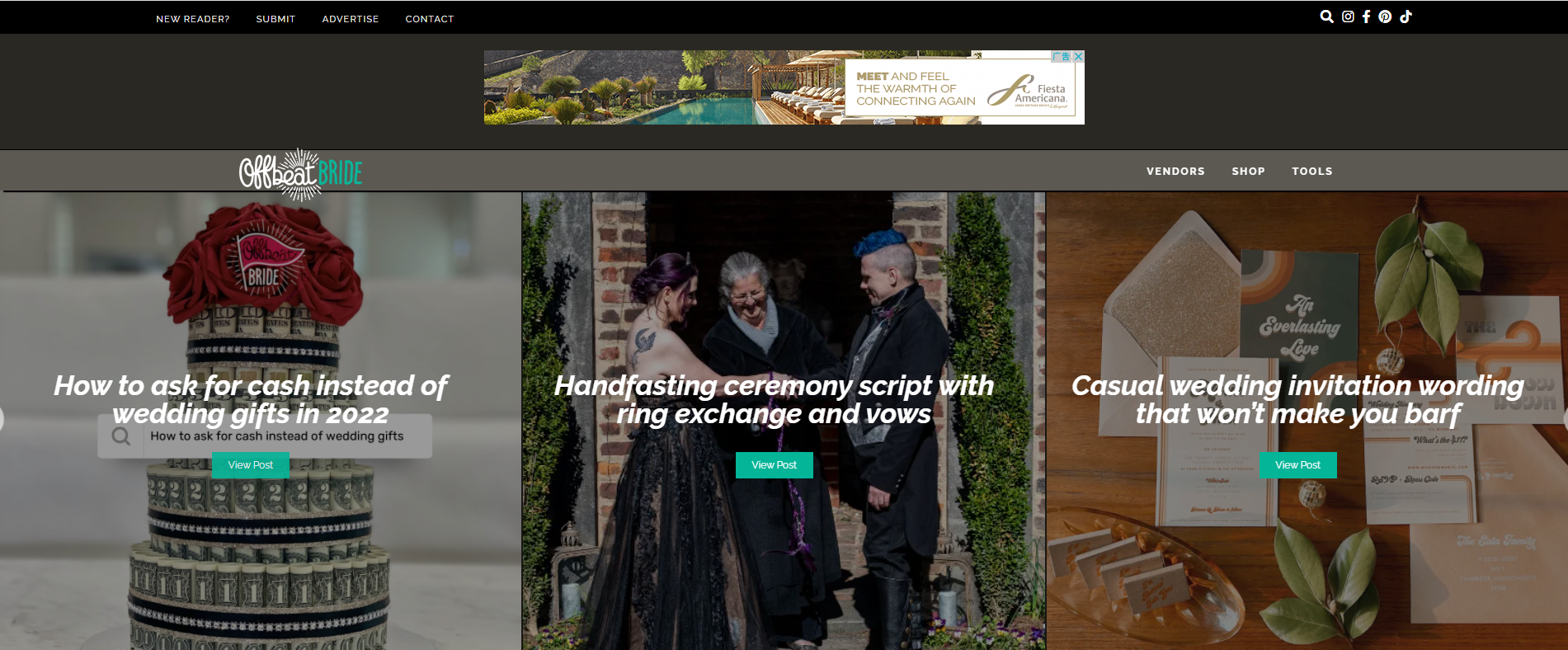 OFFBEAT BRIDE
For 17 years, Offbeat Bride has celebrated individuals and couples who opt to go against traditional weddings and choose to walk the unliked path. They support other oddballs struggling to find venues showcasing their unique and alternative visions. They are happy to help pave the way. 

Ruffled
Ruffled, established in August 2008, became a location where brides could show and sell vintage-inspired and homemade items for their wedding days. Not long after the launch of Recycle Your Wedding, for brides and bridal-related merchants to sell gently used wedding decorations and share those specially curated collections of vintage items for future nuptials.
After the site arose, it was a favorite among couples that they're searching for inspiration for their wedding celebrations. Combining their unconventionally unique designs with the ideal wedding settings for a spectacular event with a once-in-a-lifetime mix of vintage elements and unique handmade solutions with more than four million followers.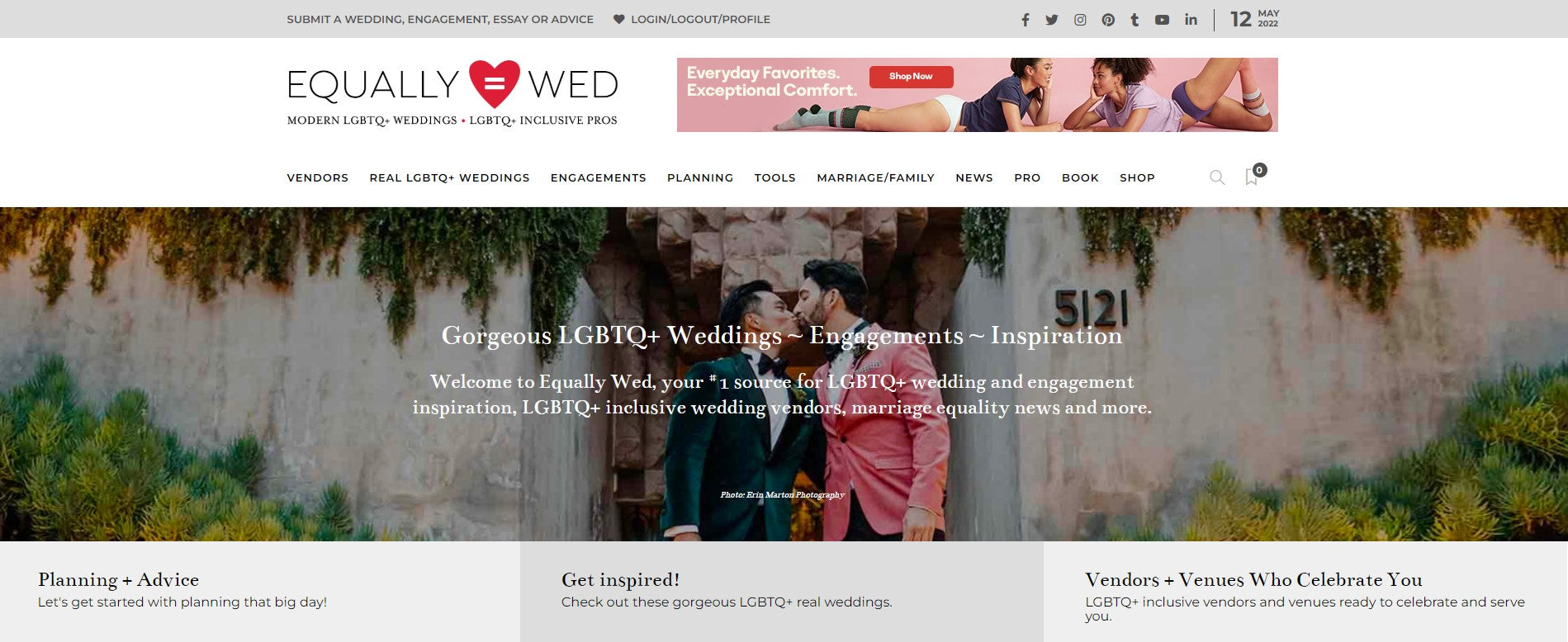 Equally Wed
Equally Wed are an online wedding magazine, book, and community resource devoted to LGBTQ weddings and friendly wedding vendors for transgender couples. Their inspirational content highlights wedding planning, real weddings, and provides news and updates on case law and gay-friendly vendors. Their authors and content have been showcased on or around such venues as The New York Times, The Washington Post, NPR, CNN, and many more. 

The Budget Savvy Bride
Budget Savvy Bride is the go-to place for couples designing their wedding on a budget. Download helpful money-saving tips and highly affordable DIY wedding ideas, get in touch with resources for real budget weddings and check out stunning photos and videos of beautiful weddings with no cutting corners. Next, browse the complete wedding lineup (details are included!) to show that you can afford to do beautiful things for your wedding, no matter how tight your budget is. Finally, obtain a wedding printable at no additional charge to customize your special day. They hope to be an engaging resource for those planning a wedding on a budget.

Bridal Guide
Bridal Guide would like to introduce you to a dream party venue with all-inclusive amenities and channels. Browse for all the suggestions and ideas you require for planning an unforgettable wedding or getaway! They are your go-to partners for everything you need to know to make the to-do's!

My Wedding
Creating a wedding celebration that is uniquely yours is what they aim to do at My Wedding. Their talented and experienced staff will work with you to create a unique event that reflects your personality and style. So, whether you are looking for a traditional or contemporary wedding, they have the perfect option. Their team will help make your wedding dreams come true, from location selection to decoration. So, contact them today to get started on your wedding planning adventure!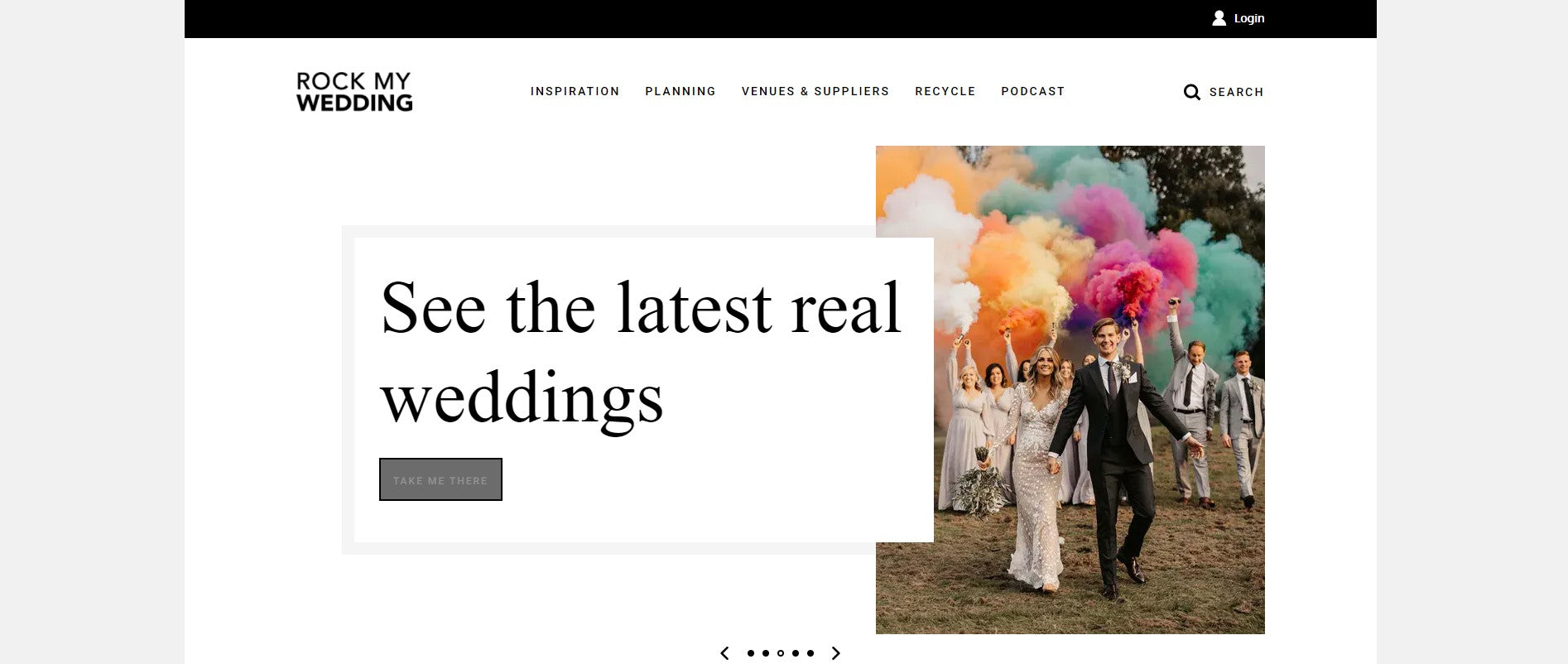 Rock My Wedding
Rock my Wedding significantly appreciates your choice to schedule the day that's best for you. They're here to heed your wishes by offering ad-free opportunities and ideas, such as inspiration, advice, and recommendations while planning your wedding days. Likewise, your union should be even more beautiful than your wedding ceremony.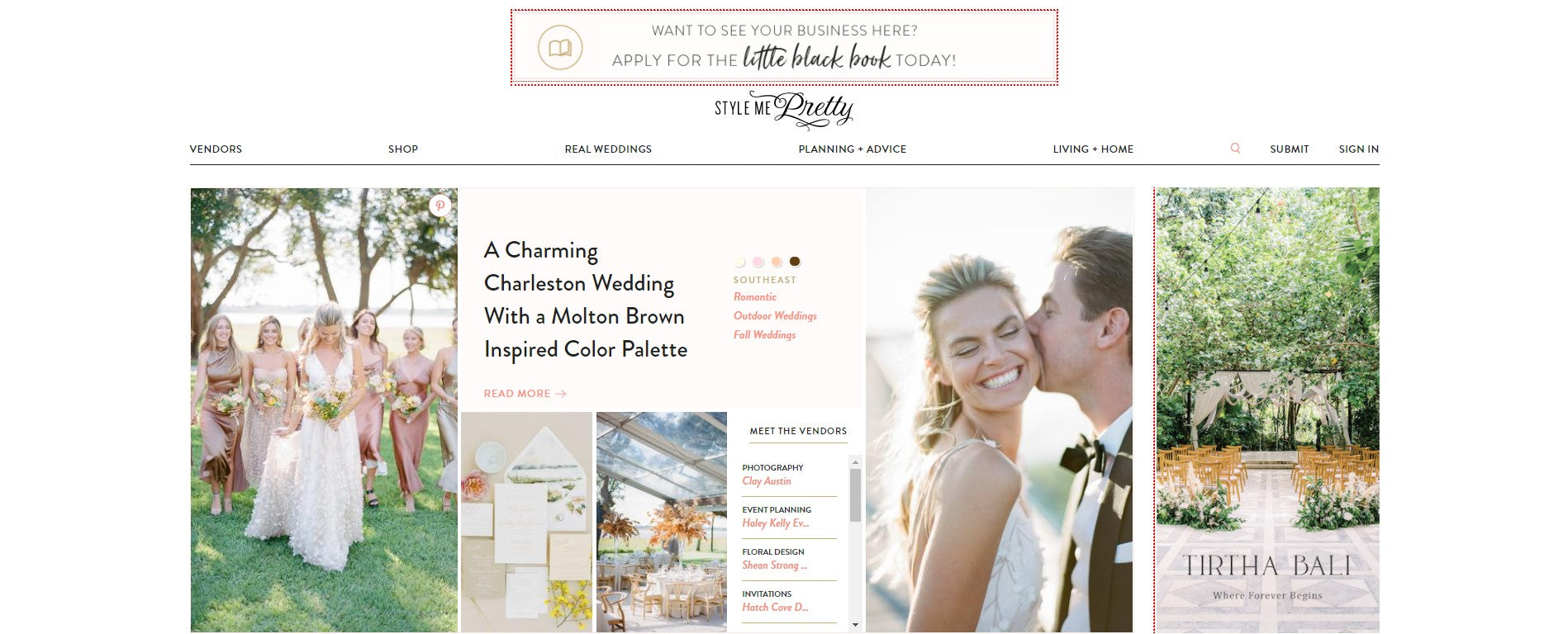 STYLE ME PRETTY
A handy one-stop destination for all things beautiful, Style Me Pretty is inspiring brides and grooms to be with what they need to plan the wedding of their ambitions, with the ability to shop the finest wedding vendors from around the globe. Style Me Pretty has the most beautiful real weddings to wedding planning tips and tricks and the latest wedding trends. Style Me Pretty provides all the services and resources couples need to make their dream wedding a reality.

WeddingWire
The largest and best-known matchmaking platform for wedding services is WeddingWire. It is a database connecting engaged couples with local wedding pros, consisting of over 500,000 fully vetted companies. Headquartered in 2007, WeddingWire provides platforms for collaborating with wedding vendors and providing various products and services to couples and businesses in 15 countries across North America, Latin America, Asia, and Europe.
Conclusion
In conclusion, we have compiled a list of the top wedding websites you will need for your big day. With these sites, you can easily plan every aspect of your dream wedding! These sites offer beautiful templates, necessary information, and helpful tips from registries to planners. With the help of these websites, you can have a perfect wedding without any stress. So, what are you waiting for? Get started today and see how easy it is to create the perfect wedding!