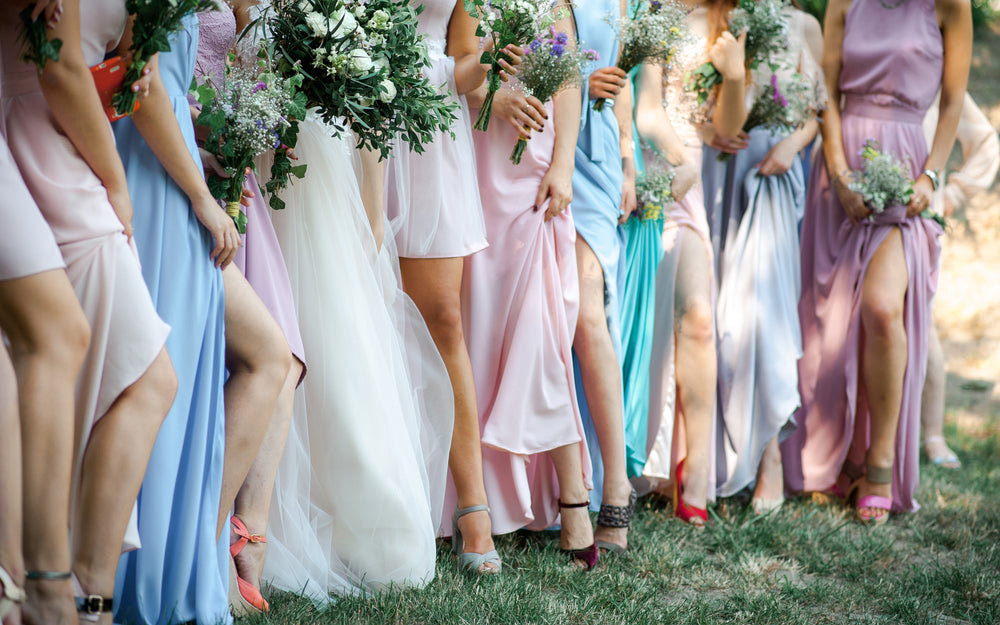 Are you looking for the ultimate bridesmaid dress guide? If so, you've come to the right place! When choosing bridesmaid dresses, there are a few seasons that you should pay attention to. Spring is a great time to go for floral designs and lighter colours. Summer is all about the bright colours and patterns, while fall is perfect for sophisticated outfits with layers. Finally, in winter, go for neutrals or warm tones. 
In general, this article will provide a general overview of the directory and vital tips on getting started. First and foremost, it is essential to realize that there is no one 'perfect' bridesmaid dress for every occasion. That's why it's necessary to try on different dresses and find what works best for you and your friends. Additionally, it can be helpful to read through the several helpful blog posts mentioned below and follow our advice on choosing bridesmaid dresses. Finally, don't forget to check out our site - Cicinia - for more inspiration!
We've got the perfect guide to help you choose your bridesmaid dresses by season, no matter your style! Now to get started and learn more about each bridesmaid dress type. Then, try these styles out next season and see which one fits your personality best!
Spring Wedding Tips - The Perfect Colour For Bridesmaid Dresses
Couples have continued celebrating their wedding day in the spring for several years now. For the reason that there is a perfect romantic atmosphere, fantastic weather, and the perfect classic, romantic feel for a special occasion during this period. Moreover, the spring season is loaded with vivaciousness and verdant colours of all sorts, and it symbolizes a time when nature is at its best. So it's adorable to associate with the spring an occasion where you have lots of room for decoration and colour, for example, the colour of the wedding dress or the accent colour of the collection of flowers.
For instance, dusty sage starts with this captivating leafy shade; dusty sage is an underappreciated colour within this colour palette. This colour is versatile for any subject, from dusk to dawn, depending on the dyes used; this excellent dusty sage colour transmits delicacy, grace, and relaxation. 
Moreover, dusty rose is one of the gentlest, most vibrant, and yet tender shades in the entire colour range. It's adaptable and warm but also somewhat sensitive. Dusty rose is commonly available in woven fabrics and printed and sheer materials. Due to its comfort and appeal, it's a fantastic colour to pick for midi-length bridesmaids' dresses or coordinating outfits.
Alternatively, the dusty blue colour transmits serenity, tranquillity, and a soothing effect. Moreover, it is a perfect colour for such delicate and velvety textures as chiffon and organza and looks good on all skin types. Another good thing about it is that it is a distinctive colour for a dreamy spring wedding.
Above all, the blushing pink shade will outlast any fashion trend and add beauty to your overall look due to its charm and visual appeal. So keep on wearing this pink colour on your nails and your lips, in the case of a bridesmaid dress and it's a great plan to wear this colour since it symbolizes movement and vivacity. Moreover, it also ranks highly among the specific straightforward colours, resulting in a romantic glimmer of sophistication. 
If you're unsure which colour to choose, try a few different options from the elaborate guide above and see what fits best for your party. You can also get started by checking out some of our favourite spring wedding colours on our website at Cicinia!
Spring Wedding Tips - The Perfect Fabric For Bridesmaid Dresses
When planning your spring wedding, don't forget the bridesmaid dresses! Whether you're opting for delicate lace or shimmering chiffon, there's a perfect fabric for your ladies. Get started by trying these key styles: 
Lace and chiffon are classic options for bridesmaid dresses, but emulation silk and sequins can also be beautiful. Satin and tulle are also popular fabrics for spring weddings, as they are lightweight and flowy. If you're unsure what to choose, don't worry - get started by learning more about each fabric type, and then try out some of these tips to help you get started.
Sequins and satin: This combo is classic and timeless. You can get either material in various colours and patterns, so your bridesmaids will look unique but coordinated. 
Tulle and emulation silk: This combination is popular because it gives the illusion of wearing sheer fabric without worrying about showing too much skin. The tulle provides a fun, flirty touch, while the silk provides a luxurious feel. 
Chiffon and lace: A soft, feminine fabric like chiffon paired with intricate lace makes for elegant spring weddings.
Summer Wedding Tips - The Perfect Colour For Bridesmaid Dresses
Summer is the perfect time to get married! The weather is hot and sunny, and there's no better way to show your love than by exchanging marriage vows in a beautiful setting. But before you can plan your dream wedding, you need to decide what colours will be best for your bridesmaids' dresses. Here are some tips to help choose the right colours for summer weddings: 
From dark navy to sage green, lilac to sky blue, taupe to flamingo, and mint green to orange, these colours will work perfectly for any summer wedding. But if you're still not sure which colour to choose, try a few different shades and see what looks best on each of your bridesmaids. You can also mix and match different shades for a unique look. And don't forget about accessories! Necklaces, bracelets, and earrings in complementary colours make a big difference in giving your bridal party an extra pop of personality.
For instance, the dark navy colour is perfect for sophisticated and elegant bridesmaids. In addition, it goes well with sage green and lilac, two of the popular choices for summer weddings. Correspondingly, brides who choose sage green as their colour choice will look natural and feminine. Furthermore, it coordinates well with dark navy, lilac, and blue shades, making it a versatile choice for any bride. Moreover, try lilac, sky blue, taupe, or flamingo if you want a brighter colour. These shades are cheerful and will add to the proceedings on your big day. In contrast, if you want a more subdued colour, go for mint green, orange, or coral.
Summer Wedding Tips: The Perfect Fabric For Bridesmaid Dresses
Summer weddings are a beautiful time of year. The weather is warm, and the flowers are in bloom. However, choosing a suitable fabric can be tricky. Here are some tips on selecting the right fabric for summer wedding dresses: 
The perfect fabric for summer wedding dresses can be varied depending on the preferences. For instance, tulle is light and airy, making it ideal for bridesmaids who want to feel floating. Chiffon is another good option for summer weddings. It's soft and flowy, and it drapes elegantly organza-style. Lace is also a popular choice for summer wedding dresses. It has a unique sheen that makes it look delicate but still elegant.
Moreover, some couples choose tulle or chiffon for shorter-waisted attendants. These light fabrics drape beautifully and are perfect for hot-weather weddings. For heavier fabrics, choose lace or silk emulations. These materials can be expensive, but they're worth it because they last longer and look more expensive than other fabrics. Another type of fabric that's appropriate for summer weddings is sequins. They add a bit of sparkle without being too flashy, so they're great for evening events.
Fall Wedding Tips - The Perfect Colour For Bridesmaid Dresses
When selecting the colour for your bridesmaid dresses, it is crucial to think about the type of wedding and what theme you are going for. For fall weddings, choose a warm but not too heavy colour. Burgundy, rust, hunter green, stormy, vintage mauve, dusk, grape, champagne, and brown are excellent choices for bridesmaid dresses. Next, pick a shade that will coordinate your wedding colours and style well. If you're looking for something unique, try pairing a dark burgundy with an electric green or a dusty rose with bright pink. For a more sophisticated look, go for muted shades like mauve or champagne. Finally, choose light shades like grape or light pink for a more playful wedding feel.
The tone of your fall wedding can be elegantly romantic or boisterously festive, and you can choose the perfect colour palette to reflect your mood. Burgundy, rust, hunter green, stormy, vintage mauve, dusk, grape, champagne, brown, and rose gold all have a timeless appeal and are versatile enough to match any wedding style. 
For instance, start by considering the theme of your wedding. For example, a fall wedding may be themed around fall leaves or harvest season; in these cases, burgundy and rust would be complementary colours. On the other hand, if you're planning a wedding featuring brightly coloured flowers and sunshine-drenched landscapes, consider choosing grape or champagne shades for your bridesmaid dresses.
Fall Wedding Tips - The Perfect Fabric For Bridesmaid Dresses
Looking for the perfect fabric for your bridesmaid dresses? Check out velvet, satin, jersey, silk, and tulle! Each fabric has its unique features that make your dresses look amazing. Velvet is luxurious and soft, while satin feels like a traditional wedding dress fabric. Jersey is a popular choice for fall weddings because it's lightweight and versatile. Silk is luxurious but wrinkle-free, making it an excellent choice for special occasions. Tulle is delicate but stunningly beautiful, perfect for casual weddings. And lastly, tulle comes in many colours, so find the right one to match your wedding colour palette. So get started today and learn more about each of these fabrics to find the perfect one for your fall wedding!
Next, consider your budget. Do you want velvet or satin? Silk or tulle? If you're on a tight budget, go for a jersey or a less expensive fabric. However, if you have some extra cash to spend, go for something more luxurious, like silk or tulle. Next, think about your style. Do you want something classic and conservative or something more flirty and girly? Whether you're looking for velvet or satin, jersey or silk, tulle or lace, there are many fabrics to choose from. And no matter which type of fabric you choose, start by getting familiar with the different types and their properties. Then try some samples out and see which one works best for your wedding theme and style.
Winter Wedding Tips - The Perfect Colour For Bridesmaid Dresses
Looking for a colour that will stand out at your winter wedding? Consider opting for cabernet, slate blue, ivory, chocolate, black, dark green, ink blue, Tahiti, plum, or steel grey as bridesmaid dresses colours. Each of these colours can be paired with different shades of accessories to create an overall look that is unique and memorable. For example, a plum dress with a light brown belt and steel grey pumps for a sophisticated look. Alternatively, go wild with Tahiti by pairing it with bright pink accessories and black shoes. Whether you prefer an edgy or more subtle look for your bridesmaids, these colours will look their best!
Firstly, the cabernet is the perfect hue for a wedding in the chilly months. Its dark and rich shade will complement any skin tone and can be paired with ink blue or ivory dresses for a sophisticated look. For something a little more whimsical, try slate blue. This colour is versatile enough to work with any ensemble and pairs well with chocolate and black accessories. Finally, try dark green or steel grey if you're looking for something less formal but timeless. This delicate shade will look lovely against most skin tones and is excellent for pairing with green accessories or neutrals like steel grey. Above all, want to go all out this winter? Try Tahiti! This bright pastel colour will add life to your group shots and can be dressed up or down depending on the occasion.
Winter Wedding Tips - The Perfect Fabric For Bridesmaid Dresses
For a winter wedding, choose satin or chiffon fabrics. These fabrics are lightweight and warm, making them perfect for cold-weather weddings. If you're looking for a more elegant look, choose tulle or velvet. Both fabrics have a delicate feel that will flatter your bridesmaids. Finally, crepe is a versatile fabric that is soft, lightweight, and comfortable to wear, so your bridesmaids will enjoy wearing it on their special day.
Conclusion
In conclusion, whether you are planning a summer wedding or one in the fall, winter, or spring, choosing bridesmaid dresses is an important step. By reading this article, you will have everything you need to decide and find the perfect dress for your special day. With a little bit of research and planning, choosing the ideal bridesmaid dress will be a breeze! So read on, choose wisely, and enjoy your wedding!