Countryside gardens, a hidden river and a burrow in a field - this is what a cottagecore wedding theme has in store for your wedding day. It returns to the traditional English country style where nostalgia and romance are mixed to create lovely nuptials. Imagine having sourdough bread, homegrown products, peasant dresses, open meadows, baking pies, freshly picked flowers and rustic cottages at your wedding. That's what a cottagecore wedding is all about.
Now that you're settled on the simplicity and charisma of the cottagecore wedding theme, it's time to draw some wedding inspiration from the ideas below.
You can find more wedding theme ideas here: 10 Alternative Wedding Themes You Can Try for Your Big Day
Sweet Cottagecore Wedding Dress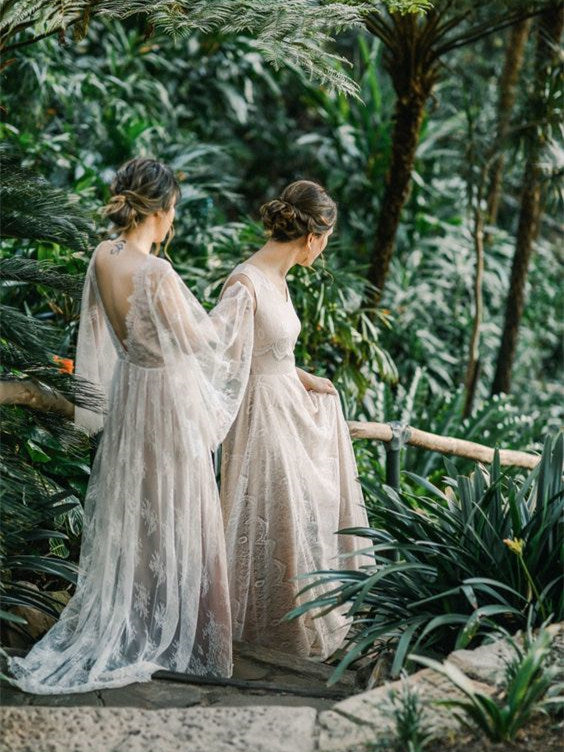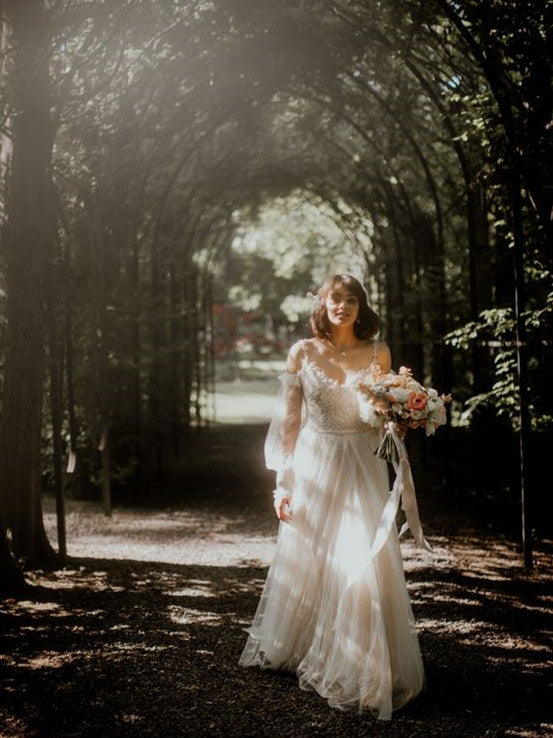 Something is charming about a cottagecore wedding dress that's romantic enough for the countryside yet has a modern touch. As a lovely bride, you can try on different wedding gown styles such as floral designs, cotton dresses, allover tulle, dress with puff sleeves and silky chiffon.
Our pick is the silky chiffon that drapes on the arms over the bride and is floor-length. The smooth and soft dress is almost transparent, so you can quickly run in an open field full of blooming flowers. Add a deep v-cut on your dress' backside for a modern look.
Nature-friendly Bridesmaid Dresses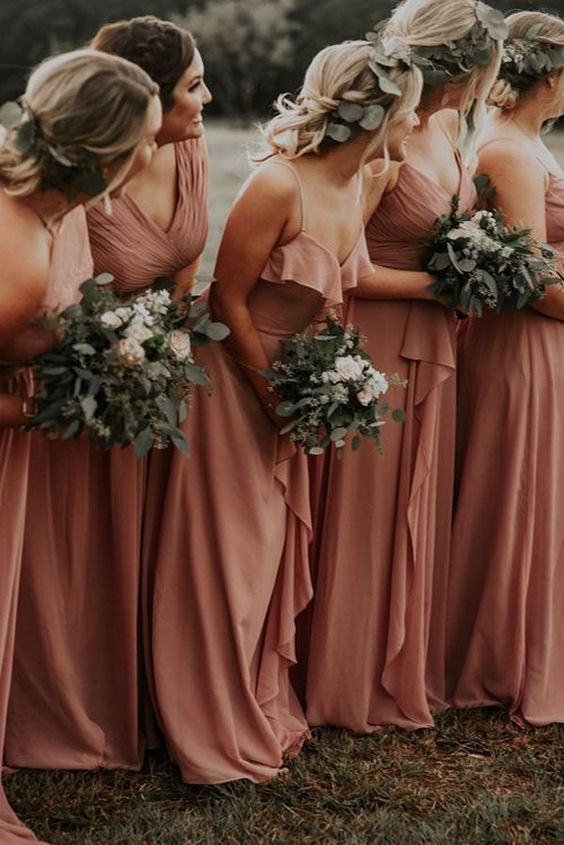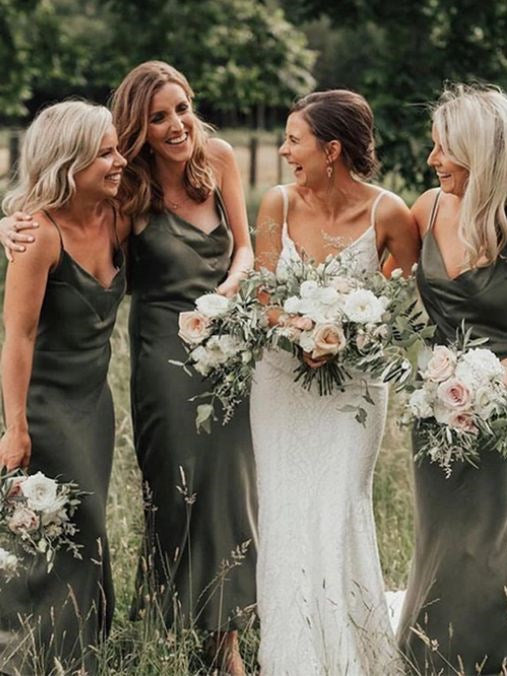 One of the most appealing parts of having a countryside nuptial is the close contact with nature. You can incorporate its colours into your wedding and make your bridesmaid dresses nature-friendly and full of cottagecore vibe.
If you're going for a silky dress, you can also do so with bridal party dresses. A deep green hue matches the glamour of the big day and will not stick out like a sore thumb. Keep their dresses simple with a v-line and thin strap.
Unique Bridal Hair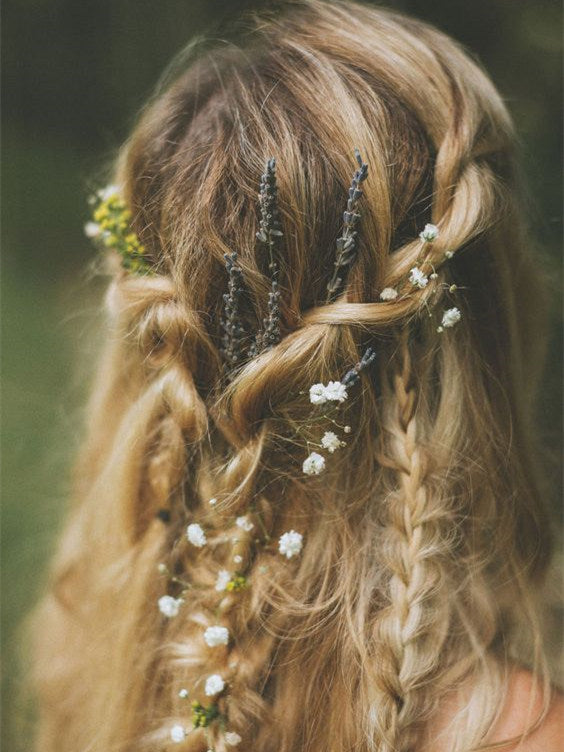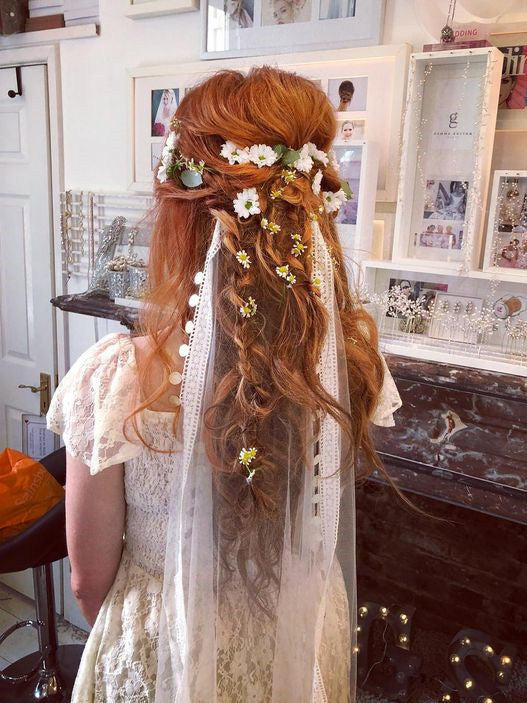 Add a flair to your hair using delicate small flowers. You can have a flower crown or simply insert the small flowers into your hairstyle. You can exchange it for a veil if you like as well. Flowers are beautiful to work with and full of cottagecore aesthetics. Whether in your dress or hair, it adds an attractive appeal.
You'll turn into a woodland princess with this unique bridal hair. Entwine a dried lavender, baby's breath, and other small flowers, then blend it into your hair. Trust us, and your hair will be the talk among your guests for its uniqueness.
Romantic Aisle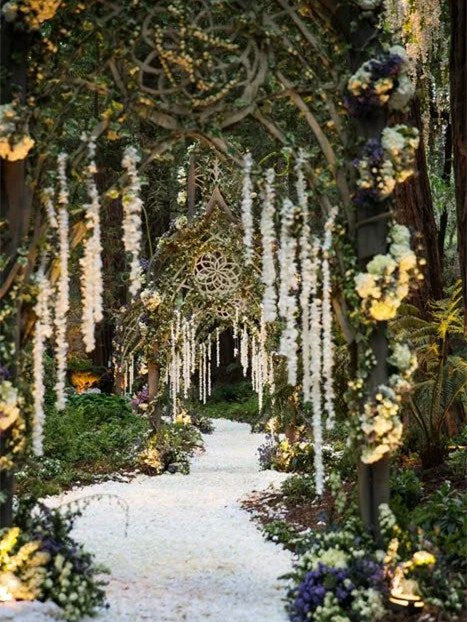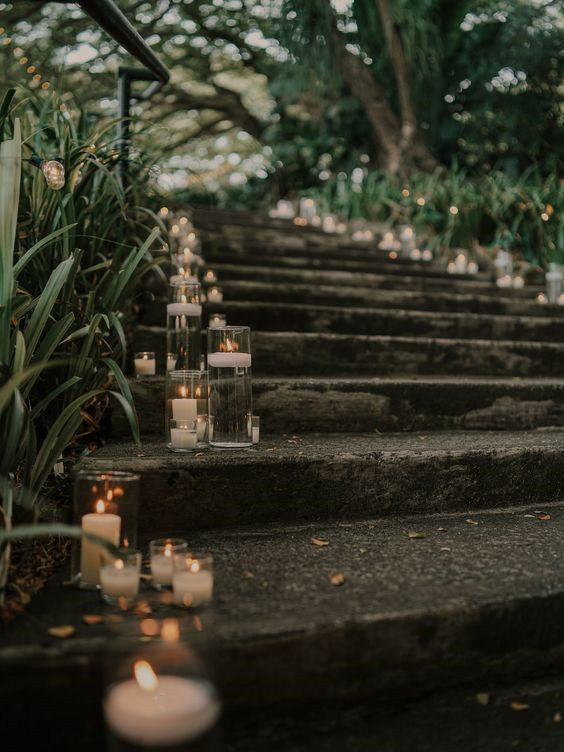 Your outdoor ceremony is perfect for the cottagecore motif. But wait, since it's the wild grasses, mossy landscape and abundant forest, what should and shouldn't be done on the aisle? Well, for the should do, white lit candles on the sides of your aisle. It will look like woodland fairies or fireflies dancing and celebrating with you and your beau. It's also an inexpensive option to decorate the venue.
You shouldn't have perfectly arranged aisle decorations, though, because the beauty of a cottagecore wedding is in its natural vibe that's not prim and proper.
Lush Arch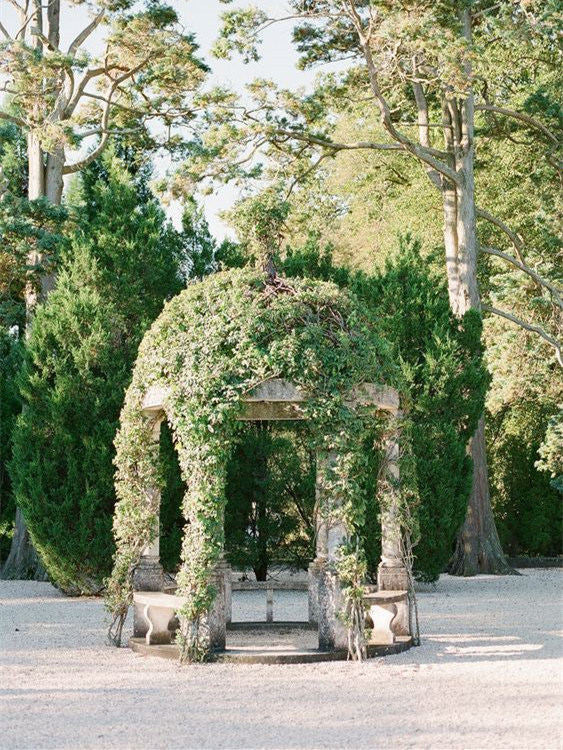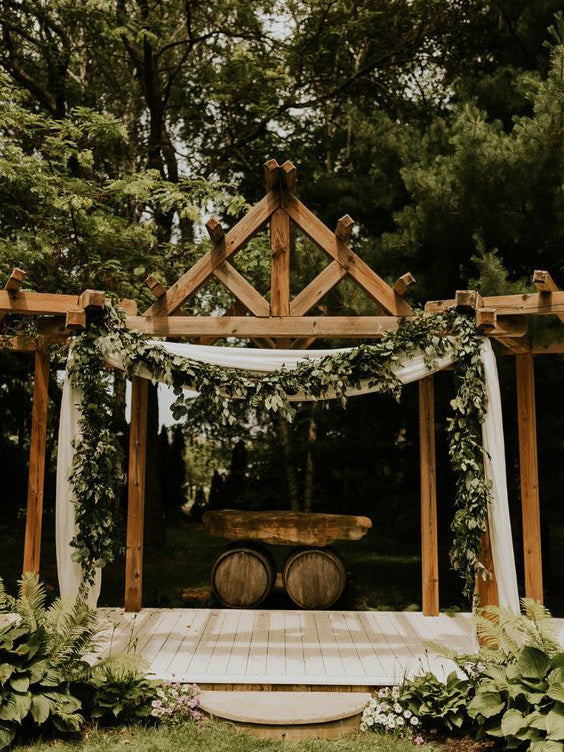 A beautiful wooden arch captures the heart and soul of rustic countryside matrimony. Decorate it with hanging vines, wildflowers and dainty linens for a romantic feel. And because cottagecore means a mash-up of boho, woodland fairytale and rural farm, you can't pass up on having a wooden arch as the main centrepiece on the altar in the outdoor wedding.
Moreover, if you don't want the bulky wood dominating, you can ask for an arch with wildflowers and lush greenery. You can do DIY or rent a wooden arch and turn it into an English country style. Adorn it with string lights if you'll say your "I do's" while the sun sets.
Rustic Wedding Venue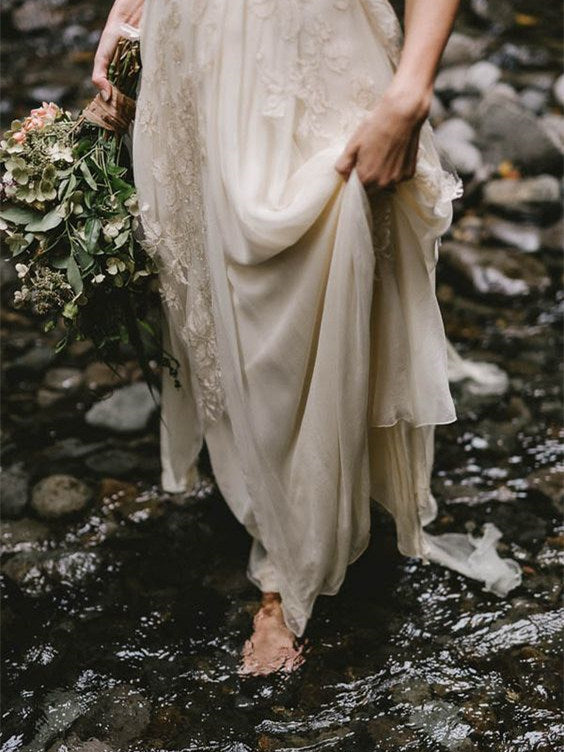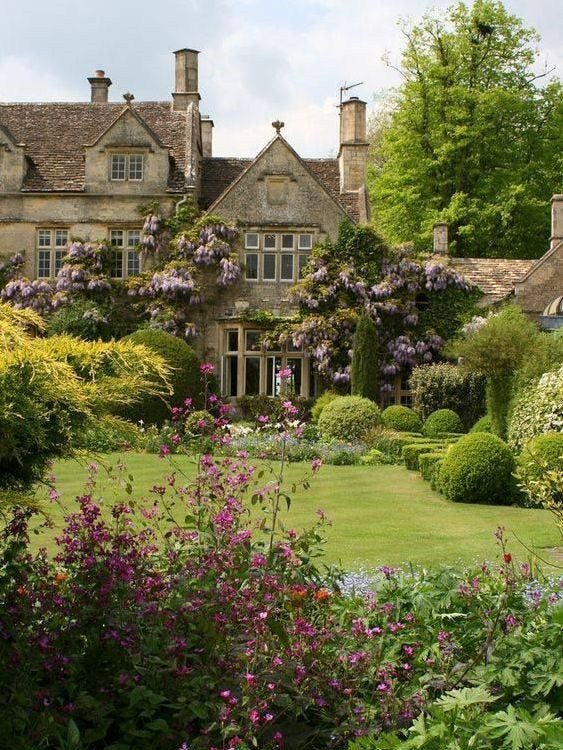 Cottagecore wedding venues are in every area. Lean into nature as much as possible to achieve the cottagecore wedding. You don't need to travel far to have a rustic landscape. Immerse your family and friends in the boho and vintage romance by hosting your wedding ceremony, cocktail hour and reception in the great outdoors.
Cottagecore weddings are a trend this year but remember these things when choosing your venue: space, areas for after-ceremony activities, privacy, colour, lighting, parking, outlets, view and sound quality.
Artistic Wedding Invitation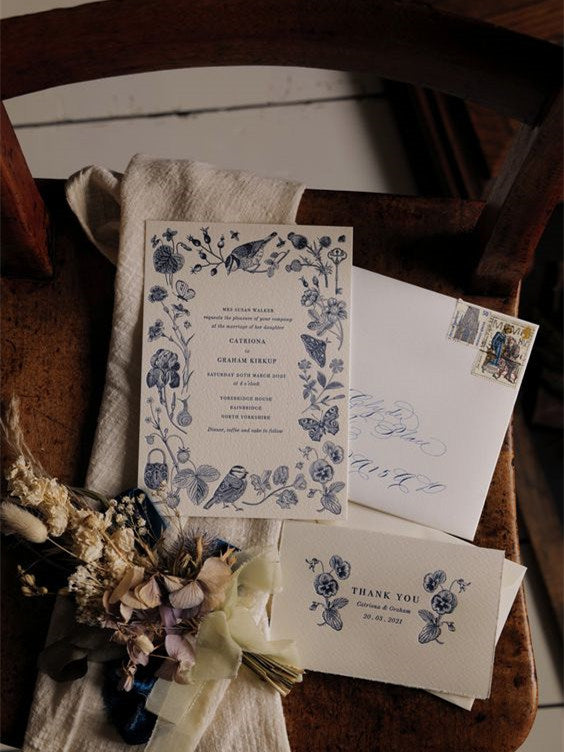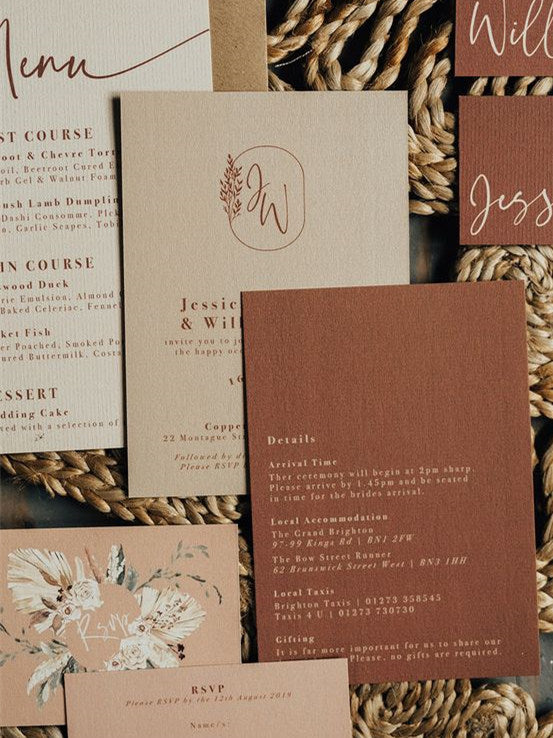 Wedding invitations are vital because, through them, your guests will already know the motif depending on your design. Incorporate nature in the invites with flowers, birds, butterflies and vines. If you want to personalize it further, you can tie everything with twine and tags. Some couples even have an embosser to give it a "wow factor" and will definitely make your guests come.
Other add-ons in your wedding invitation are real dried flowers, personalized stamps, cut edges, brown paper and ribbons that align with your motif, full of the cottagecore wedding aesthetic.
Sturdy Guest Book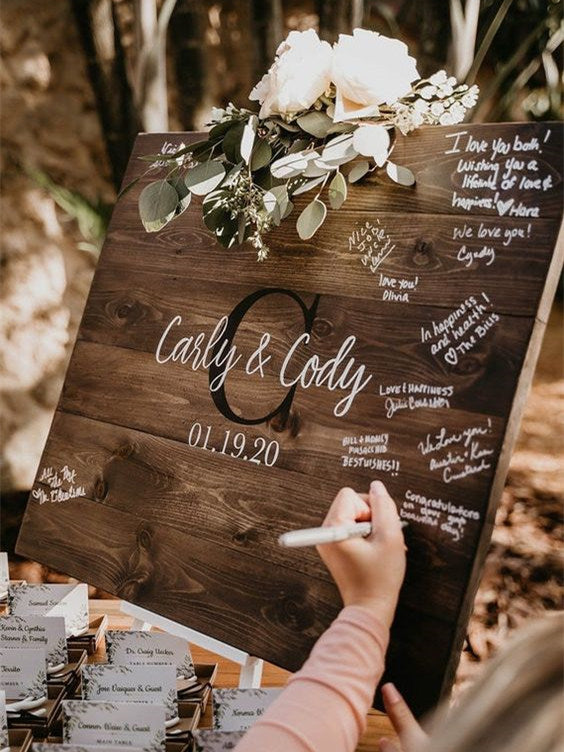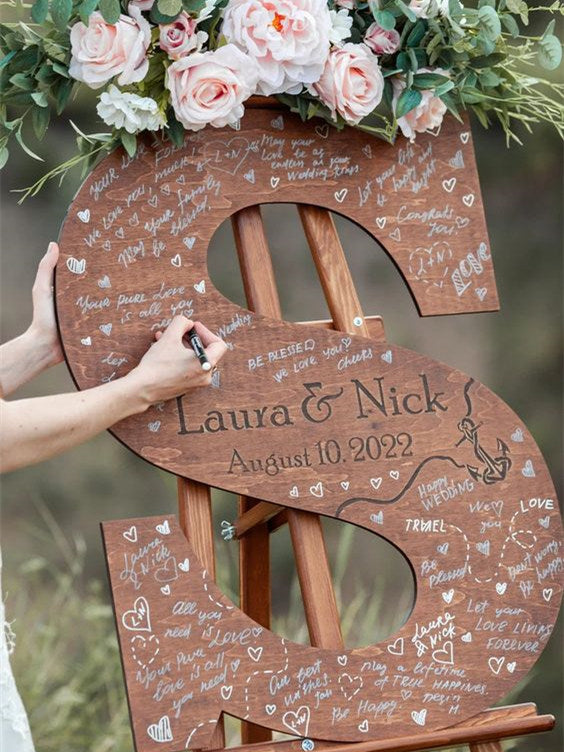 Since you're in the setting of rustic countryside, why not use varnished wood as your guest book? It's sturdy and can last a lifetime too. What's more, you can display it on your wall to reminisce the first beautiful day of your life as a newlywed. Using a wooden material ensures it won't get filed away and forgotten.
In a guest book, you'll read the dedications of the most important people in your lives. Make sure you have a permanent white pen in tow so everyone can write visibly on the wood.
Vintage Reception Area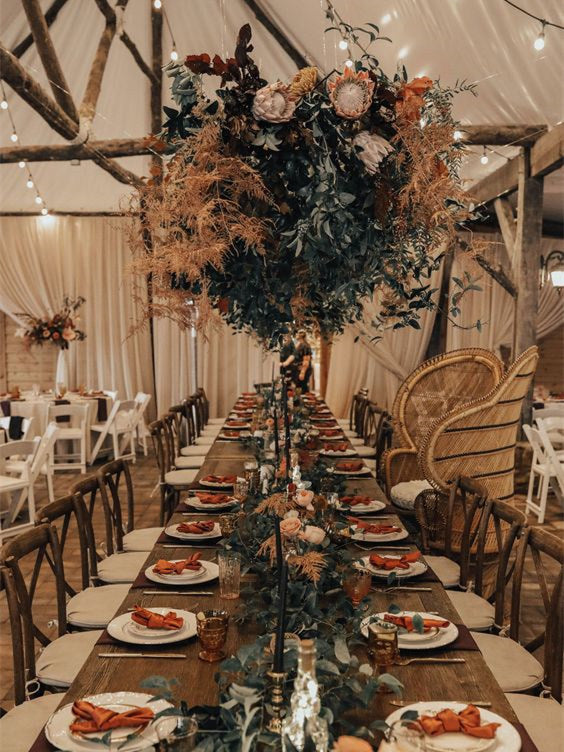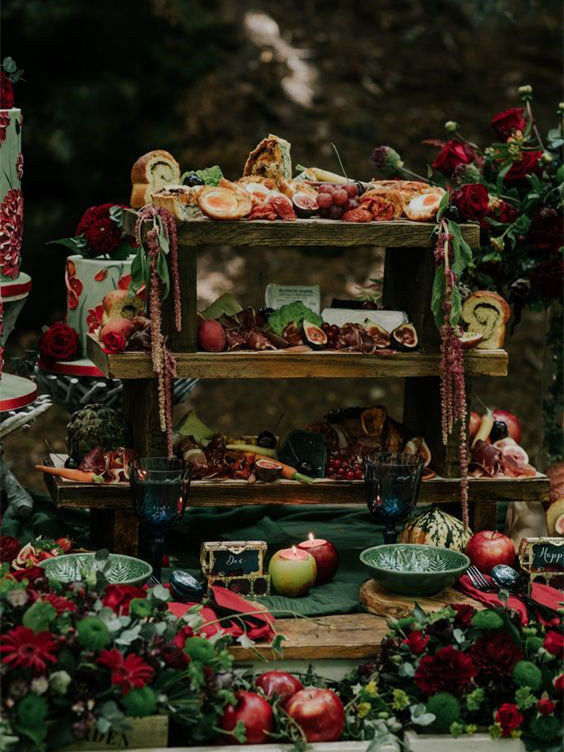 Rustic and vintage go well with a cottagecore wedding, so the wedding reception area should be full of beautiful old-fashioned cutlery, wooden chairs, a touch of brownish-orange coloured napkins and copper centrepieces that hold wildflower bouquets. It's a concept in Taylor Swift's Folklore and Evermore albums, so you can play that during cocktail hour to set the mood.
To stay true to the cottagecore motif, keep your reception decors simple. Yes, you can incorporate antique wedding decors but make sure you don't go overboard. Rural life is full of remarkable simplicity.
Delicious Cottagecore Wedding Cake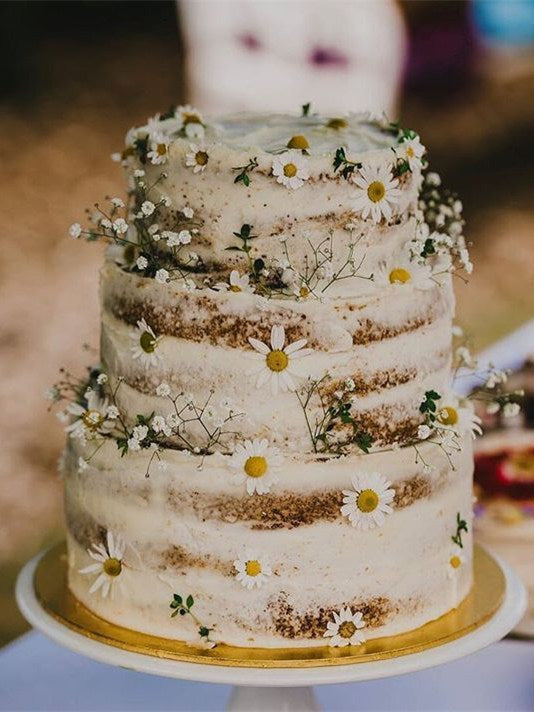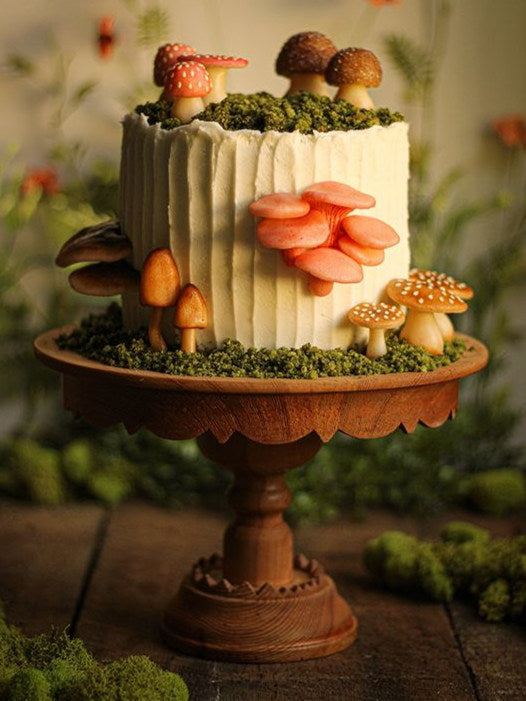 Ask your pastry chef to create a masterpiece with the open fields in fairytales as your wedding cake. She can have mushrooms, wild grasses and small flowers as decorations for your wedding cake. If you don't like the colours of a vintage design, you can also do the alternative of colourful cakes as long as they're close to pastel and still work well with the whole motif.
Antique Cottagecore Wedding Rings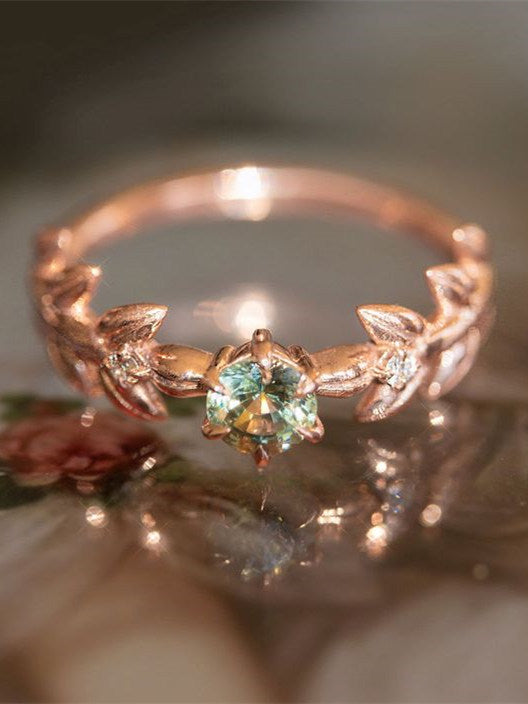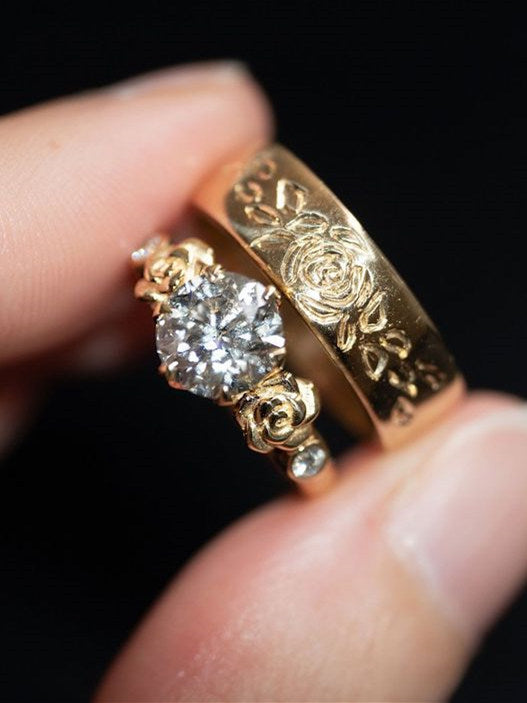 When it comes to ring designs, go for antique-looking rings that never go out of style. Have a diamond ring with embossed gold flowers at the sides. The groom can have a matching ring with a gold flower in the middle and leaves at the sides. Specifically, choose a rose design as it's the common flower to say "I love you" to your beau.
Rural Wedding Decors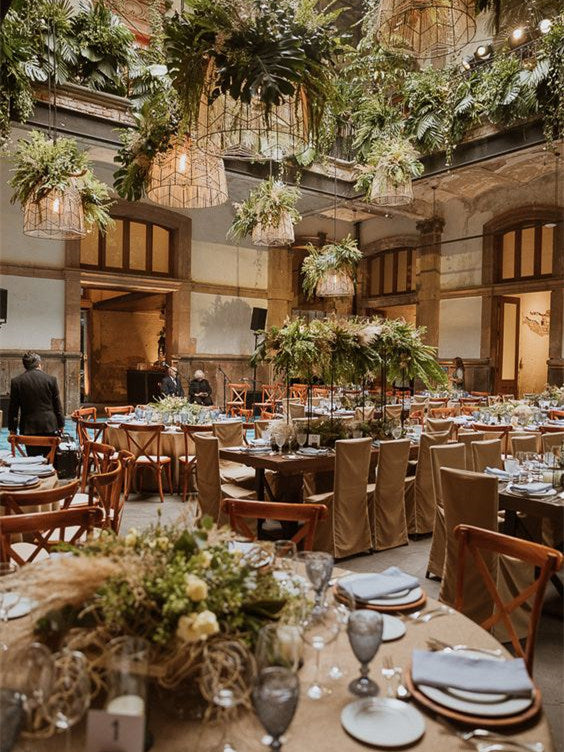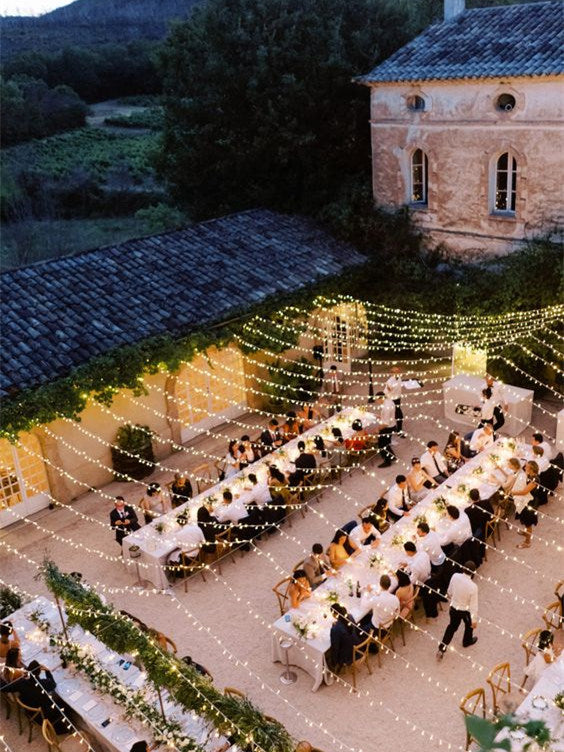 The English countryside has its own set of glamour from city life. Nonetheless, it's still a majestic experience to have your wedding in a rural area. For your decors, incorporate coloured glassware, patterned textiles, porcelain plates, embroidery, and lace designs on napkins and tablecloths.
Don't forget to add a lot of wildflowers like baby's breath, lavender and several other wildflowers to stay true to the countryside nature and cottagecore wedding style.
Sustainable Wedding Favors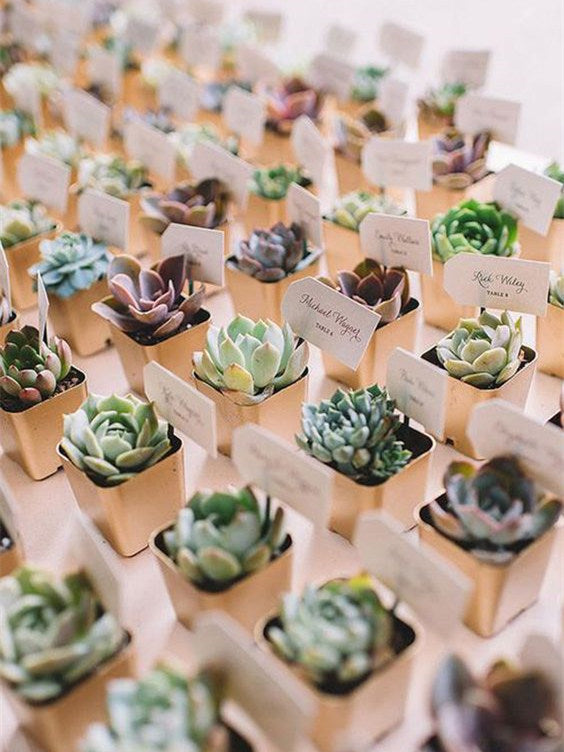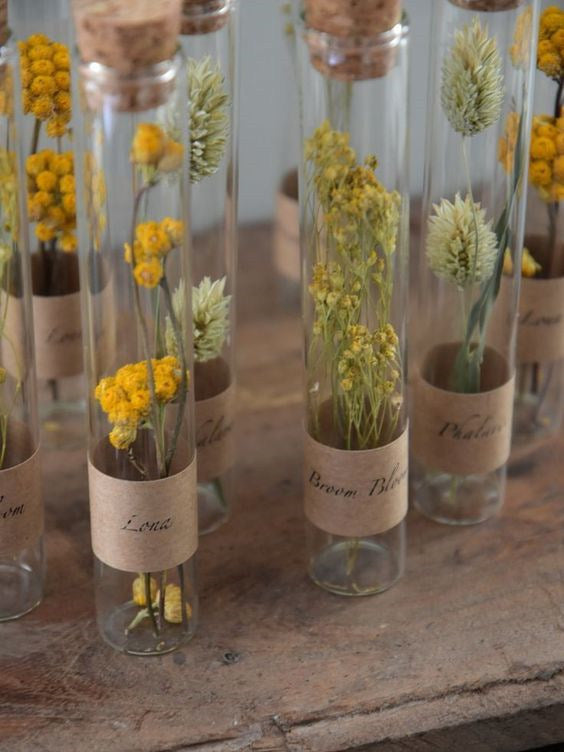 Cottagecore style boasts sustainability as one of its core elements. Your wedding favours should be nature-friendly and won't end up in the dumpsters. You can use dried flowers and encase them in a glass bottle for a simple, nature-friendly and aesthetically pleasing wedding favour. This kind of souvenir is an excellent reminder of your eternal love for the countryside.
A succulent plant is your best bet if you're really aiming for a sustainable wedding favour. You'll be helping the environment and at the same time your family and friends to be nature lovers.
You May Like to Shop: Dusty Sage Bridesmaid Dresses