Image source:Olguinphotography
One of the delicious ways couples can make their weddings unforgettable is by ditching some traditions like wedding cakes. Doughnuts have been a staple in modern weddings, and why not? They are tasty, soft, sweet, sticky and colourful simultaneously. Everybody loves them, so it's no wonder wedding doughnut walls are sought-after decoration items today. Before we glaze through the most delectable doughnut wall ideas, let's walk through the history of this sweet treat.
You can find more wedding theme ideas here: 10 Alternative Wedding Themes You Can Try for Your Big Day
Short History of Doughnut Treats
Doughnuts have a long European history and set their roots in the early Middle Eastern cuisine. The Dutch introduced these "fried cakes," as they were called before, to the Americans, who ate them during special occasions and holidays.
If you think the 19th century was where doughnuts were invented, then you should continue reading on. Ancient Rome and Greece had the first version of this sticky treat. During this period, cook small pastry dough and deep fry it in sweet honey or smelly fish sauce. Yummy, isn't it?
Old doughnuts recipes also had no holes, not until Captain Hanson Gregory, a Dutch sailor, said to invent this prominent feature. As the legend goes: Captain Gregory's mother made some doughnuts for his voyage in 1847. One night there was a terrible storm on June 22, 1847, and he couldn't get his hands free on the steering wheel. In his hunger, he impaled a doughnut in one of the spokes that drove a hole in the centre so he could still eat, and voila! He invented one of the most critical innovations in the dessert industry.
Kidding aside, there are a lot of versions of how Captain Hanson made the hole in his doughnut, but this seems like the funniest of them all. This delectable confection has survived two World Wars and the changes in society.
And the rest, shall we say, is history.
Meaning of Doughnuts
Image source:Pinterest
When you were kids, we bet you used to put mini doughnuts on your finger and pretend it was a ring doughnut. Sweet, sticky and delicious doughnuts are perfect desserts for any party, especially ones that celebrate the lasting love of two people. But do you know why doughnuts are close to romance?
When you dream of doughnuts, the meaning is most likely related to happiness, joy, comfortable life, security and growth. Newlyweds aim for these things, so it's a complimentary dessert during the reception. Not to mention, its round shape is like a ring that symbolizes wedding and marriage.
If you want to try something different for your wedding cake that your guests can also enjoy, a doughnut wedding wall is an alternative you're looking for. Just imagine the different tasty flavours you can all indulge in and the sweet aroma this pastry offers. It's an exquisite dessert that goes well with any party.
Now that you know the short history and meaning, let's look at magnificent doughnut walls for weddings.
Doughnut Wall Wedding Ideas
"Put a ring on it" Doughnut Board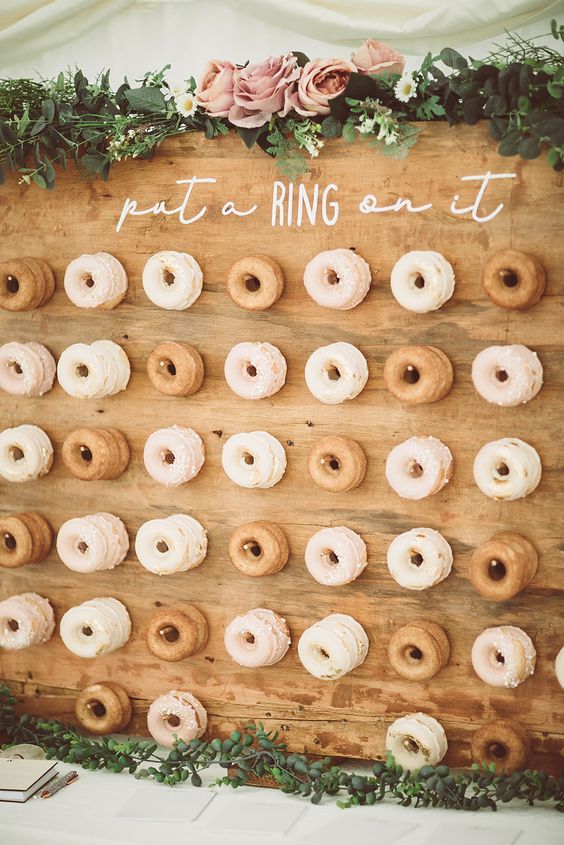 Image source:Pinterest
If you search for how to make a doughnut wall for your wedding day, this is one of the basic designs that'll show up. It displays different flavoured doughnuts in white, baby pink, and brown hues. You can rent a doughnut board or do DIY if you have time.
Beautiful Hoop Decor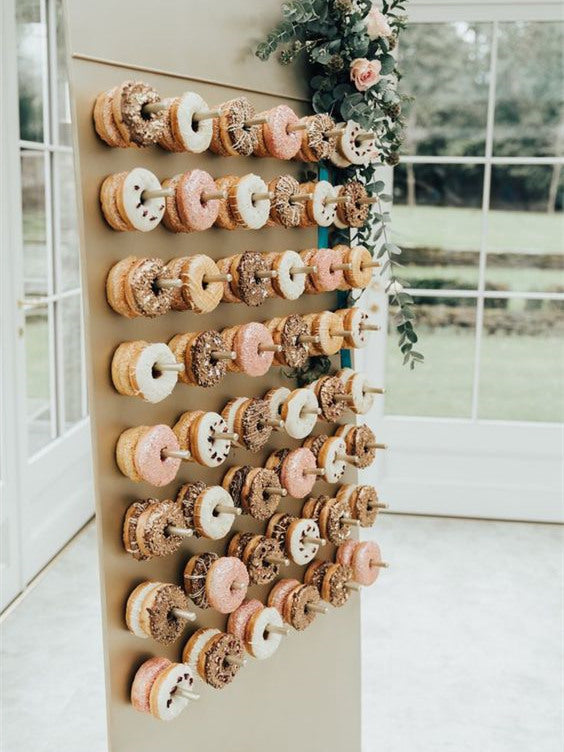 Image source:Pinterest
Fun fact: Doughnut wall stand is the new dessert obsession. Hook a variety of sprinkled, glazed, nutted, and filled doughnuts in a beautiful hoop decor to fill in the sweet tooth of your guests and beau. It's fun to have choices that are fun and affordable at the same time. No one will complain if you serve them doughnuts as wedding food, that's for sure.
"All You Need is Love & Donuts" Panel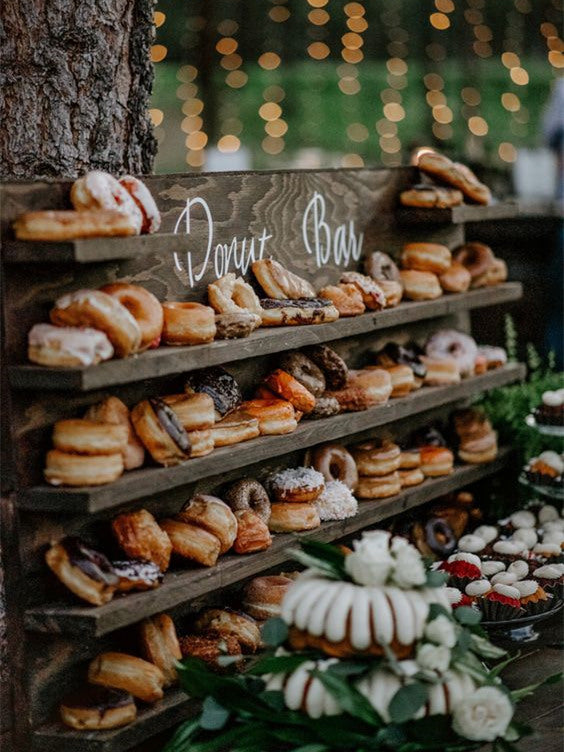 Image source:Pinterest
Are you having a rustic wedding? Throw in this sweet panel on the dessert corner and decorate it with scrumptious ring-shaped doughs. This circle of happiness can turn into an icebreaker among guests, which means no double moments during cocktail hours! Don't forget to make your doughnuts enjoyable with different feelings and flavours if you can incorporate your motif into the flavours.
"Treat Yourself" Glass Wheel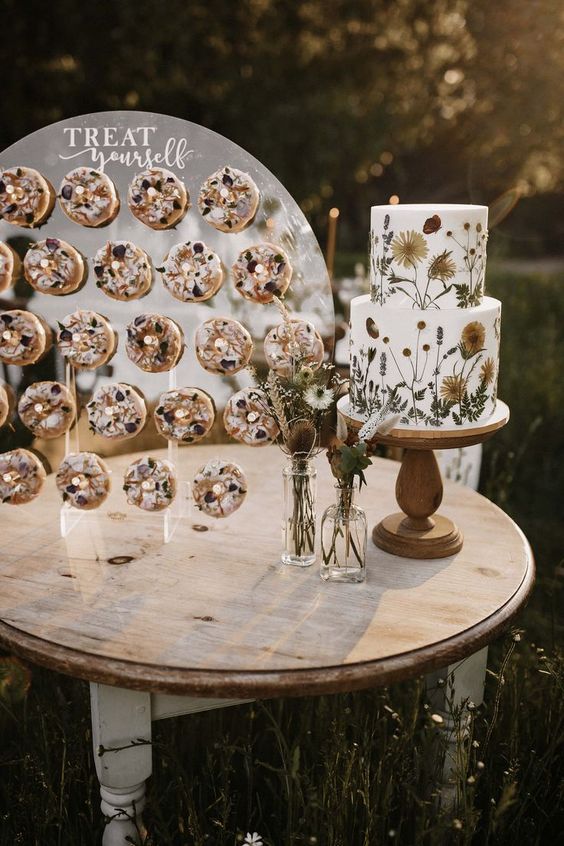 Image source:Pinterest
Delightful and uniformed doughnuts in a glass wheel emanate a classy and chic feel on your pastry table. You can have a 2-tier wedding cake and fill the rest of the desserts with these "fried cakes." Your set will look like a never-ending sugary path of happiness and joy. Just think about the sticky bliss these treats bring to your wedding party.
"A 'Hole' Lotta Love" White Collection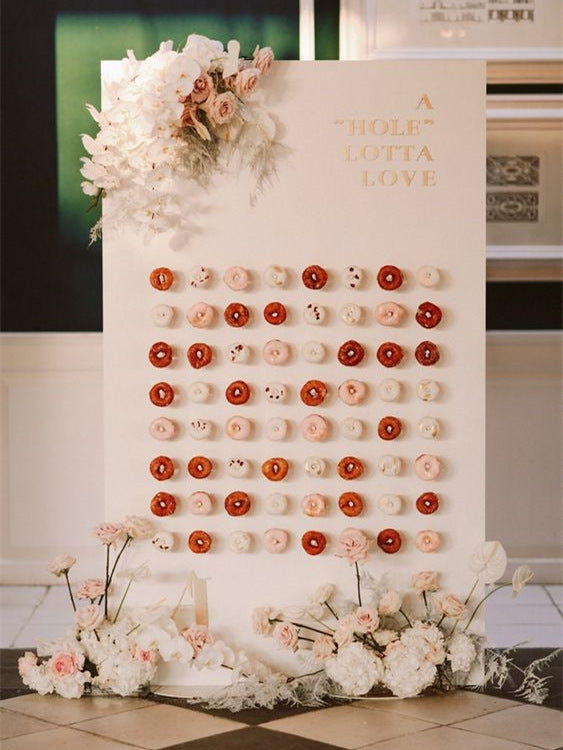 Image source:Pinterest
Weddings are made with a whole white confectionary, but that just leads to dull and stiff decorations. How about putting up a doughnut wall at the wedding? Now that's going to get everyone excited.
No one thought about using doughnuts as a centrepiece for their main wedding table, but here we are - full of love and doughnuts.
"Treat yo self" Doughnut Table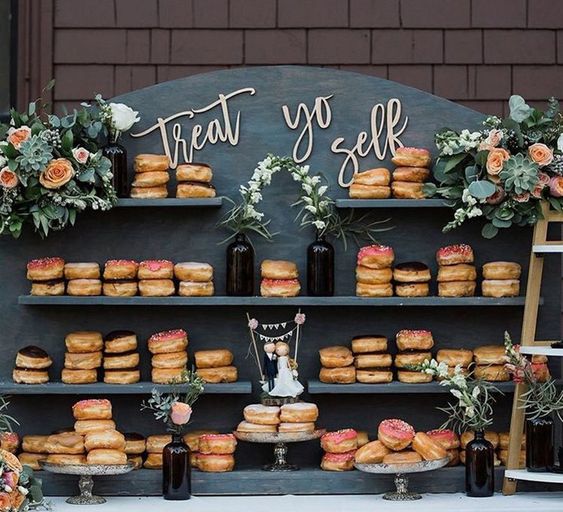 Image source:Pinterest
Indulge in mixes of ring-shaped confectionaries during your wedding's cocktail hour. You can have a dark cupboard and table for a modern look. Decorate it with flowers and cake toppers of husband and wife in the middle of all the doughnuts to make it feel like it's part of the wedding.
Moreover, a doughnut is good for the soul, which means no one says "No" to it. Breakfast, lunch or dessert, it doesn't matter because it can be eaten any time.
Layered Doughnut Cake
Image source:Pinterest
Having a layered doughnut cake as an alternative to a traditional wedding cake is more sustainable and favourable because not everyone likes cream or vanilla flavour. Rent a white 5-tier dessert holder and decorate it with flowers and small trinkets that suit your wedding theme. Ask your chef to bake you beautiful rose-coloured doughnuts with different fillings to make a doughnut tower.
A layered doughnut cake is also more affordable than an actual 5-tier wedding cake.
Heart-shape Wall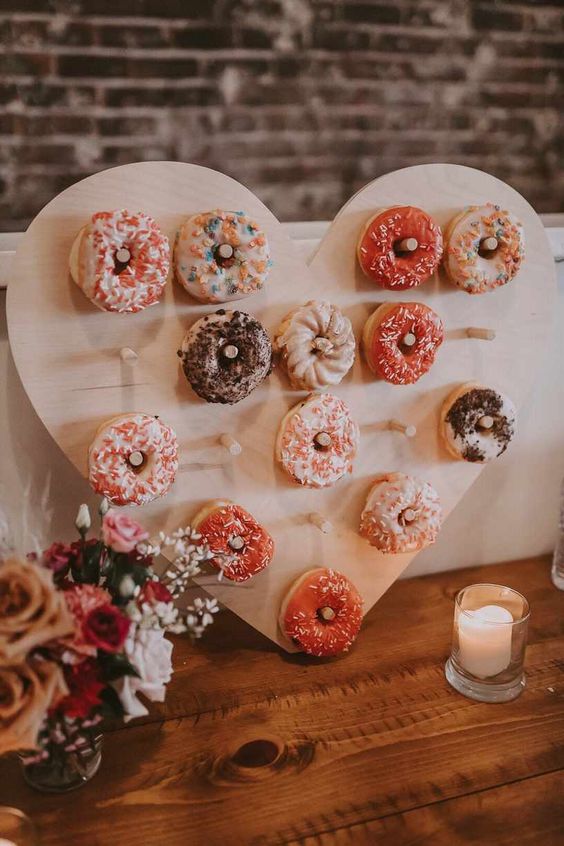 Image source:Pinterest
What better way to say it's a celebration of love than a heart-shaped wall? Set up a DIY wooden heart-shaped glazed doughnut wall at the buffet table so guests can choose their own flavour. It's an Instagram-worthy wedding decoration that is perfect for your blissful matrimony. This wall is easy to put together too and available online.
Huge Doughnut Wall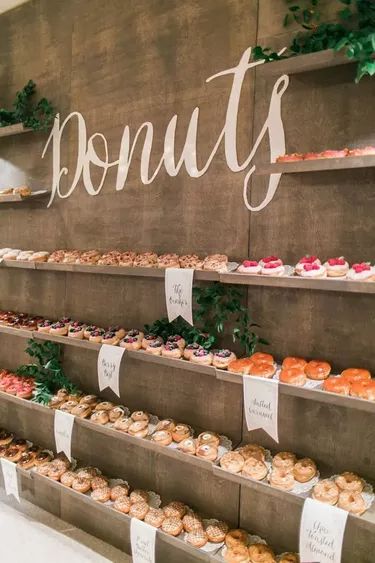 Image source:Pinterest
Are you and your beau big doughnut fans? Give these ring cakes their own massive wall and put on a big "Donuts" sign so your guests won't be lost. Make sure to display different flavours so everyone won't get tired of eating them.
Some can eat doughnuts to stop drinking too much or at least barfing when some get tipsy. You'll thank the doughnuts for saving the night of those drunk people at your wedding party.
Boho Doughnut Wall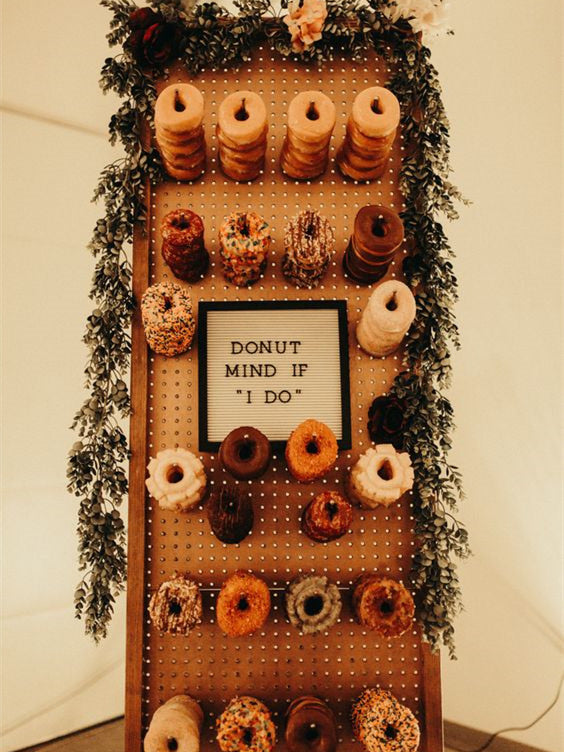 Image source:Pinterest
Boho is all about earth tones and florals, so go for this feeling in all of your wedding decorations. Additionally, a doughnut display stands at a wedding reception is easy to design and versatile for any motif. You can ask your wedding planner to set up a floor-length wall with a saying in the middle like "Donut mind if 'I do'" to keep it aligned with the occasion.
Hook Doughnuts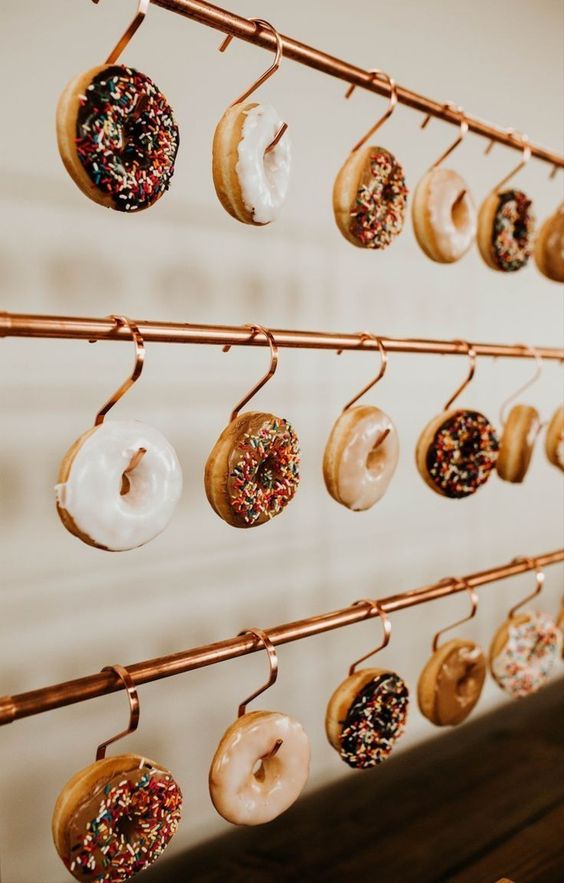 Image source:Pinterest
If you want a unique take on the wall doughnut, creating hooks for your delectable treats changes the whole scenery of your cocktail hour. They are the perfect dessert bar backdrop which makes your guests crave sugary delights. You'll indeed have a blockbuster dessert table after the ceremony.
Initials Doughnut Wall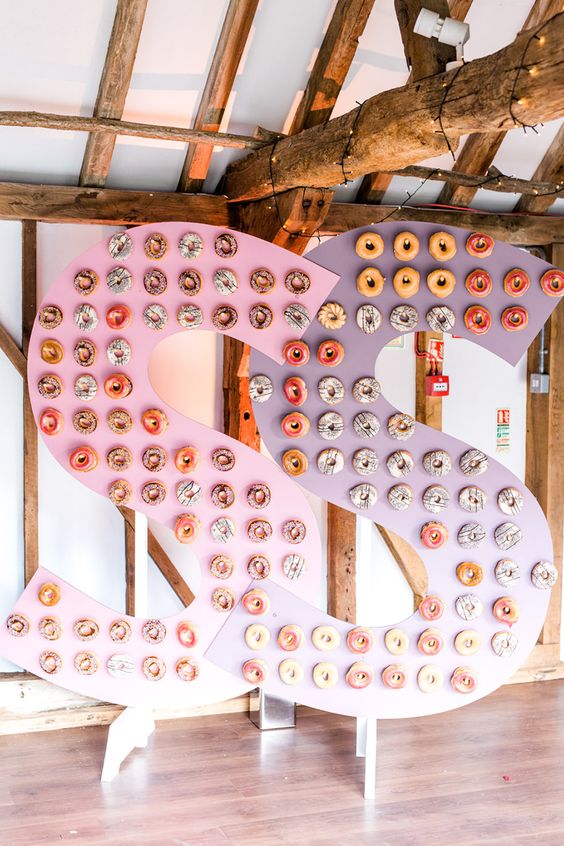 Image source:Pinterest
Here's something cool to do with your doughnut wall, change the traditional board wall into the bride and groom initials. Having doughnuts at a wedding is unconventional but making these flavorful soft pieces of bread accentuate your initials takes home the "Most Talk About Decor Item" award at your wedding reception.
Trust us; everyone will have greedy eyes for those mouthwatering delicacies if you put them on the Initials doughnut wall.
Fun Stuck Up Doughnuts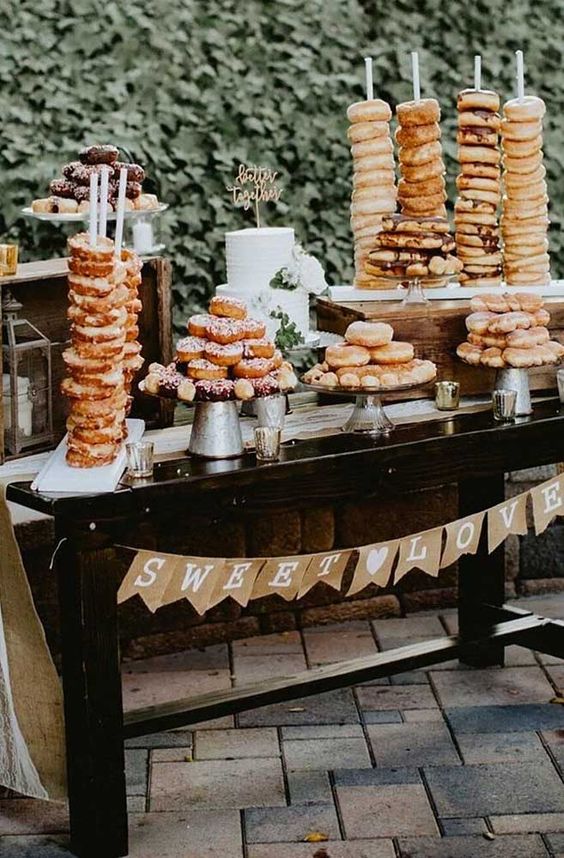 Image source:Pinterest
Enhance your cake table with fun stuck-up doughnuts. It's an edible ornament on the table that fills up the plates if you only have a small wedding cake. Doughnuts are cheap, delicious, soft and enjoyable no matter who your guest is. It has the right amount of sweets not to make anyone diabetic. This is a great pastry cake that fits any budget.
Monochromatic Doughnut Wall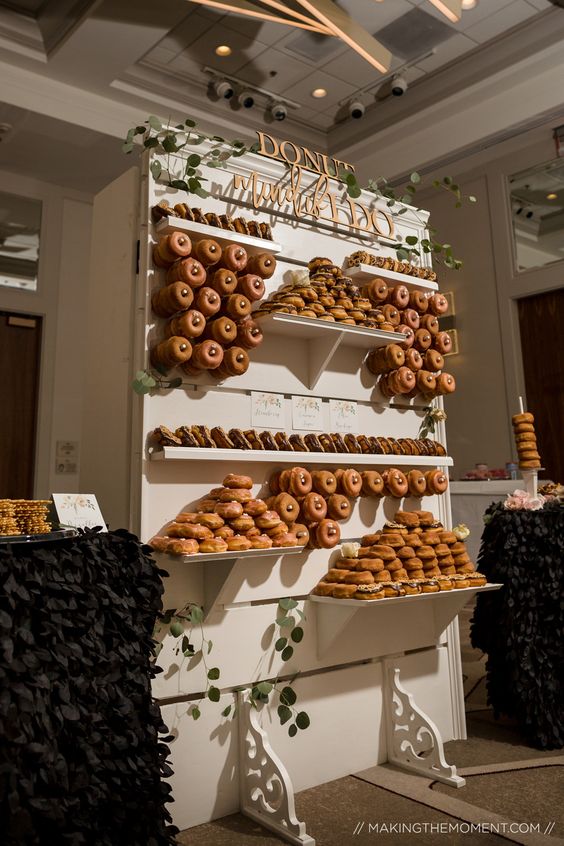 Image source:Pinterest
Use only one colour for your doughnuts if you don't like a colourful board. To make the doughnuts special, you can have one colour on the outside with different fillings on the inside. Now that will surely surprise your guests, who think they all have the same flavours because of their appearance.
Doughnut-shaped Doughnut Wall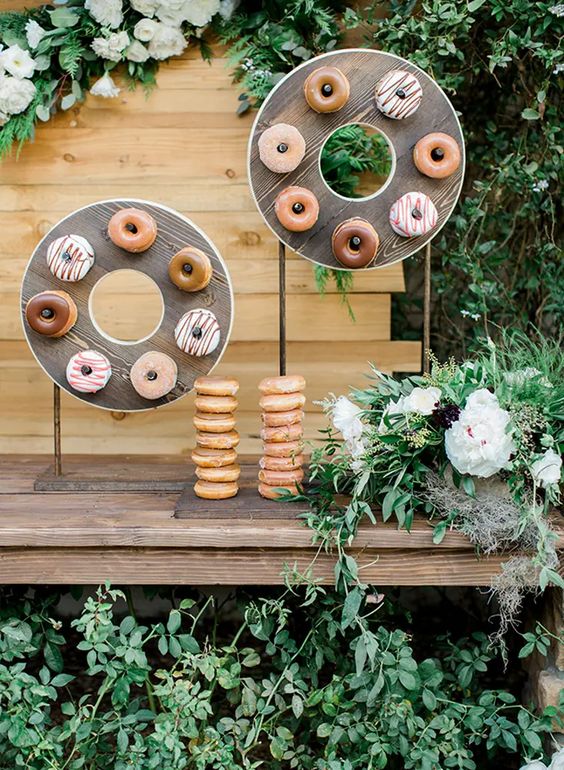 Image source:Pinterest
What better way to emphasize that they are doughnuts than putting them in a doughnut-shaped doughnut wall? This idea is quirky and witty, making everyone smile at the reception. Moving away from the traditional wedding desserts, your doughnut wall will be the centre of attention.
Box It Doughnut Wall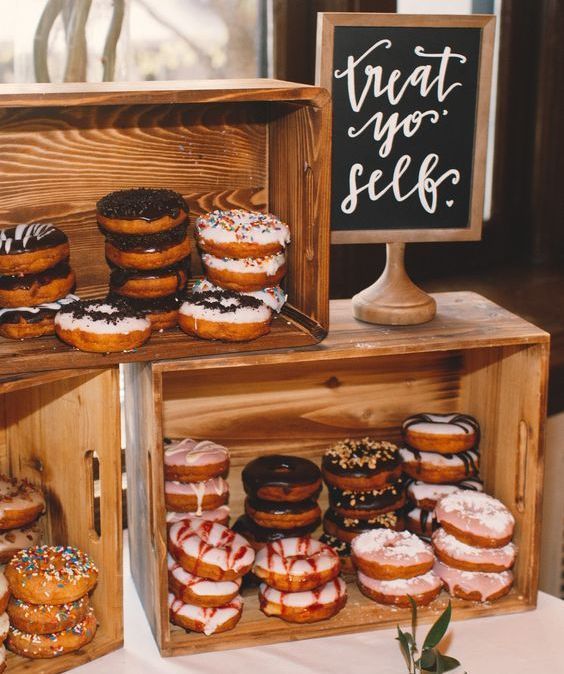 Image source:Pinterest
A simple way to add your doughnuts to the dessert table is to use wooden boxes and design them sideways to make the doughnuts visible. This concept is easy and won't break the bank too. All you need are varnished wooden boxes, then place the doughnuts in the order of flavours in each package—stock up the three boxes to add layers. Put a cute phrase on the side of the boxes to encourage guests to add a doughnut to their plate.
You May Like to Shop: Blushing Pink Bridesmaid Dresses