Gone are the days when you need to stick only to a pure white or pastel theme for your wedding. Modern weddings are now flexible on motifs. You can have a wedding inspired by a movie, book, place, or holiday and no one (not even the old folks) can have a say on it. More so, if your wedding falls on October 31 or any day in the Fall season, it's more likely to have Halloween wedding themes.
You can find more wedding theme ideas here: 10 Alternative Wedding Themes You Can Try for Your Big Day
Can I Hold My Wedding on Halloween?
Some may doubt having a spooktacular wedding because of the Halloween season's nature, that's said to be full of ghosts, omens and demons. Still, a lot of soon-to-be-married couples choose to tie the knot on this holiday because of these benefits:
Weddings aren't in demand this season, so that you might get special discounts from vendors. It may also mean that you will likely be available at whatever time and date you choose.
Travel is less costly during Halloween because there are fewer traffic jams. It's not a holiday for significant shopping, so your guests will have a smooth ride to your wedding venue.
Since you're setting up a Halloween wedding, decorations and items related to the holiday are up for grabs. It's easy to buy pumpkins and other related decors like feathers, leaves, nuts, and flowers during this spooky season.
It's an odd time for some to host a wedding, which means less competition for your wedding venue.
Although it's unusual for some, you can hold a wedding on Halloween. Now that's settled, let's look at your guests' Halloween attire.
What Do Guests Wear to a Halloween Wedding?
You don't have to ask your guests to wear costumes only because it's a Halloween wedding. You can let your guests wear whatever they want as long as they don't steal the spotlight from the newlyweds. Make sure to emphasize on the invitations what you want your guests to wear if any. You don't want guests pulling an Elle Woods with a pink bunny costume on your formal wedding.
It's no fun if someone upstages the bride, but the guests can still look Halloween-ready through accessories. If you ask them to wear a formal or semi-formal dress, give them the freedom to add on a few accessories that fit the holiday atmosphere. It's a win-win situation for the couple and their guests.
How Much Does It Cost to Have a Halloween Wedding?
A Halloween wedding costs about $5,000 to $1,000,000, depending on the couple's budget. If you want to reduce the total sum of your wedding, you can do DIYs and rentals for your wedding decors. Be honest with your wedding planner on how much you can afford so she can think of alternatives to match your wedding needs.
Halloween Wedding Ideas
We've rounded up the best Halloween wedding ideas if you're going on the tastefully spooky holiday motif. Don't worry; these designs don't require terrifyingly tacky orange and black colour palettes.
Elegant Black Invitation
Image source:Pinterest
An Allhallows Eve-themed wedding is a perfect excuse for a black wedding invitation. Go for an elegantly spooky concept with skeletons and rose detail in black and white. Put the traditional vow "Till Death Do Us Part" at the front, so your guests know it's a wedding invitation, not a random Halloween cocktail party.
Sleepy Hollow Inspired Halloween Wedding Dress
Image source:Pinterest
Who said you only need white on your wedding day? You can wear a luxurious black ensemble on your big day. A dark gown, black lace veil, nightfall heels, and overall dusky attire are the best for an elegant spooktacular theme.
Don't want to wear a black wedding dress? That's fine. You can tone down a bit and go for deep shades of grey that still exudes an edgy yet chic look.
Burnt Orange And Black Wedding Bouquet
Image source:Pinterest
Only a few times do orange and black go well without looking cheap; one of those times is when they're used for a bride's bouquet. Ask your florist to create flower arrangements with a burst of orange colour against darker shaded flowers. It's an evident wedding detail that you're going for a Halloween-themed wedding.
Enticing Halloween Wedding Cake
Image source:Pinterest
You can't have a wedding without a cake, so you must pay extra attention to its design. All matrimonies have a cake-cutting ceremony, so the cake should look pretty and delicious. For a tastefully spooky nuptial, a dark grey fondant with dripping black sauce gives it a dramatic effect. Adding some stunning roses, strawberries, and blueberries as a cake topper for the Halloween wedding cake presents a timeless and exquisite feel.
Eerie Pumpkin Decorations
Image source:Pinterest
Having a Halloween wedding means your reception is by the moonlight. You lit jack-o-lantern pumpkins on the pathway going to your reception. These spooky Halloween wedding decorations contribute to the overall tasteful wedding celebration.
Killer Table Set
Image source:Pinterest
Centrepieces for the tables matter to feel the uncanny vibe of the holiday. Black candles, dark linens, dramatic floral highlights, and gothic utensil sets are ways you can create a haunting drama.
Black Candles
Image source:Pinterest
A fall wedding needs black candles to set the mood. You'll love the spectacular vibe of black candles because they ooze the Gothic side of a Halloween wedding. Plus, these are inexpensive details that still significantly impact your reception.
Halloween Place Set
Image source:Pinterest
A dark place set fits the ghoulish occasion with touches of black linens and melodramatic flowers in the centre. The cutlery should combine white, black, silver and gold.
Glowing 'Til Death Neon Signage
Image source:Pinterest
Install a glowing 'Til Death' neon sign on the stage for a climactic effect. It also screams the love the couple share with each other, as gory as it may look to some people. It's a nice touch for that fancy Gothic aura.
Creative Wedding Favours
Image source:Pinterest
Everybody loves puns, especially when they can take them home. Make use of Halloween wedding puns such as "I'm here for the boos," "Ghouls just wanna have fun," "Felt cute, might scare someone later," and "Love isn't just a bunch of hocus pocus." Trust us; your guests will love this fun feature on your wedding favours.
Gothic Wedding Drink Serve
Image source:Pinterest
Use Dracula's coffin to keep your beverages cool throughout the night. You can ask your wedding designer to create a mini casket where guests can just grab any drink they want in it. Get ready as this wedding decoration will turn into a photoshoot prop once your guests get tipsy.
Haunting Smoke Bombs
Image source:Pinterest
You can achieve Halloween's theatrical and haunting side with dark grey smoke bombs. Use it during your prenup or wedding party photo shoot. On the other hand, smoke bombs can make a photo lively if you use the orange colour as a contrast to your black attire.
Harry Potter-Inspired Bridesmaid Dress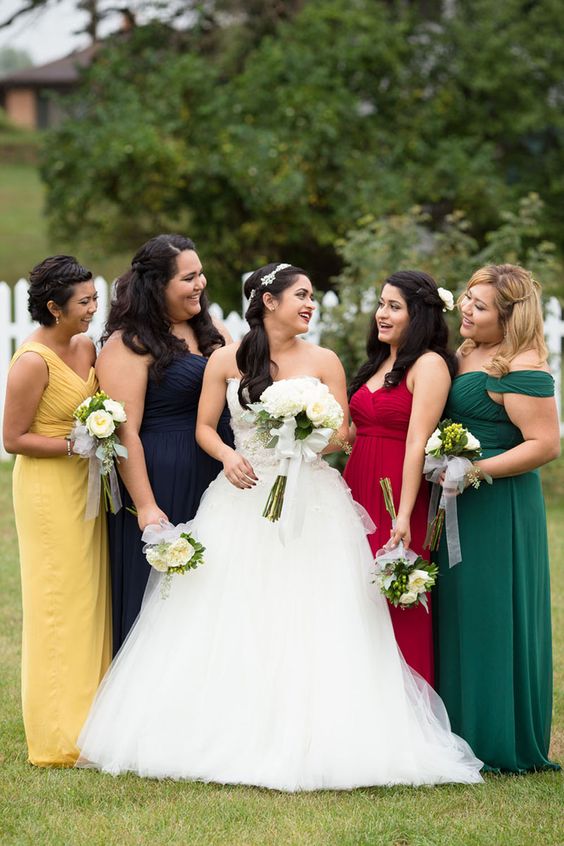 Image source:Pinterest
Harry Potter is an excellent inspiration for your bridal party dresses. Clad them in mix coloured chiffon gowns and hold white bouquets to match their colourful dresses. After all, they are your witches (in a good way) from the four houses.
Fun Desserts
Image source:Pinterest
Ask your pastry chef to whip up black and orange cupcakes with Halloween-themed toppers for your guests. It's a bloody great dessert that even the oldies will love.
Ominous Halloween Wedding Decorations
Image source:Pinterest
Mix your knowledge of Halloween, horror movies and the fall season in your decorations. If you have an outdoor venue, decorate chop woods and pumpkins in different shapes and sizes. You can add some floral highlights and illuminate them with white candles. And yes, guests can use it for their dramatic shots, and you can use it for your wedding photos.
Glowing Orange Decor Of String Lights
Image source:Pinterest
Fall colours are your friends for a spooky, ethereal wedding. Add glowing orange string lights to turn the venue into a magical place. It also sets the right mood for a festive night. Don't let your venue look dull with ordinary white lights; invest in a fall-coloured glow.
Artistic Wedding Jackets
Image source:Pinterest
Bridal jackets have been a trend for a while now. Personalise your jackets with lines like "Mrs./ Mr. (name)," "Til Death Do Us Part," or "Bride / Groom" for a unique yet stylish accessory for the couple. It's an unforgettable souvenir you can wear daily if you like. You can even give the bridesmaids and groomsmen a personalised wedding jacket if you have a large budget.
Pumpkin Wedding Menu
Image source:Pinterest
Pumpkins can be used to create a lot of Halloween wedding elements. Make a DIY pumpkin wedding menu to match the theme. This menu design will not feel left out from all the Halloween wedding decorations because it's literally the holiday's famous icon.
Got any wedding inspirations for your Halloween-themed wedding ceremony? Hope this post gives you some help in the wedding planning process. If you are a person fond of a goth vibe, don't hesitate to have a glam Halloween wedding!
You may like: Tangerine bridesmaid dresses
Choosing a selection results in a full page refresh.