Every bridesmaid has her checklist of tasks where all the important parts of her being an entourage are included, and part of that is her bridesmaid attire. Choosing the bridesmaid's dress usually gets the most amount of time and attention — and that's understandable. But other smaller fashion details can make or break the whole look that shouldn't be forgotten and should also take some careful consideration when choosing. Now that you've ticked off your idea of your bridesmaid's frock, it's time to pick the icing on the cake: your bridesmaid's shoes. Some people think that choosing a pair of shoes is an easy task, but let's not forget that a bad pair of shoes can ruin your style and your level of comfort.
Aside from the height of the shoes and the design, one of the major considerations when choosing a pair of bridesmaid footwear is colour. The safest bet is to choose a neutral shade that you can pair with any bridesmaid dress tone like silver.  
So how do you pick the perfect pair of bridesmaid footwear in this specific colour? Let us help you!
Why choose silver bridesmaid shoes
Silver bridesmaid shoes have always been popular for their versatility. Their shine can easily elevate and glam up an outfit and are perfect for any time of the day and any season of the year. And the best part? You can wear them time and time again for different occasions!
Silver bridesmaid shoes don't only go well with any colour of bridesmaid dress, they also complement other elements of the outfit like pieces of jewellery and handbags. Shoes sometimes become an afterthought or a last-minute buy but a beautiful pair can make your whole bridesmaid aesthetic – letting you glow from head to toe.  
How to pick a pair of silver bridesmaid shoes?
When picking the perfect pair of silver bridesmaid shoes, consider the footwear's three major qualities – the height, the type of heel, and the colour. When you use these three specifications as a guide, you can easily trim down which shoe fits your requirement.
Find your height
Deciding on the height of your heels will not only help you visualize how your overall look would be, but it will also help in deciding if you need further adjustments and alternations for your dress, especially if you have a uniform bridesmaid dress style and length request from the bride. If you are free to select the bridesmaid dress of your own, having an idea of the shoe height will also let you know if you've selected something too short or too long – both could look awkward in terms of fit and on photos.  
There are four types of heel heights you should know: flat, low, medium, and high. Low-heel shoes are those with around 2 inches of heels, medium-heel shoes are those with around 2.5 - 3 inches of heels, and high-heel ones are those with more than 3 inches of heels.
 If you want utmost comfort and you're not comfortable in shoes with heels, you can go for flat silver bridesmaid shoes which have no heels at all.
Find your type
Once you've decided on the height of the silver bridesmaid shoes that you're wearing, the next step is to find the type of heel for you. Don't forget that being a bridesmaid includes a lot of moving around and doing minor tasks, that's why you should pick a type of heel that is not just sexy but can provide stable support and comfort not just for walking but also for occasional running (for doing bridesmaid duties) and dancing!
There are a lot of heel types to choose from, and the most popular would be the sultry stiletto. Stilettos belong to the high-heel group so they are quite a challenge if you're not used to wearing one. If you want something sexy but more secure, ankle strap heels are the way to go. They offer the height but the strap makes sure that the shoes are held firmly to your feet. Block heel silver bridesmaid shoes are also popular because they are not just chic but extremely comfortable. There's less strain on your ankle and even distribution of your weight to the chunky heels. Other heel types you can consider include platform heels, wedge, kitten heels, and cone heels.
Find your colour and texture
You've got the height and type of heel finalized, now, you got to choose which type of silver bridesmaid shoes you'll go with. You may think that all silver shoes are the same but you couldn't be more wrong. There is a variety of silver shoes to choose from – especially when it comes to colour and texture.  
There are sequined, glittered, sleek metallic, matte, textured and printed, embellished with crystals, beaded, woven, and even with animal prints. Silver may pair with a lot of colours and motifs but before you decide, make sure that the colour and texture you will eventually pick will complement your dress flawlessly.
Shopping online for silver bridesmaid shoes
If you're still on the lookout for the perfect silver bridesmaid shoes, here are some recommendations:
Low Heel Silver Bridesmaid Shoes
If you want to go with the pretty and practical route, a low-heel silver bridesmaid would be perfect for you. Wearing low heels to a wedding is a smart move especially if you're anticipating a lot of activities and movements as part of the entourage. Here are some beautiful low-heel silver bridesmaid shoes for you:
This sexy and sparkly number from David's Bridal has the perfect amount of crystal embellishment for that glowing and gorgeous look. The straps will ensure that you'll be comfortable throughout the event.  
Image source:David's Bridal
You can also pick these Nelena strappy silver sandals for something a little bit unexpected. The asymmetrical style is unique and the rhinestone details are not too flashy.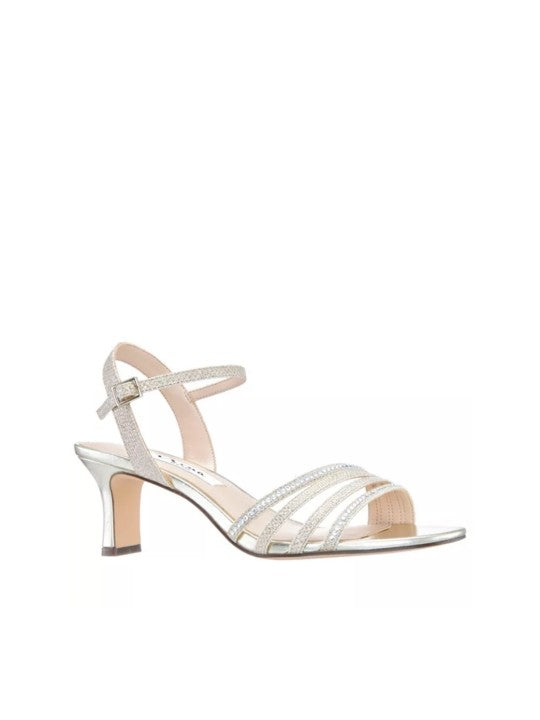 Image source:Macys
These classy and chic slingback pumps from J. Renee are also a great option for low-heel bridesmaid shoes. The simple satin finish is complemented by the bold embellishment on the toe part. Just the right amount of whimsy for a polished bridesmaid look.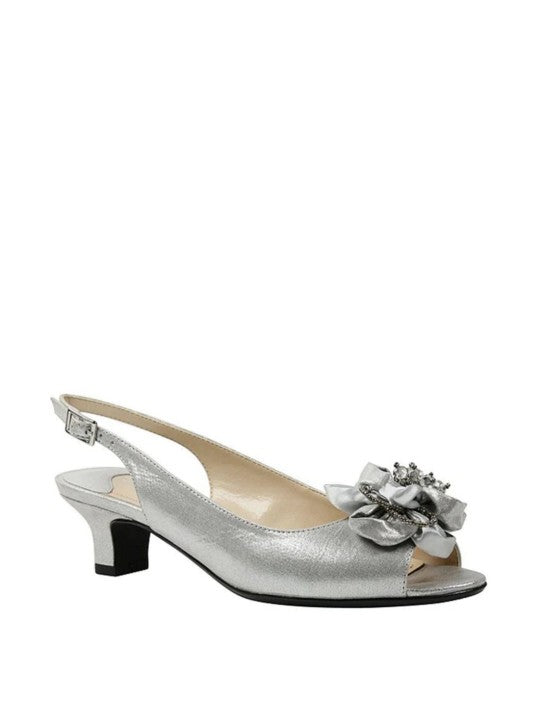 Image source:Dillards
Flat Silver Bridesmaid Shoes
If we're talking about comfort then nothing beats flat silver bridesmaid shoes. Flats have the reputation of being boring but that's far from the truth – they are sturdy, sophisticated, and timeless. They provide a good cushion for your feet (for lots of dancing!) and they look great with a lot of dress styles and fabrics. Once you have found the perfect flats, you wouldn't look the other way. Here are some flat silver bridesmaids you can consider:
Alex Marie's laser-cut flats will add personality to any bridesmaid outfit. The dreamy rhinestone details give off a tasteful finish and the cutout design will ensure that your feet will have the right amount of airflow and won't feel stuffy the whole time. What a winner!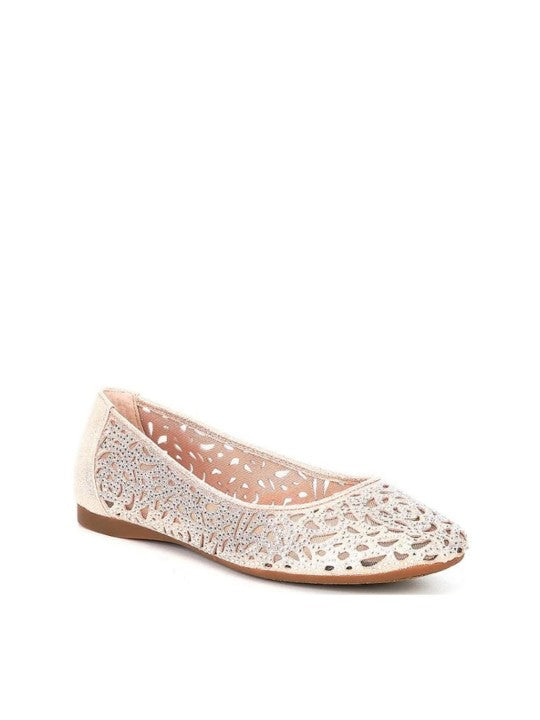 Image source:Dillards
This pair from Copper Key give off some glitter and glam perfect for fun and flirty bridesmaids. The embellished strap hits two birds with one stone with its utility and fashion value.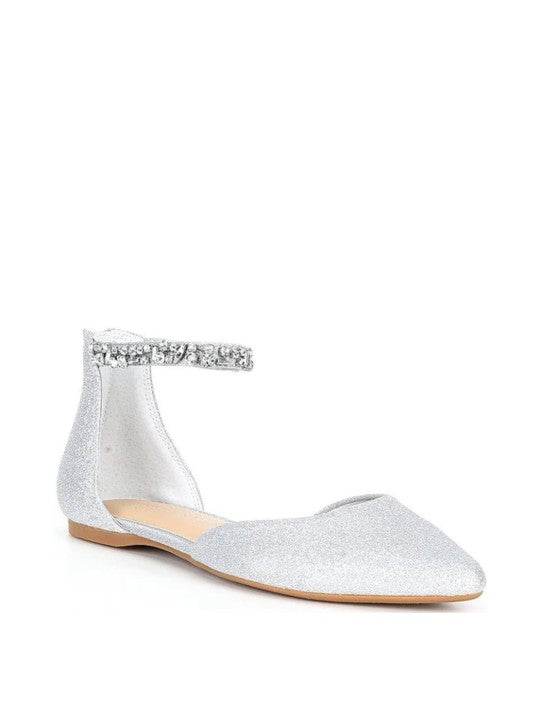 Image source:Dillards
Lastly, this Jewel Badgely Mischka flat silver bridesmaid shoes fuse comfort and elegance with its romantic sweetheart topline, sparkly embellishment, and flexible rubber shoes. Wear this with a long or short bridesmaid dress – both will look perfect!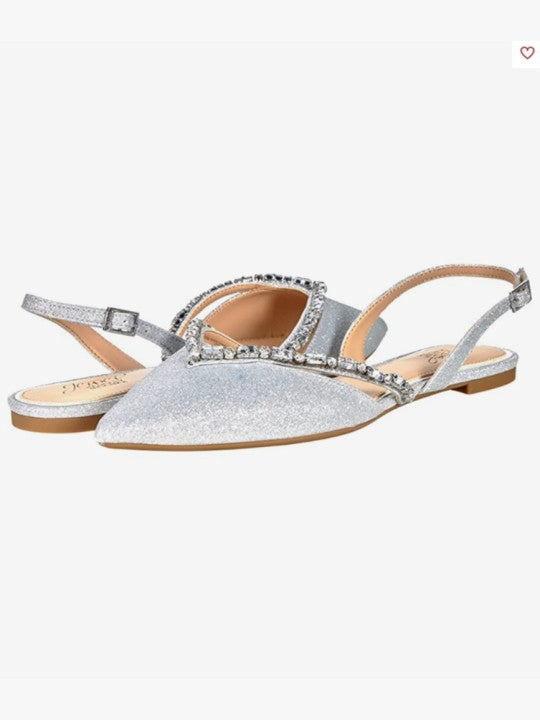 Image source:Jewel Badgely Mischka
Block Heel Silver Bridesmaid Shoes
Chunky, comfy, and chic, block heel silver bridesmaid shoes are the ideal middle ground if you want to feel sexy and wear something with heels but still want your feet to be pleasantly cosy. The block heels effectively spread the load of your weight, hence, less strain not just on your feet but your whole legs. With block heels, you don't need to worry about achy ankles and fatigue. Check out these lovely block heel silver bridesmaid shoes:
You'll definitely stand out and shine with this crystal creation from David's Bridal. This pretty number is fully embellished from straps to heels for the ultimate sparkle. Pair with a crystal purse or beaded bag to complete the look.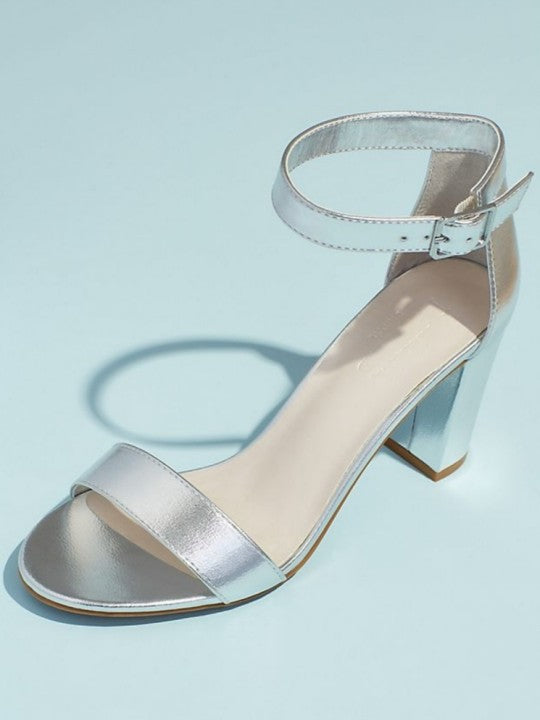 Image source:David's Bridal
If you want something romantic, this pair of slingback pumps from Charter Club would be a great pick. These eye-catching block heel silver bridesmaid shoes have just the right mix of texture and shine to elevate your attire.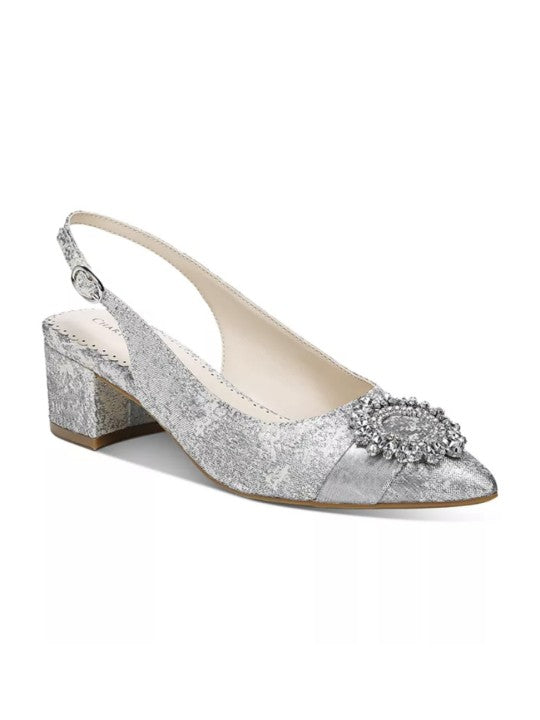 Image source: Charter Club
This party-ready pair from Nina has everything – sexy straps, sparkly rhinestones, and tasteful texture. Just the right shoes for the fashionable bridesmaid.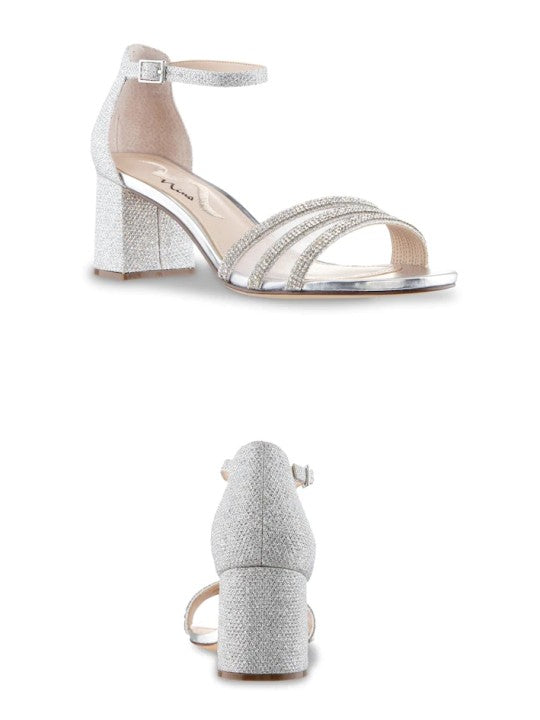 Image source:Nina
Silver Bridesmaid Sandals for Beach Wedding
Silver shoes are not just for indoor affairs, they are also excellent for beach weddings! Don't let the more laidback setting stop you from adding a little bit of sparkle to your whole attire. Silver sandals are great for daytime ceremonies and complement even the simplest bridesmaid dresses. Here are some silver bridesmaid sandals for a beach wedding:
These silver thong sandals from David's Bridal have wedge heels for utmost comfort plus just the right bling of rhinestones and pearls for that effortless beach babe aesthetic.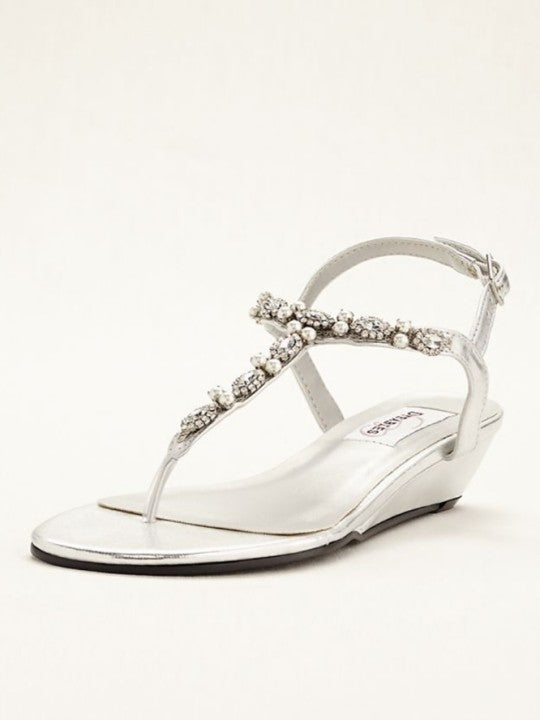 Image source:David's Bridal
Dance the night away and be the merry bridesmaid that you're meant to be with these glittery gladiator sandals. You don't have to worry about heels burying in the sand courtesy of the plush and walkable flat soles.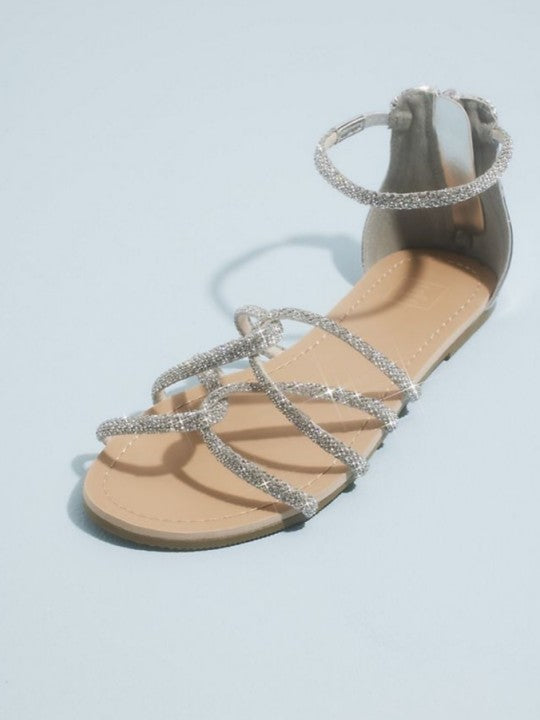 Image source:David's Bridal
It's beauty and the braids with these braided sandals from Steve Madden. Don't let the simple and casual design fool you – the sparkly and shimmery rhinestones more than make up for it. Wear this any day, any time, any occasion!
Image source:Steve Madden
Final words
Whichever silver bridesmaid shoes you choose, make sure to keep in mind that support and comfort should come in first. Choose a pair that will not just complete your bridesmaid look but will also let you enjoy the whole celebration. Limping out of pain should never be an option!
Choosing a selection results in a full page refresh.