One of the most meaningful duties the bride squad will undertake is to scout and secure the perfect bridesmaid dress. This is one of the most exciting activities during planning as the dress code plays a big role in the overall aesthetic of the big day. There are many points to consider when shopping for the ideal bridesmaid dress. First, the colour should match the theme. Pastels, bold hues, neutral tones – pick one that will perfectly complement the motif. Fun and eye-catching prints and mismatched shades could also be an option. Next is the style and cut of the dress – A-line, column, tea length, mermaid, empire, trumpet, and a whole lot of other ranges – get one that highlights your body type best. Lastly, you should choose a frock that will fit flawlessly and will make you feel the prettiest. 
Going to retail stores and shuffling over hundreds of dresses just to find THE ONE can be a bit taxing, especially if you're on a tight schedule. The awesome thing these days is there are many online bridal stores where you can find and effortlessly purchase the bridesmaid dress of your dreams. 
If you're a bride looking for fashionable numbers for your best girlfriends, this list will make your life a whole lot easier. Just choose a store, find a dress that will make your heart flutter, send the link to your besties, and let them take care of the rest. You can finally tick this activity off from your wedding to-dos and move on to the next one.
If you're a bridesmaid on the hunt for the flirtiest and prettiest attire, all you have to do is browse through this list and we're sure you'll find what you're looking for in no time. Just like traditional stores, most of these online shops offer custom and made-to-order pieces (based on your actual size), lookbook for inspiration, at-home try-ons, and personal stylists -- all you have to do is visit the site, browse, and inquire.
1. Allure Bridals
Allure Brides has been proudly providing brides and bridesmaids with their dream dresses through wonderfully-curated and elegantly-designed formalwear collections in the past 20 years. Known for their elegant patterns and dreamy dresses, this award-winning family brand has been a consistent recipient of industry accolades such as "Fastest Growing Top 100 Private Companies" and "Top 100 Private Companies" in their home base of Tennessee and the Mid-South. 
Image source: Allure Bridals
2. Amsale 
Known for its elegant aesthetics and modern designs, Amsale has been one of the top bridal houses in the world for many years now. The designer herself once said: "As the first to walk down the aisle, the bridesmaids set the tone of the wedding." that is why each of the brand's dresses has been delicately designed with sustainability, craftsmanship, and individuality as the top priority. Amsale Bridesmaids dresses come in a wide palette of colours and stunning silhouettes, with prices starting at $270 and sizes ranging from 00-32.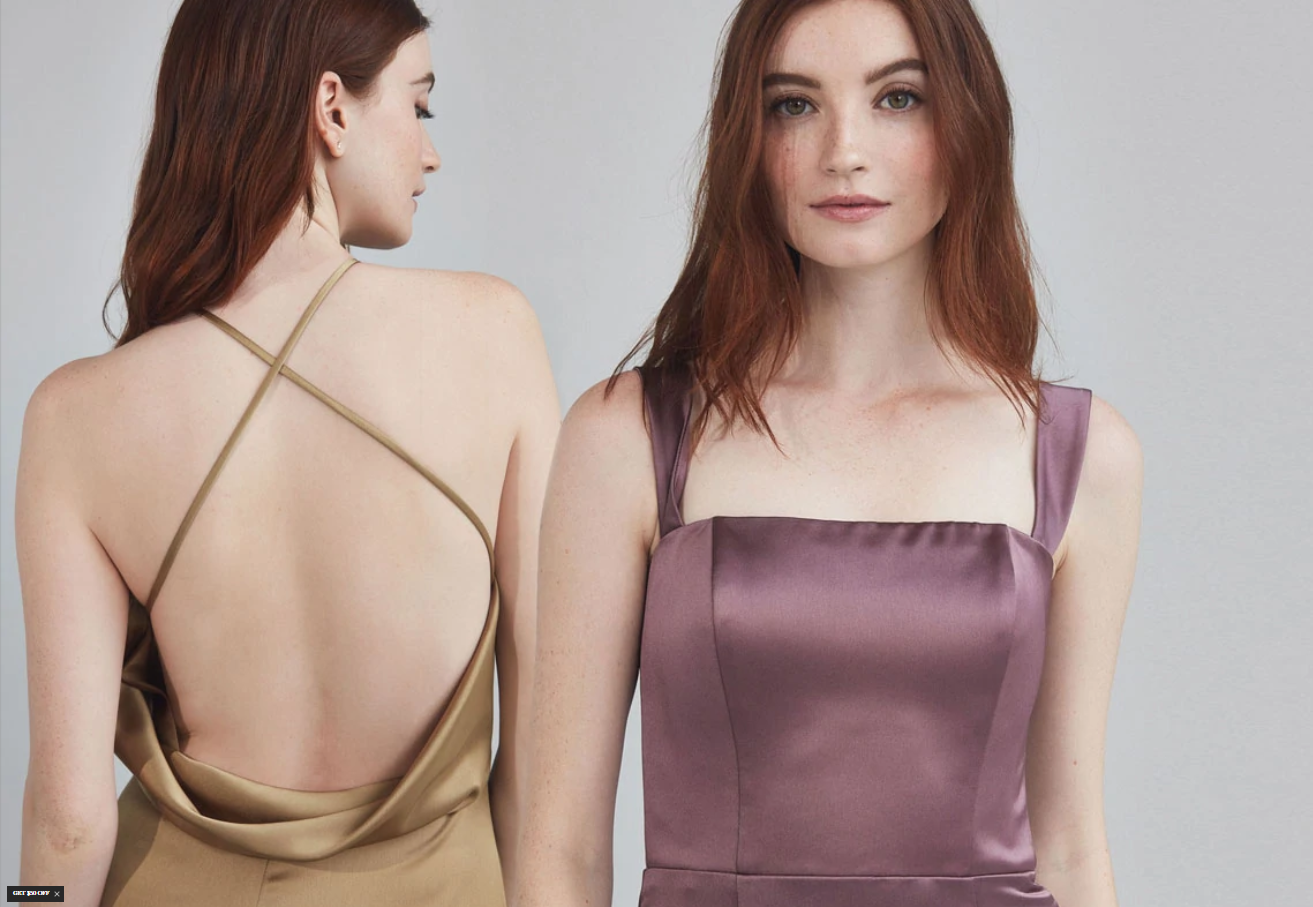 Image source: Amsale
3. Azazie 
This game-changing bridal brand prides itself not just on its broad line of styles, colours, and designs, but also on its stand on body positivity and inclusivity. Azazie believes that everyone deserves a dress that is not just beautiful but fits regardless of the wearer's size or budget. With sustainability and carbon footprint in mind, all Azazie dresses are cut and made to order, available in sizes from 0-30. Custom sizing is also available.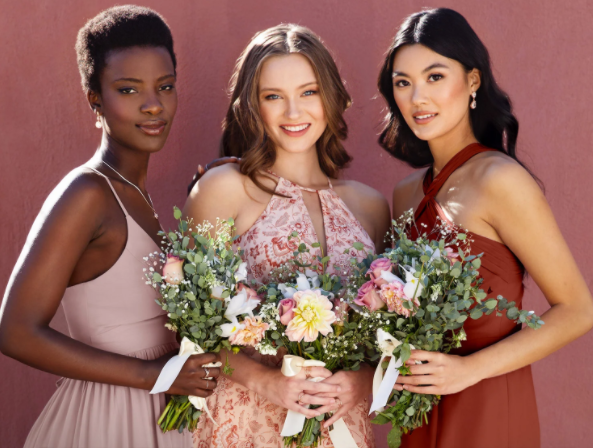 Image source: Azazie
4. Babaroni 
A pioneer in online bridal shopping, Babaroni caters to busy bridesmaids and customers from all over the world who are on the hunt for high-quality, unique, and affordable pieces, easy and stress-free shopping experience, and outstanding aftersales. Babaroni is there to assist from start to finish, from choosing a design and colour, down to customizing the dress to a size that fits like a glove. They also have a custom fit option with bridesmaid dresses made based on the client's actual measurements.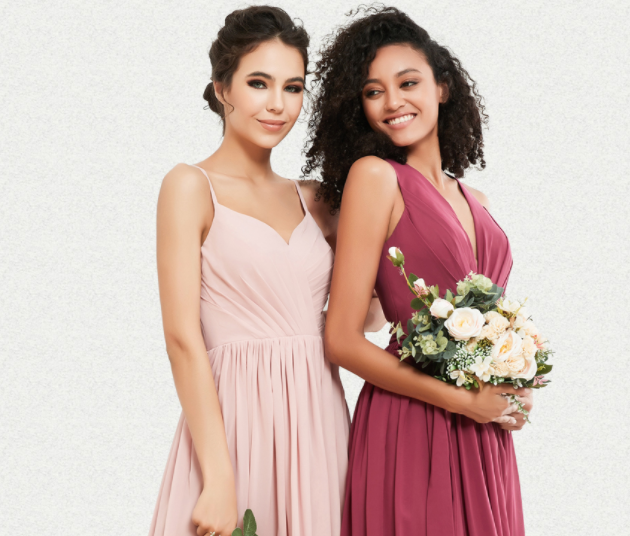 Image source: Babaroni
5. BHLDN 
This trendy online bridal boutique should be your go-to shop if you're looking for chic and sleek bridesmaid and party dresses. BHLDN (pronounced "beholden") by Anthropologie beautifully curates an assortment of fancy collections, including classic sets and dazzling modern forms. Aside from their in-house designs, BHLDN is also home to well-known designer brands like Marchesa Notte, Jenny Yoo, and Tadashi Shoji, among others. It is a one-stop shop for anything and everything wedding-related as they also carry wedding gowns, mother-of-the-bride gowns, flower girl dresses, and even wedding decors. To top it all off, everything's reasonably priced. 
Image source: BHLDN
6. Bill Levkoff 
Bill Levkoff's loyalty to timeless tradition and passion for fashion-forward designs make them one of the top-of-mind brands in bridal dresses today. This strategy enables them to create spectacular classic and cool contemporary collections. Each Bill Levkoff dress is made through fine craftsmanship and expert attention to detail, using only the most luxurious fabrics and highlighted by gorgeous colours. With this, each dress complements the wearer regardless of the look and theme of the occasion.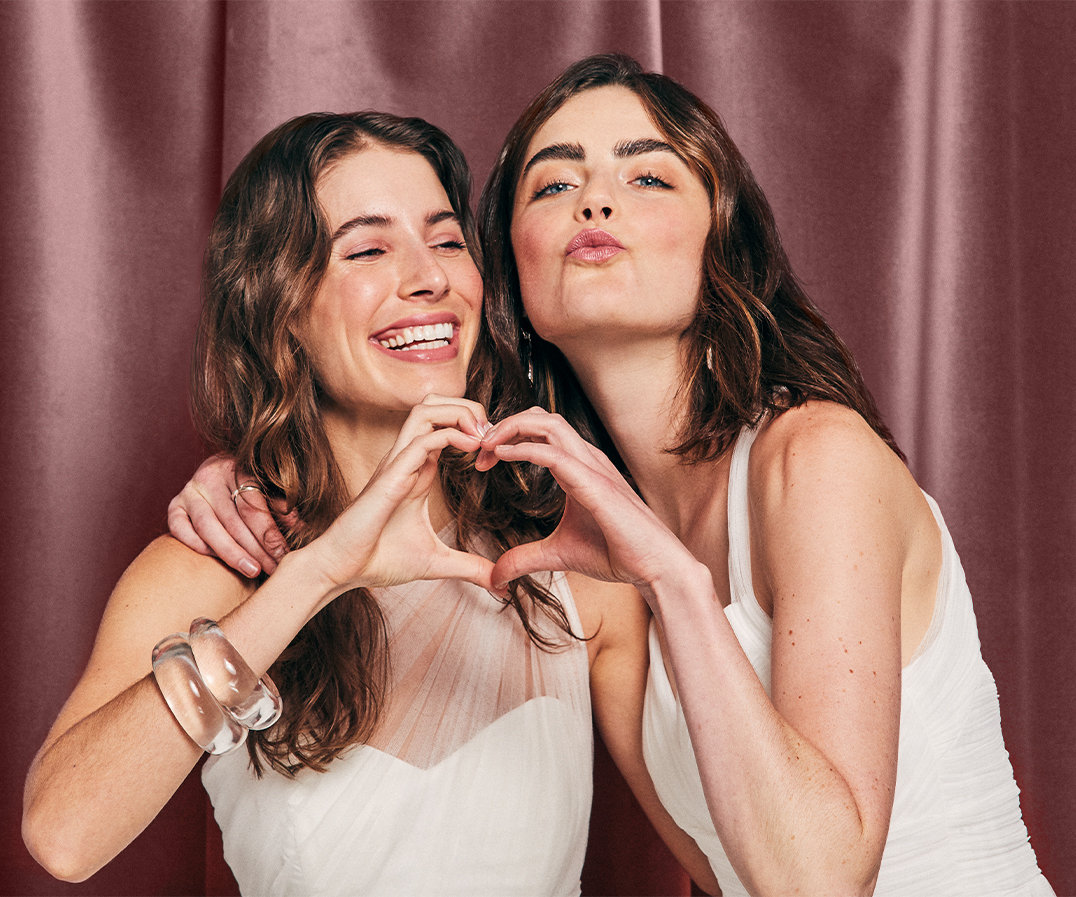 Image source: Bill Levkoff
7. Birdy Grey 
Versatility and value for money – two things Birdy Grey are experts at. Never compromising the fit and quality, each dress is designed meticulously using the best fabric and the prettiest colours. All Birdy Grey bridesmaid dresses are under $99 and are shipped just 5-8 days after purchase. 
Image source: Birdy Grey
8. Cicinia  
All of our bridesmaids and brides are essential to us. Our team puts more effort to ensure every shopper is happy with their outfit. It allows the bride and bridesmaids to enjoy the occasion peacefully. Throughout the wedding planning process, our experts will help you. Therefore, don't hesitate to speak with our team if you have any queries. We always welcome brides and bridesmaids with questions. 
Women-founded -- the major part of our team contains women. Our team loves what we do to ensure the bridal party and wedding shopping does not go wrong. 
Image source: Cicinia
9. COCOMELODY 
The thing that keeps COCOMELODY on top of their game as a brand is that they create dresses based on your vision as a bridesmaid. Armed with expert dressmakers laser-focused on details and quality, each garment they produce comes out a masterpiece that always makes the wearer stand out from the rest. From choosing the right design and using the best fabric (silk, organza, tulle) sourced from all over the world, to ensure the fit and comfort of the wearer, down to timely delivery, COCOMELODY takes special care in the step-by-step shopping experience of each one of their customers.
Image source: COCOMELODY
10. CorlorsBridesmaids.com 
Driven by the idea to KEEP IT SIMPLE, ColorsBridesmaids has transformed online shopping for bridesmaid dresses into an effortless and enjoyable task. The brand boasts of an extensive collection of styles (up to 500!) and colours (around 150+!). Made by expert designers using handpicked raw materials and signature techniques, each of their ready-to-wear pieces fits like a dream.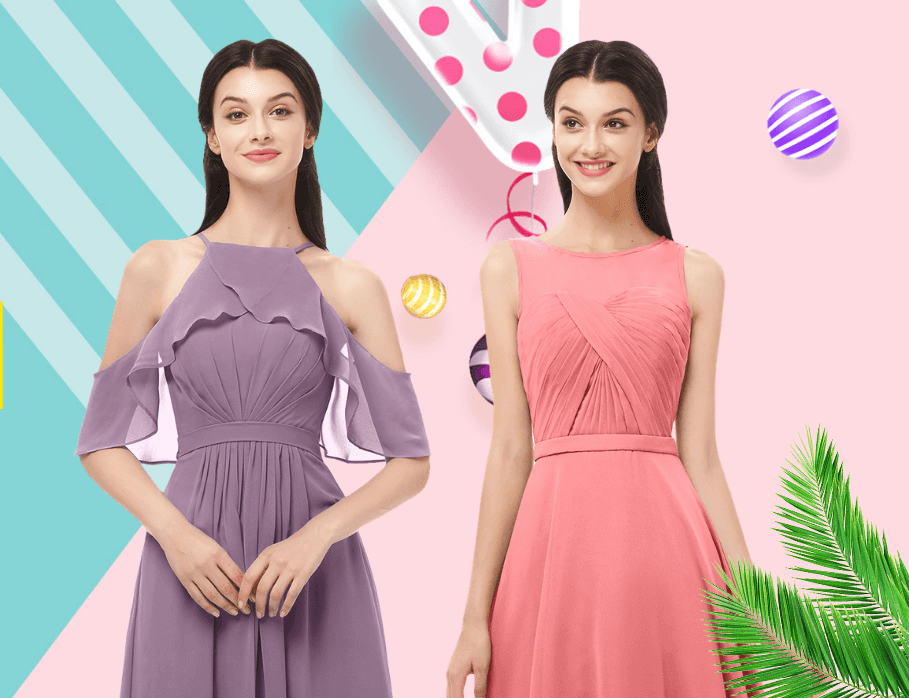 Image source: CorlorsBridesmaids.com
11. Da Vinci 
Da Vinci's form-flattering pieces created with rich fabric and outstanding beadwork have made them a favourite when it comes to bridesmaid dresses and wedding gowns. Their classic and contemporary designs are available in a whopping 50 different colours and feature beautiful bodices, dreamy embroidery, and romantic necklines. Da Vinci delivers pretty and fab creations perfect for just about any entourage and theme.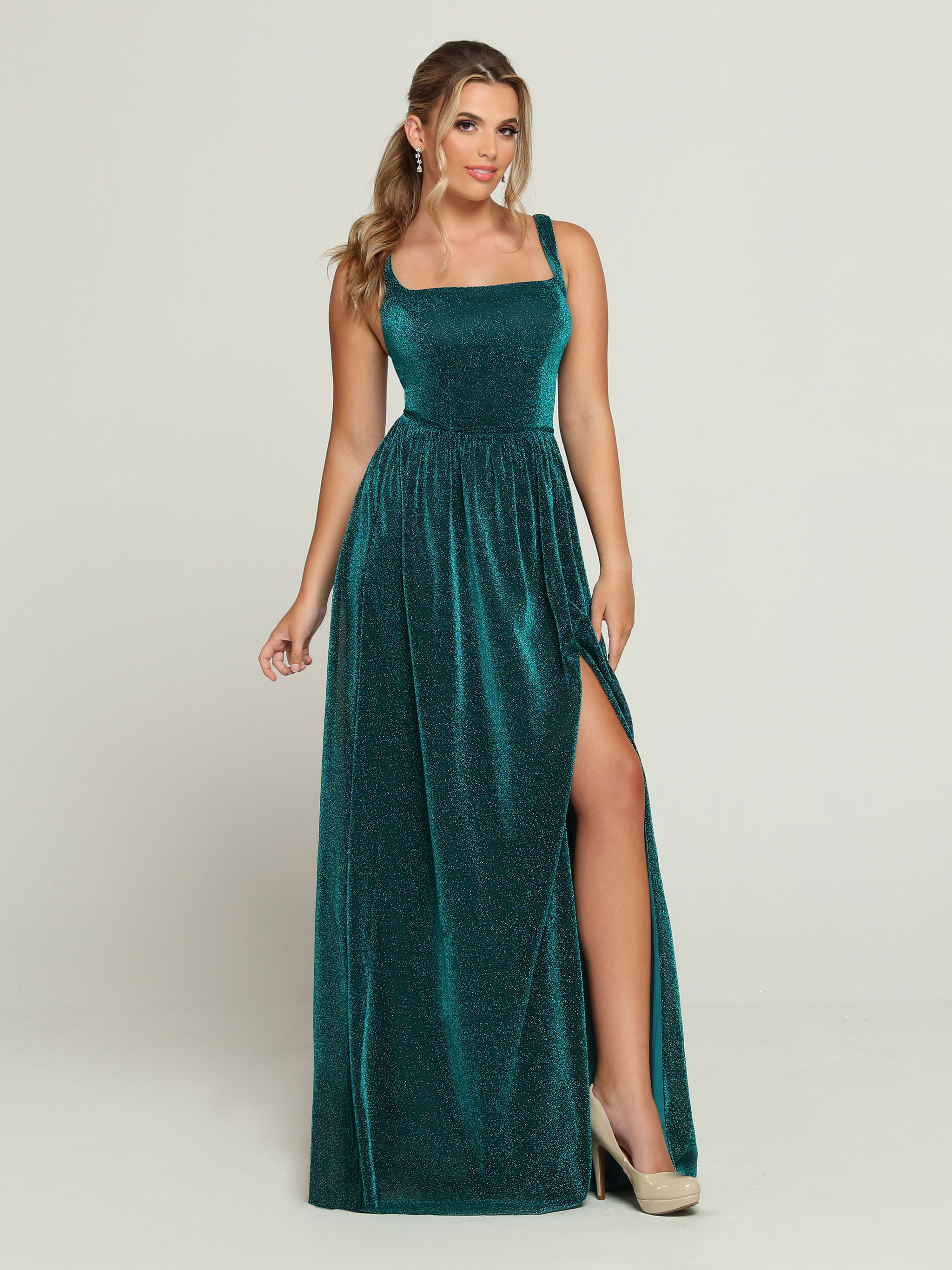 Image source: Da Vinci
12. David's Bridal 
David's Bridal is a pillar in the wedding industry and has been continuously producing fabulous and unique ensembles for more than 70 years. What started as a tiny bridal shop in Florida has grown into a global household name loved for its fantastic dresses fit for magical moments. David's Bridal has inclusivity to its core; hence, their dresses are made for every shape and size. Aside from weddings, they also cater to other wardrobe needs like proms, formal parties, galas, and even quinceaneras. Shopping at David's Bridal is easy for they have an accessible shopping guide where you can check out the most popular designs and colours.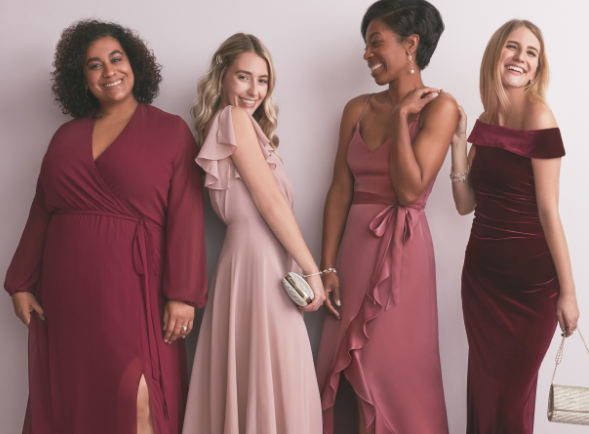 Image source: David's Bridal
13. FeelTimes 
Accessible and fashionable dresses -- that's FeelTimes' promise to their customers. They have been in the game for 12 years already. Don't let their affordable price fool you, though. Their selection of beautiful dresses has nothing but utmost quality and top-notch craftsmanship. Each garment is made to fit the wearer amazingly and is assured to last for a long time thanks to the brand's textile expertise. Simple, uncomplicated, and easy – just what you need for those special moments. 
Image source: FeelTimes
14. Wedding Shoppe, Inc. 
Wedding Shoppe, Inc., has been operating for more than 40 years and carries an impressive line of popular designer brands. They take pride in these partnerships that's why they can feature exclusive collections and bridal attires unique only to their shop. Wedding Shoppe has over 600 bridesmaid dresses you can choose from, with prices ranging from $99 to $250. They also have gorgeous robes that fit standard, junior, and plus sizes.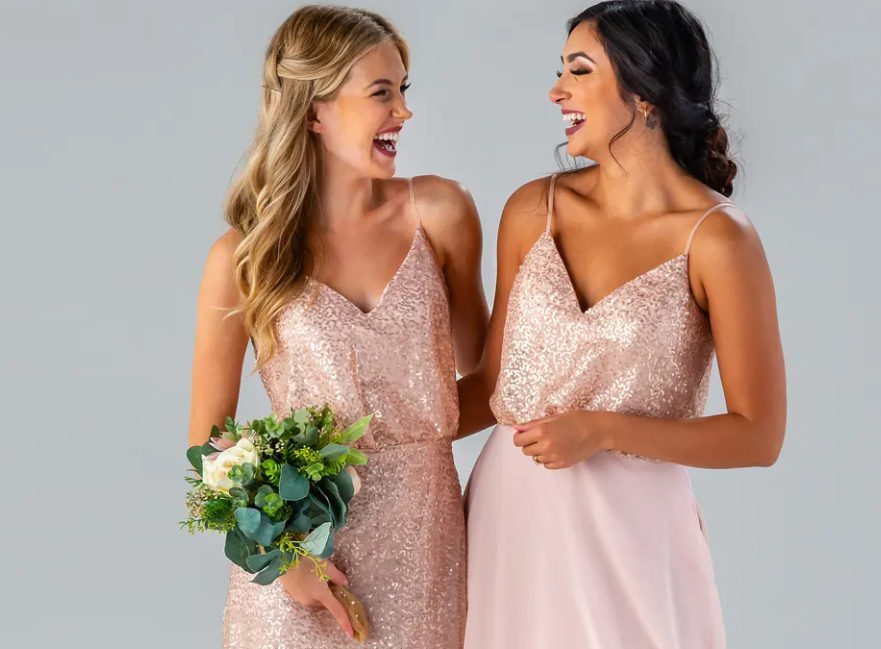 Image source:  Wedding Shoppe, Inc.
15. Jasmine 
Innovative design, unparalleled artistry, expert beadwork, and superb workmanship are the secret behind every Jasmine dress. The website houses nine wedding labels, each with a unique flair that complements a customer's need and taste. Every garment exudes a timeless elegance that in turn reflects on the wearer. Jasmine has a lookbook feature where you can check out the latest designs and get inspiration from. They also have a maternity bridesmaid line as well as bridesmaids' jackets and belts to complete the look.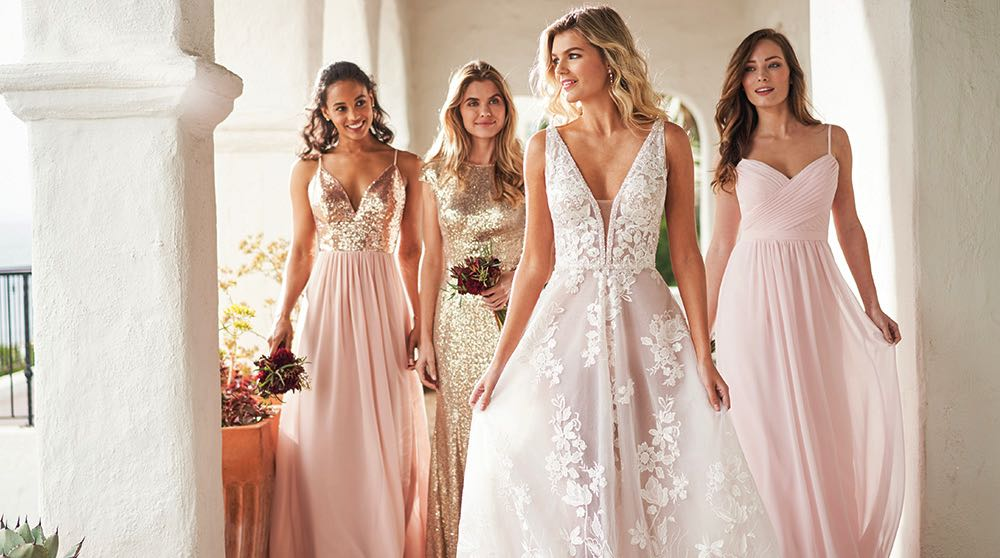 Image source: Jasmine
16. Jenny Yoo 
If you want to wear a dress that is romantic, refined, runway-ready, and ritzy, then Jenny Yoo should be an easy pick. Dreamy details, fresh and fashionable prints, and flattering feminine forms are what's in store for you. They have a variety of textiles (elegant laces, lush silk, flowy chiffon) available, letting you choose the fit and texture of your dress – something you can feel the prettiest in. To top it all off, they construct their bridesmaid dresses in a chic modern way that you can re-wear them for other special occasions. 

Image source:  Jenny Yoo
17. JJ's House 
If there's something JJ's House understands, it's a client's needs and wants. They are straightforward with their services – the best items at an affordable price. That is the reason why they were able to produce some of the best bridal attires and provide a fuss-free shopping experience for 15 years. They have over 1,200 designs to choose from, customized and tailored fit based on your measurement. High quality, bang for the buck, and superb customer service – what more can you ask for?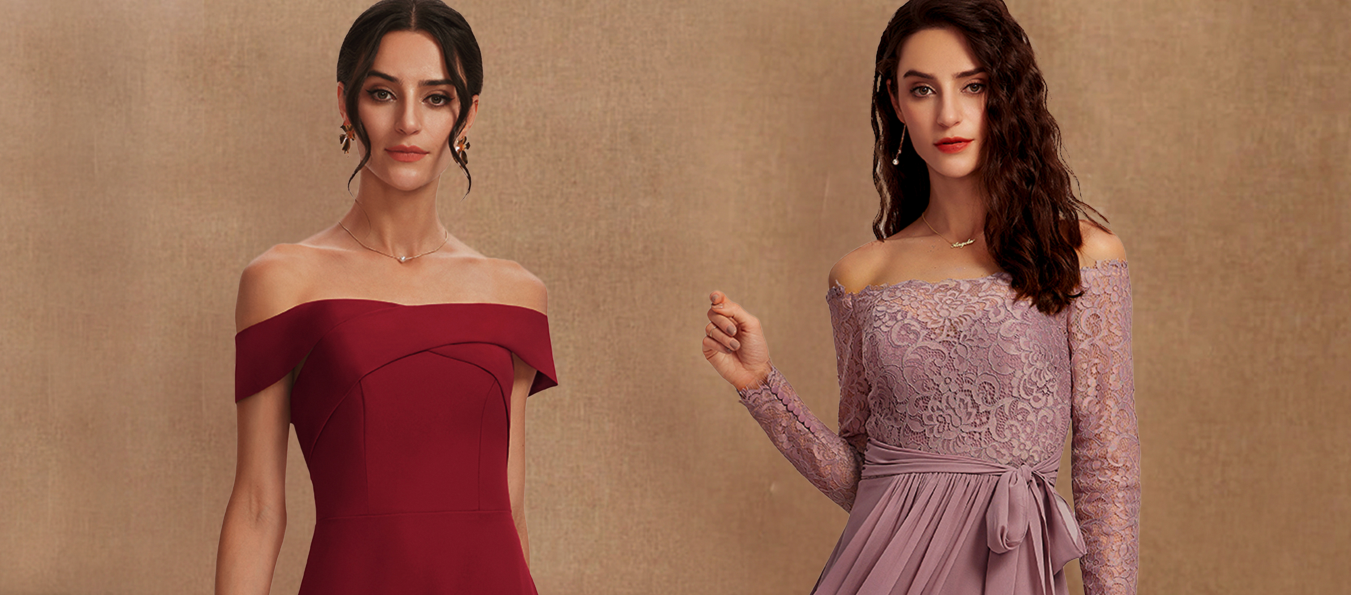 Image source: JJ's House
18. Kennedy Blue 
The Kenndy Blue promise: quality, affordability, and timeless style – the holy trinity of bridesmaid dresses. The brand is inclusive (sizes from Junior to 32), environmentally conscious (everything is made-to-order), and customer-focused (returns, try-ons). Their dresses are functional yet fashionable and stylish yet comfortable.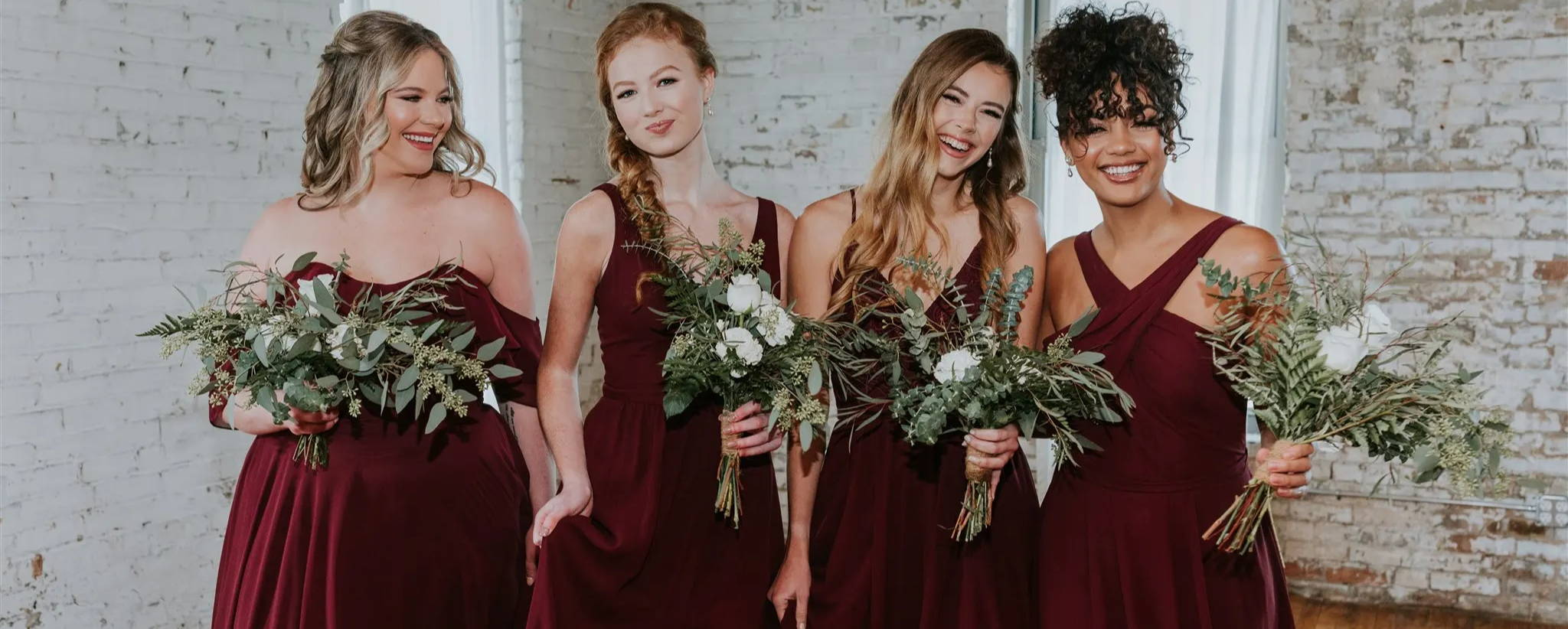 Image source: Kennedy Blue
19. Lulus 
Each unique dress by Lulus is made with the wearer in mind – fun, modern, posh. Look effortlessly stunning in one of Lulus' maxi dresses, or go for something flirty and fab with one of their midi ensembles – the options are endless. Their production process is one of the brand's strong suits, with every piece carefully constructed and finely finished.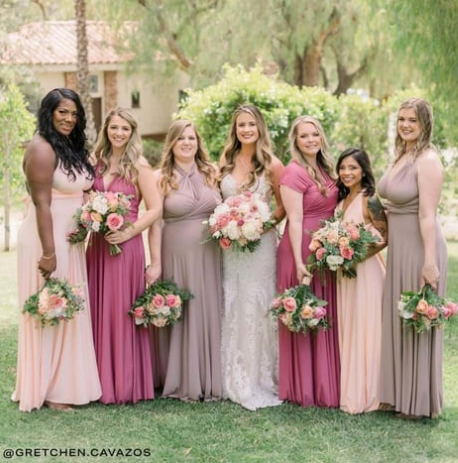 Image source: Lulus 
20. Modern Vintage Gowns 
Mix the charm of old Hollywood and the glam of modern times and you get a Modern Vintage gown. This brick-and-mortar brand has just joined the online world to connect to a new and wider customer base and reach previous ones the easier way. Modern Vintage Gown carries sexy corset dresses, body-hugging silk numbers, and luxurious velvet gowns – something you'll fall in love with while wearing.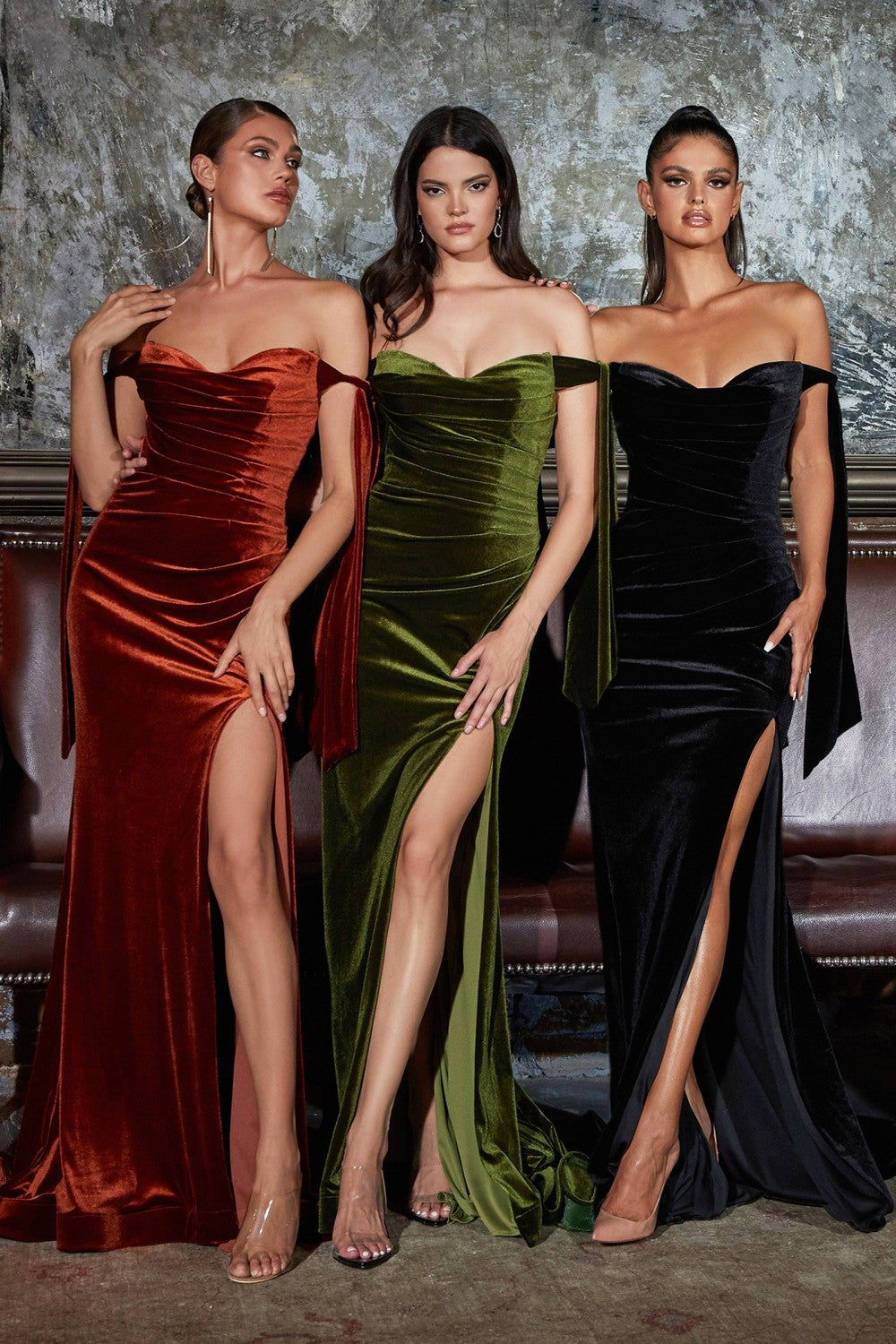 Image source: Modern Vintage Gowns
21. Morilee 
Inspired by the women who wear their dresses, Morilee has been one of the most recognizable names when it comes to bridal wear and wedding dresses. Each Morilee dress is hand-stitched by their expert dressmakers, made to fit perfectly, and crafted to make the wearer (regardless of size) feel sexy, beautiful, and confident. Morilee has it all – formal dresses for brides, bridesmaids, moms, and even kids.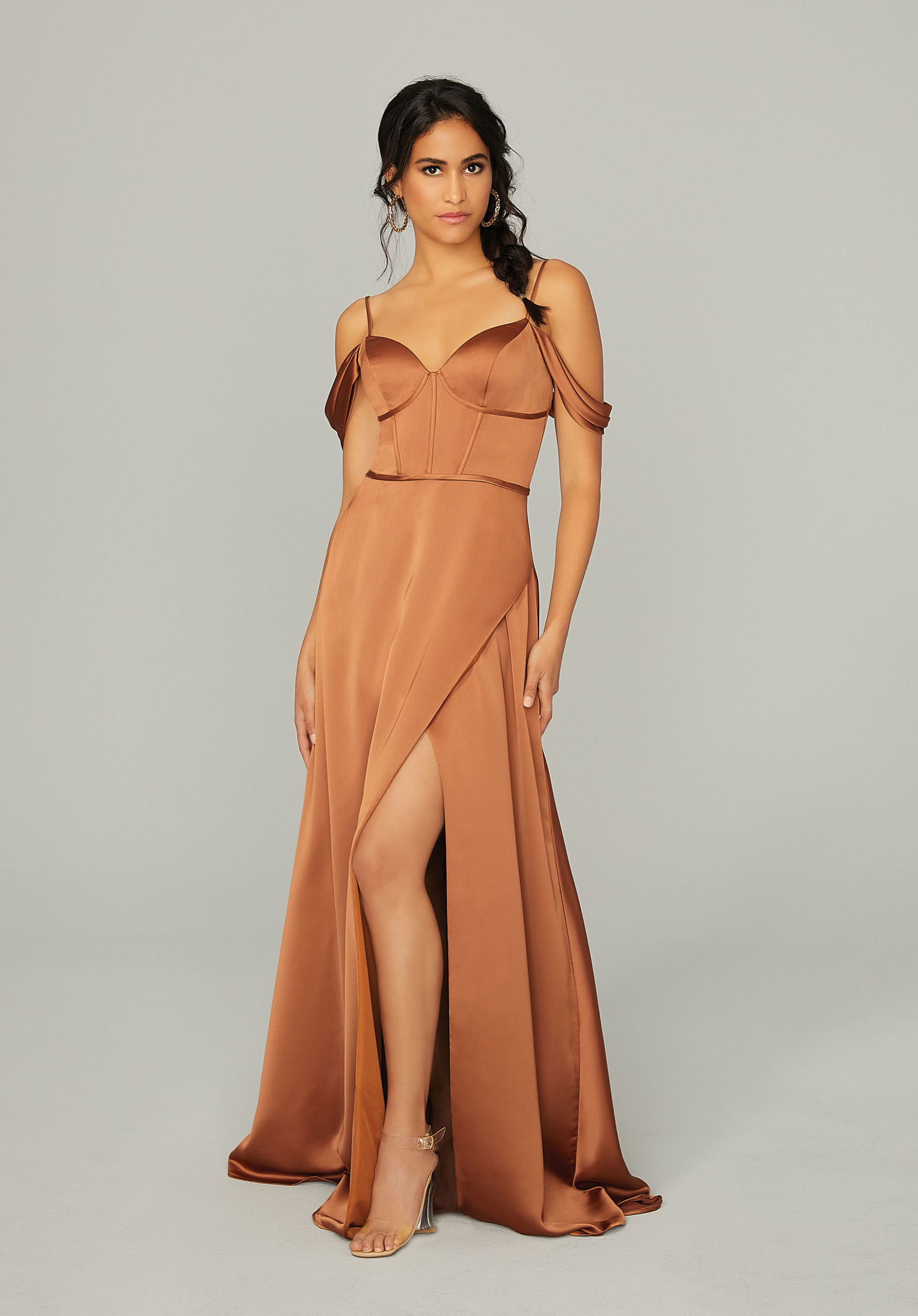 Image source: Morilee
22. Show Me Your Mumu 
Provide laidback, relaxed, real, and approachable fashion – that is how Mumu reaches their customers. Their selection of attires includes looks that never go out of style and dresses that go beyond expectations. Vibrant hues, eye-catching silhouettes, and romantic textures are just some of the surprises a #Mumugirl can look forward to when wearing a dress from the brand. Mumu's motto always rings true: "Life is fun, your clothes should be too!"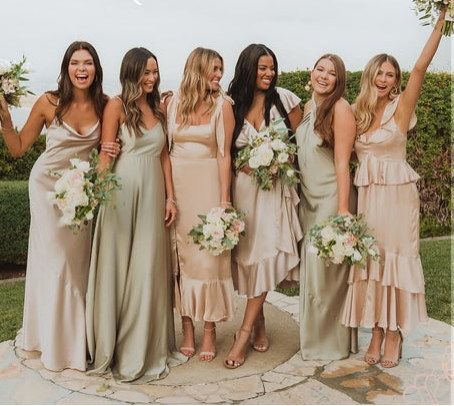 Image source: Show Me Your Mumu 
23. Revelry 
Dresses that fit like a dream, make you feel pretty, and are made for real women – that is what Revelry is all about. The brand puts high importance not just on quality but also on the function of each garment they create. The client is the boss, so you can choose the length, colour, and size, of your dress. And before you buy it, you can try it on at home to make sure that it is something that you'll love wearing.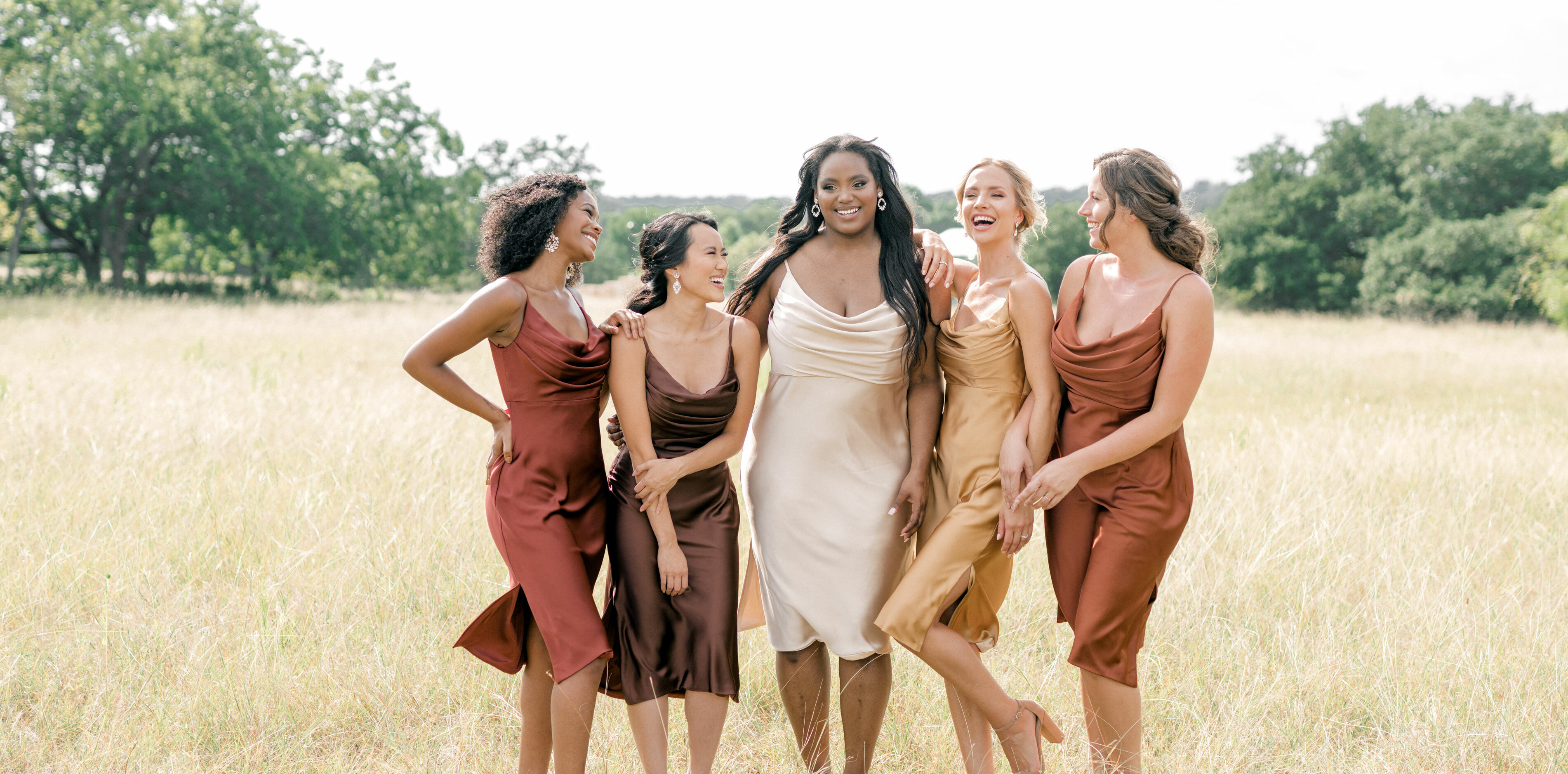 Image source: Revelry
24. Sorella Vita  
Vibrant colours, posh fabrics, trendy designs, and reasonable prices are what make Sorella Vita gowns sought-after by clients worldwide. Feel like a runway model as you wear one of their stunning chiffon ensembles or a celebrity walking the red carpet with one of their sleek satin numbers. This is fashion-forward bridal fashion at its finest.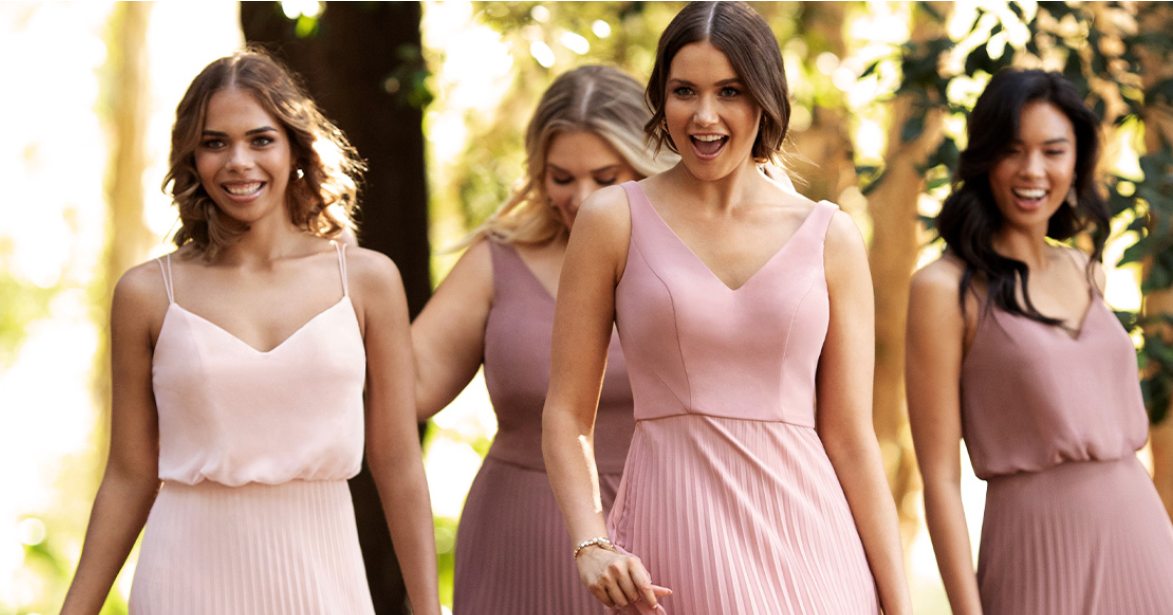 Image source: Sorella Vita
25. The Dessy Group 
What started as a veil and headpieces company grew and expanded into one of the biggest names in bridal fashion today – The Dessy Group. The brand understands that every bridesmaid is unique, that is why they offer a wide variety of styles, colours, textures, and finish that complement different wedding themes, season, wearer body size, and aesthetic requirements. You can also check out their website lookbook for inspiration. Dessy is partners with popular designers and labels, including exclusive collections from Alfred Sung, After Six, and Carlos Saavedra.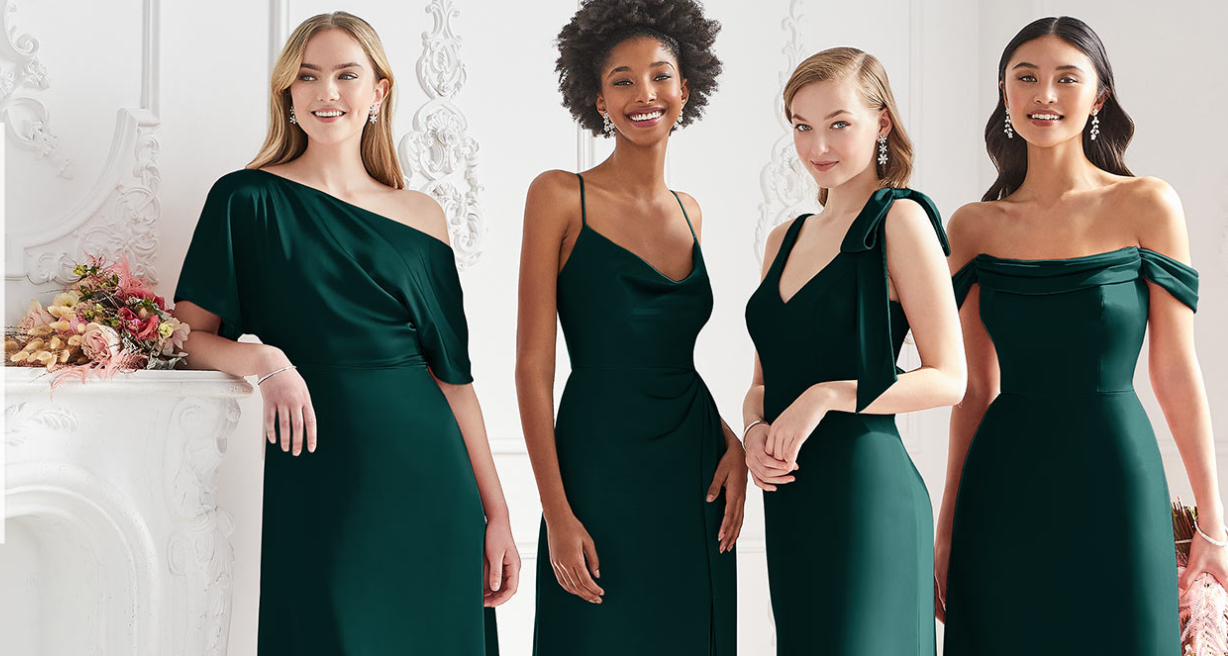 Image source: The Dessy Group
26. Tulle & Chantilly 
Brilliant, bold, and beautiful frocks make Tulle & Chantilly one of the most popular online stores for bridal needs today. Reliable customer service, striking colours, quality materials, attention to detail, and well-thought-of designs are what sets them apart from the competition. Custom sizing is available as well as ready-to-wear pieces in sizes ranging from 0-20.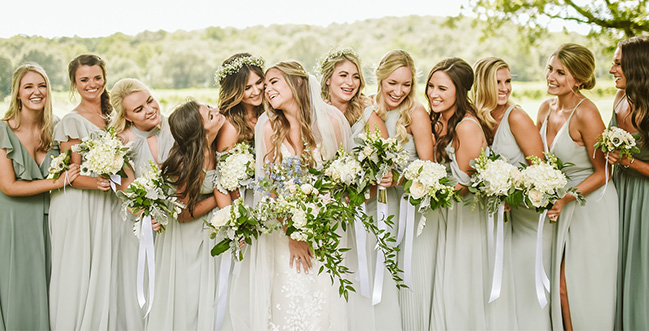 Image source: Tulle & Chantilly
27. Windsor 
With more than 80 years of helping women make feel beautiful, Windsor, without a doubt, is THE institution when it comes to bridal and formalwear fashion. The brand has paved the way for iconic creations to become more accessible. Windsor makes it possible for the women of today to wear the same dresses they only see worn by celebrities before. Form-fitting gems, flirty attires, and sexy shapes – Windsor has everything you need.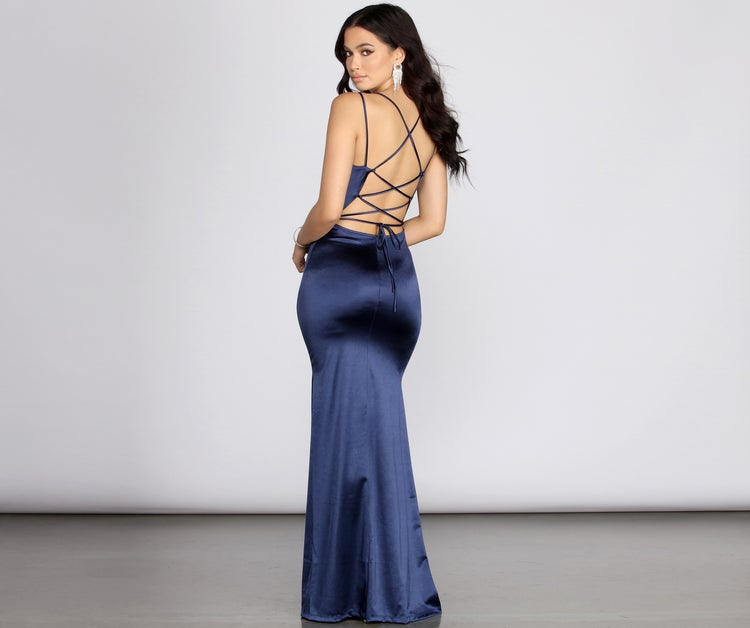 Image source: Windsor
28. ZAPAKA 
Timeless, trendy, and topnotch quality dresses are what you can expect from a brand like ZAPAKA. As one of the most popular online destinations for formalwear and dresses, the brand makes sure that they stay true to what they are selling (what you see in the photo is what you get) and ensures that all items are produced with only the best fabric, thread, and embellishments. Each product undergoes a line of inspections before getting shipped, hence, you get the dress you deserve. 
Image source: ZAPAKA
29. Bella Bridesmaids 
Bella Bridesmaids just might be THE one-stop-shop online boutique for bridesmaid dresses. The brand has an extensive list of partners and carries more than 50 designers, labels, and wedding entrepreneurs. Bella Bridesmaids assign a customer their stylist to give expert advice and helpful guidance about the perfect bridesmaid dress based on preferred style, colour, and fabric. 
30. Afarose 
This online bridal boutique promises that they have something just for about anyone. Modest cuts, flirty skirts, romantic necklines, and charming colour combos that fit perfectly to any type of event, whether it be outdoors, at the beach, or the traditional church. Afarose has bridesmaid dresses that fit every personality and are spectacular in every photo. 
Image source: Afarose 
31. Esther & Co 
Diverse selection, dreamy details, and flawlessly feminine dresses to make your bridesmaid experience extra special courtesy of Esther & Co. Each garment is a celebration of femininity, flowing and gorgeous, and comes in alluring colour and sophisticated design. 
Image source: Esther & Co
32. Camille La Vie 
This brand caters to all body types, from petite to plus size. Camille La Vie's assortment of stunning formalwear makes them an ideal shop for women with various tastes and fashion inclinations. They also offer consultations and alterations. Figure-hugging pieces, rich textures, beautiful beading – everything's here. 
Image source: Camille La Vie
33. Adriana Papell 
Adriana Papell has been a wedding must-have for women for over 40 years. Dreamy dresses that never go out of style, frocks that always look great, and pieces that fit perfectly – they have those in the bag. Meticulous production process and using the best materials available are the secrets to the brand's exquisite creations. 
Image source: Adriana Papell
34. White Runway 
Who says bridesmaid dresses should be unfashionable? That's what White Runway has been disproving time and time again with its timeless designs, fancy colour palette, sexy shapes, and elegant embellishments. They have over 350 designs to choose from plus an assortment of fabrics, cuts, and lengths excellent for women with different tastes.
Image source: White Runway
Choosing a selection results in a full page refresh.